The local reporter Sanjay Rana was seeking responses from Devi on several promises of development she had made ahead of the state assembly elections
---
Information and Broadcasting Minister Anurag Thakur, in a written reply in the Rajya Sabha, said the government did not agree with the conclusions drawn by the organization for various reasons including "very low sample...
---
PCI (Press Club of India) also condemned the arrest of three journalists in Uttar Pradesh's Ballia district in connection with a class 12 examination paper leak case.
---
Addressing a function to celebrate the National Press Day, Thakur urged the media to reflect and self-introspect on how to immunise itself from the "virus of infodemic" that continued to inflict malicious disinformation on...
---
In 2021-22, 134 journalists and their families were provided assistance totalling at Rs. 6.47 Crore, according to the government.
---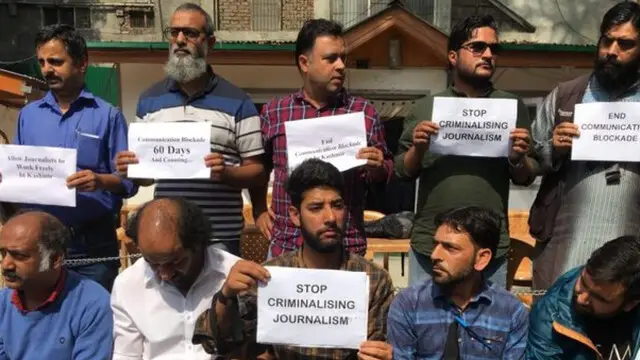 National Conference chief spokesperson Tanvir Sadiq said the report lays bare how news media in the Jammu and Kashmir region, especially in the Valley, was slowly being choked through extensive curbs.
---
Journalists in India do not have any specific free speech provision. Their free speech is same as any other citizen and remains subject to reasonable restrictions. Moreover, in the absence of any 'shield law', there is...
---
The fact finding committee (FFC) of the Press Council of India said: 'news media in the Jammu and Kashmir region, and especially in the valley is slowly being choked mainly because of the extensive curbs imposed by the...
---