Playing for team Indian Yogis, Gujrathi capitalised on a mistake committed by world number one Carlsen, who missed a checkmate late on Tuesday.
---
Sadhwani posted seven wins and secured three draws in the Open section. He suffered two defeats, to lower-rated players - Evgeniy Najer and Denik Lazavik.
---
Sixteen-year-old Aditya Mittal has become India's 77th chess Grandmaster during an ongoing tournament in Spain.
---
Following the custodial death of 22-year-old Iranian woman Mahsa Amini in September, Iran has been rocked by nationwide protests. Women have often publicly taken off their hijabs, burnt them, and cut their hair in defiance...
---
In the open section, young Indian GM Arjun Erigaisi is in joint lead with 4.5 points from five rounds along with world No. 1 Magnus Carlsen.
---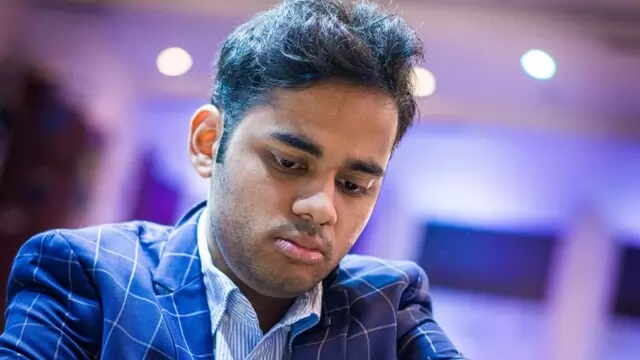 Arjun Erigaisi and Vaishali Rameshbabu clinched the Blitz titles on the concluding day of the Tata Steel Chess India tournament held in Kolkata.
---
Humpy finished strongly, beating Zhongyi Tan, who won the World Rapid title a couple of days ago, in the 17th and final round.
---
The 17-year-old defeated world champion Magnus Carlsen thrice in just six months, something that will go down as one of the highlights of his career.
---