In its 1,113-page chargesheet filed on February 2, the ATS has cited A seven-page booklet 'India 2047, Towards Rule of Islam in India', purportedly recovered from the Vikhroli residence of Mazhar Mansoor Khan, the main...
---
The Karnataka Cabinet on Thursday is learnt to have accepted the magisterial probe report into riots at D J Halli and K G Halli
---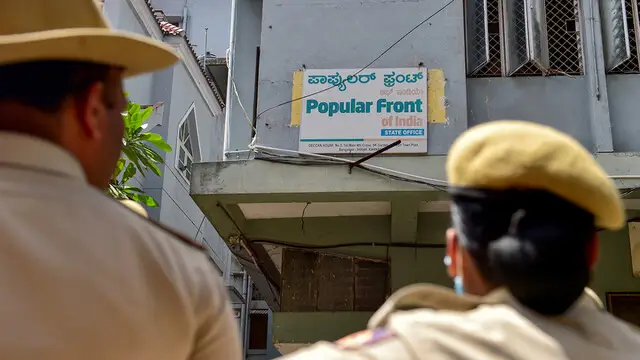 Kerala police have filed a case against the family of T S Sainudeen, jailed for smuggling a SIM card hidden inside the Quran into prison. Sainudeen was the former president of the banned group PFI (Popular Front of India).
---
Madhya Pradesh: In the latest action, two PFI members were arrested in Madhya Pradesh capital Bhopal on Saturday while the third one was arrested after being brought on production warrant from Aurangabad in Maharashtra.
---
A single judge bench of Justice M Nagaprasanna on Wednesday pronounced the judgment. The ban was challenged by Nasir Ali, a resident of Bengaluru and the state president of the proscribed outfit.
---
The National Investigation Agency (NIA) officials confirmed that the raids were carried out at 50 places which covered residences of noted gangsters.
---
Chief Minister M K Stalin appealed to the people to eradicate the social evils that tend to divide the masses.
---
This is the first arrest of any PFI associate after the Centre banned the outfit on September 28.
---