Tamil Nadu is not lagging behind in development and it is also on the government's priority, he indicated and said 95 percent of the work in establishing the AIIMS in Madurai has been completed and it would soon be dedicated...
---
Nadda made a safe exit from the college campus as police personnel present there cleared the way, shoving the unruly activists. No arrests have been made in connection with the incident so far, police said.
---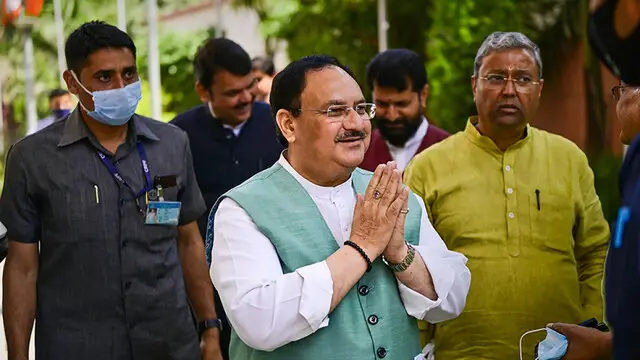 Jharkhand's Congress unit has registered a complaint with the Election Commission over BJP president JP Nadda's alleged violation of the model code of conduct as the nomination process of the bypoll is underway.
---
BJP chief spokesperson Anil Baluni said Nadda will address a rally at Karaikudi on Thursday and meet eminent personalities from various fields in Madurai.  
---
The roadshow is scheduled to start from Delhi BJP office on Pant Marg to celebrate an almost certain victory of Murmu in the presidential election, party leaders said.
---
Under the "Know BJP" initiative, the party presents information on its historical journey, ideology, structure and ongoing activities, a statement has said, adding that Nadda also elaborates on the history, struggles,...
---
It is Nadda's first visit to the Congress-ruled state after assuming charge as the BJP's national president, which is being described as crucial to boost the morale of party workers ahead of the next year's Assembly polls in...
---
The party said in a statement that it intends to continue such interactions with small groups of foreign diplomats in future too, and exchanges of delegations with political parties from different countries are also being...
---