Leading a new era for Les Bleus, newly appointed skipper Kylian Mbappé slotted home two unforgiving finishes to headline a 4-0 win over the Netherlands.
---
Palace is in 12th place in the 20-team league, but is only five points from last-place Southampton.
---
Fontaine took six games to achieve his feat at the 1958 World Cup in Sweden when he was a last-minute inclusion on the French squad.
---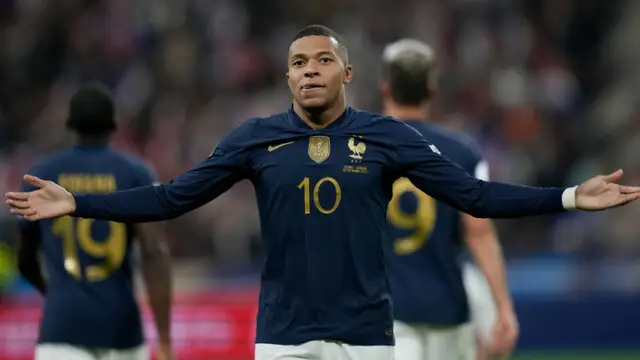 A new dawn begins for World Cup runners-up France as it begins European Championship qualifying without Ballon d'Or winner Karim Benzema, and with Kylian Mbappé leading the team against the Netherlands.
---
Producing the sixth and last goal of the match gave Kylian Mbappe his 201st goal for PSG and eclipsed Edinson Cavani's record in the process.
---
Argentina's World Cup-winning captain and France's superstar forward head the three-player shortlist announced by FIFA on Friday, eight weeks after leading their teams in an epic final in Qatar.
---
World Cup top scorer Kylian Mbappe was named as France's new captain on Tuesday, succeeding goalkeeper Hugo Lloris.
---
The 29-year-old Varane made his debut 10 years ago and played 93 matches for his national side.
---