After performing the rituals, Gandhi prostrated in front of the sanctum sanctorum of the temple.
---
Bharatiya Janata Party (BJP) IT cell head Amit Malviya had posted a video of the yatra in which Rahul Gandhi, party general secretary Priyanka Gandhi Vadra and Madhya Pradesh Congress president Kamal Nath are seen walking...
---
The minimum temperature of 6.3 degrees Celsius was recorded at Malajkhand town in Balaghat district, while hill station Pachmarhi in Narmadapuram district recorded 5.2 degrees Celsius, the official from IMD's Bhopal office...
---
Rahul Gandhi and other Congress leaders including former chief minister Digvijaya Singh, ex-parliamentarian Prem Chand Guddu and former state minister Kamleshwar Patel were seen walking briskly in the morning after the yatra...
---
During the Bharat Jodo Yatra in Madhya Pradesh, Rahul Gandhi said sacrifice and selflessness are values inculcated during childhood.
---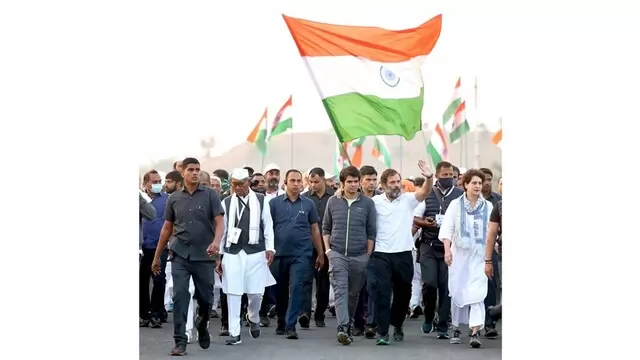 The Congress party has said the video shared by Bharatiya Janata Party is a doctored video aimed at defaming Congress and Bharat Jodo Yatra.
---
BJP's Amit Malviya's dig at Rahul Gandhi has been trolled by virtual fact-checkers while union minister Smriti Irani was slammed for hurting Hindu sentiments after they accused Gandhi of performing 'Aarti' in anticlockwise...
---
In Madhya Pradesh's Katni district, six members of a gang from Bihar are accused of stealing gold worth nearly Rs 5 crore and Rs 3.5 lakh in cash from a bank offering a gold loan.
---