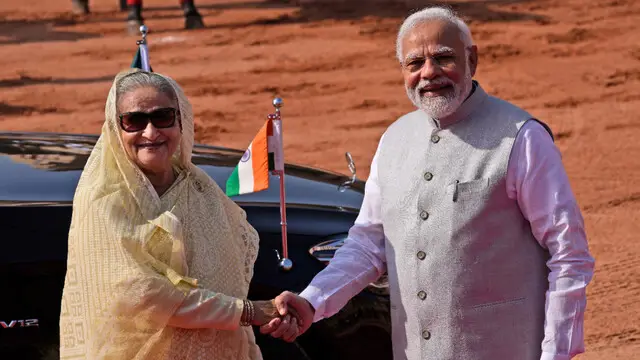 Bangladesh Information Minister Hasan Mahmud said the Sheikh Hasina government is committed to protecting the rights of Hindu minorities in Bangladesh.
---
The tradition of Dhakis is as old as the Durga Puja, and it was a male preserve till Dhaki Gokul Das decided to do something about it, and now 12 years later leads a band of 40 women Dhakis that has attained immense...
---
A crudely-crafted lookalike of Mahatma Gandhi was substituted for the Mahisasura by West Bengal Chief Minister Mamata Banerjee on Thursday in an attempt to malign Durga Puja. 
---
The demand from the organisation comes weeks after the outrage over the installation of a Mahishasur idol that resembled Mahatma Gandhi at a Durga puja organised by ABHM here
---
TMC supremo Mamata Banerjee lauded the police for apt handling of the situation and not allowing it to snowball into a major issue during the Durga Puja.
---
On Monday evening, six people, including a policeman, were injured as members of two communities indulged in stone pelting over the playing of loud music during a Durga Puja immersion procession in the Baldirai area,...
---
On Wednesday, Mamata Banerjee said she would not allow West Bengal to be divided.
---
The community puja committees will take part in a colourful parade on Red Road, showcasing the brilliant craftsmanship which was on display during the five-day festival before an audience led by Chief Minister Mamata...
---