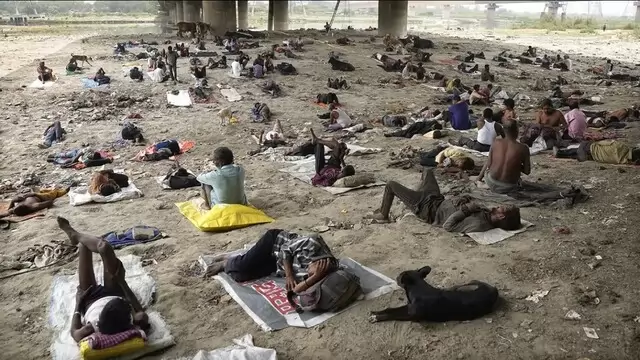 Fatalities on account of heatwaves constituted for more than one-sixth of the more than 410,000 deaths from disasters linked to extreme weather and climate over the same span.
---
Many parts of Delhi had reeled under a punishing heatwave for a fifth consecutive day on Tuesday. when five out of 11 weather stations in Delhi recorded a heatwave. Temperatures are expected to remain high till Thursday.
---
Temperatures have been high in northwest and central India due to absence of thunderstorms or extra-tropical weather systems during March-May.
---
A heatwave spell that started on June 3 prevailed over isolated pockets of Delhi, Jammu and Kashmir, Himachal Pradesh, Uttarakhand, north Rajasthan, Punjab, Haryana, southeast Uttar Pradesh, north Madhya Pradesh and...
---
While Delhi's base station at Safdarjung recorded maximum temperature of 44.2*C, temperature in Mungeshpur soared to 47.3*C.
---
Delhi Storm: Shahi Imam of Jama Masjid Syed Ahmed Bukhari said that two people were injured by stones as they became loose and fell down from one of the minarets and other parts of the mosque.
---
Thundershowers, cloudy sky, gusty winds and light rainfall are predicted on the coming weekend and average maximum temperature might settle at 36*C.
---
The water shortage in Delhi has been reported for a week now with Yamuna's water level falling and alerts issued in 28 assembly areas, as per reports.
---