The scuffle between the police and the protesters began when the opposition members blocked the vehicle of Mayor M Anil Kumar, who reached the corporation office to convene a council meeting.
---
The inferno inside the sanctuary in North Goa district started four days ago with Fire and Emergency Services and forest department personnel so far failing to control the blaze which continued to spread to more areas.
---
The fire department sent at least 18 trucks to control the blaze.
---
According to a BMC official, the fire started on the ground floor, in an area of 2,000 square feet in Goregaon Film City in Mumbai.
---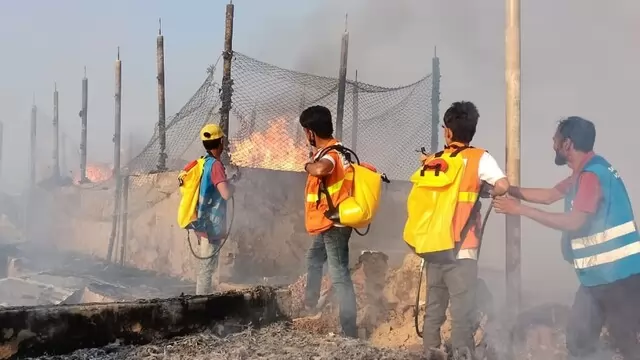 More than 1 million Rohingya refugees have fled to Bangladesh from Myanmar over several decades, including about 740,000 who crossed the border starting in August 2017, when the Myanmar military launched a brutal crackdown
---
The deceased was identified as a resident of Balbir Vihar in northwest Delhi and worked as a labourer in a footwear factory. Initially, she was shifted to Safdarjung Hospital and then to AIIMS Trauma Centre for further...
---
Smoke emanating from a waste plant fire in Brahmapuram and its suburbs has caused the air quality in these areas to deteriorate at an alarming rate, prompting the Kerala government to ask residents to remain indoors and...
---
The blaze that broke out late on Thursday evening at Chowk Bazaar has mostly been brought under control. However, firefighters are still struggling to douse pockets of flame spread across the market in the heart of Jorhat. 
---