Emergency crews worked through the frigid night at the multi-story residential building as the death toll rose to 23, according to the city government.
---
Russian operators continue to receive training in Iran on how to use these systems, which can conduct air-to-surface attacks, electronic warfare and targeting, on the battlefield in Ukraine, the officials said.
---
Volodymyr Zelenskyy said it was essential for International Atomic Energy Agency representatives to get to the plant as soon as possible and to help keep it under permanent Ukrainian control.
---
A DJ duo, ProBass and Hardi, is creating song and music to support and enable Ukrainian fighters and volunteers to maintain high morale in times of war
---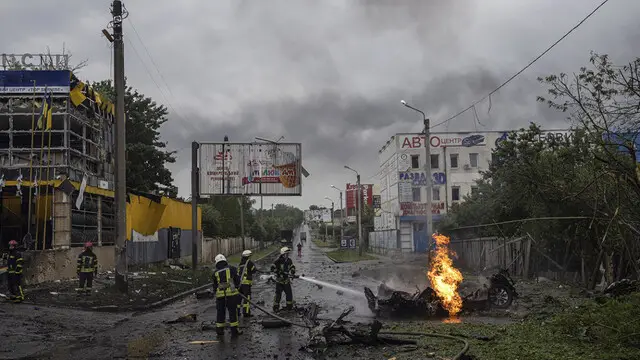 Russian Defense Ministry spokesman Igor Konashenkov said Sunday that Ukrainian forces had attacked the plant twice over the past day, and that shells fell near buildings storing reactor fuel and radioactive waste.
---
In Britain, floral and musical tributes punctuated a show of solidarity as Ukraine commemorated its 1991 declaration of independence from the Soviet Union.
---
Actor Sean Penn has gifted one of his Best Actor Oscars to Ukrainian President Volodymyr Zelensky.
---
Russia now holds large swaths of the country's east and south, but its gains accumulated slowly. Neither country has revealed how many troops it has lost during the six-month conflict.
---