An author friend from Tamil Nadu, whom I met at one of the literary conferences, raved about the taluk-level book fairs organised by the MK Stalin government in that state. With envy, I had read previously about the 'We Love Reading' campaign initiated by the Andhra Pradesh government to promote reading. In Telangana, a dedicated reading hour is part of the curriculum. Kerala boasts of a robust reading culture that requires no government patronage. Yet, the government and local NGOs still promote reading among people of all age groups in different cities as well as villages.
Contemplating these efforts by other states, I couldn't help but wonder what my state Karnataka is doing to promote reading. Reading is essential for enhancing the critical thinking and cognitive abilities of our youth and children. However, compared with its counterparts in southern India, the book-reading habits in Karnataka, which boasts eight Jnanpith awardees, are fast declining.
There was a time in Karnataka when Kannada literature was at its zenith, with multiple editions and thousands of copies flying off the shelves of bookstores. Works by renowned writers such as Kuppalli Venkatappa Puttappa, Poornachandra Tejaswi, DR Bendre and SL Bhyrappa were highly sought after. As a result, literature was celebrated across Karnataka, especially in North and coastal Karnataka and the Mysuru region, also known as the state's cultural capital.
However, Karnataka's reading habits and publishing industry have steadily declined in recent years. This trend began a decade ago and is commonly attributed to the emergence of smart screens and over-the-top (OTT) platforms. However, these were not the only factors that affected Kannadigas. So, what went wrong in Karnataka while the book-reading culture and publishing industries in other states were able to endure the onslaught of digital devices and continue to grow?
Woes of the Publishing Sector, Fewer Libraries
The decline in reading is reflected in the print run and editions of literary books brought out by Kannada publishers. The print run and editions, typically in multiples of 1,000, have now reduced to 500, with editions limited to one or two sold over three years. Print-on-demand has further reduced the print run strength to 200 copies. There are exceptions, but their number is too few to cheer the ailing industry.
The infrastructure that the publishing sector enjoys is another measure of the strength of the knowledge industry, of which publishing is a part. This encompasses the public's access to books through a well-established library system, a network of bookstores spread throughout the state, and government schemes to support them.
A well-maintained and updated network of public libraries—again, Kerala and Tamil Nadu excel here—is crucial for promoting reading culture. These libraries spread across the state in panchayats and taluks form the backbone of the publishing sector and are the most significant promoters of reading culture in our society.
There was a time in Karnataka when Kannada literature was at its zenith, with multiple editions and thousands of copies flying off the shelves of bookstores.
Once again, compared to other states, Karnataka presents a dismal picture, with its libraries having a nominal existence, outdated books, and inadequate infrastructure. In contrast, the public library system in other states is robust, offering easy access to the latest books and literature. Kerala even has private library networks, all buzzing with readers. However, the latest books procured through Karnataka library schemes are easily three-four years old. This means that people in Karnataka may have to wait until 2026-27 to access the books that were published in 2022-23 in their local libraries.
The narrative surrounding school and college libraries is no different, except that parents and teachers now emphasise career development more. Consequently, procuring the latest publications for competitive exams, study guides, and reference materials for higher studies is given priority. Conversely, trade and non-academic reference books are viewed as unnecessary expenses.
Limited Bookstores
Independent and chain bookstores are another indicator of any state's reading culture. In Karnataka, exclusive bookstores dedicated to literature are limited to a few districts. In other districts, bookstores are mostly an extension of stationery or textbook depots. In contrast, DC Books—the publishing giant of Kerala—has bookstores in almost all taluks in the state. Mathrubhumi Books, another leading publishing house, has outlets in all districts in the state. Tamil Nadu has multiple book shops in its districts.
In Karnataka, there are several bookstores in Bengaluru and the state capital is home to one of India's largest bookstore chains—Sapna Book House. However, in recent years, the chain has expanded its focus beyond books—it now offers stationery and groceries in its stores. Another noted publisher and bookstore chain is Navakarnataka Publications, which also focuses on distribution. Other landmark bookstores catering to vernacular readers in Tier II and III cities face existential issues from the lack of readership and the support system.
The trend's impact is evident in children and youth. Research has conclusively demonstrated the advantages of reading in shaping a person's personality and developing cognitive skills and critical thinking. However, our younger generation is deprived of these benefits due to the declining reading culture in the state. We are witnessing a generation who grew up watching television adaptations and cartoon shows of popular epics and stories rather than reading or listening to those tales. This impairs the children's imaginative ability.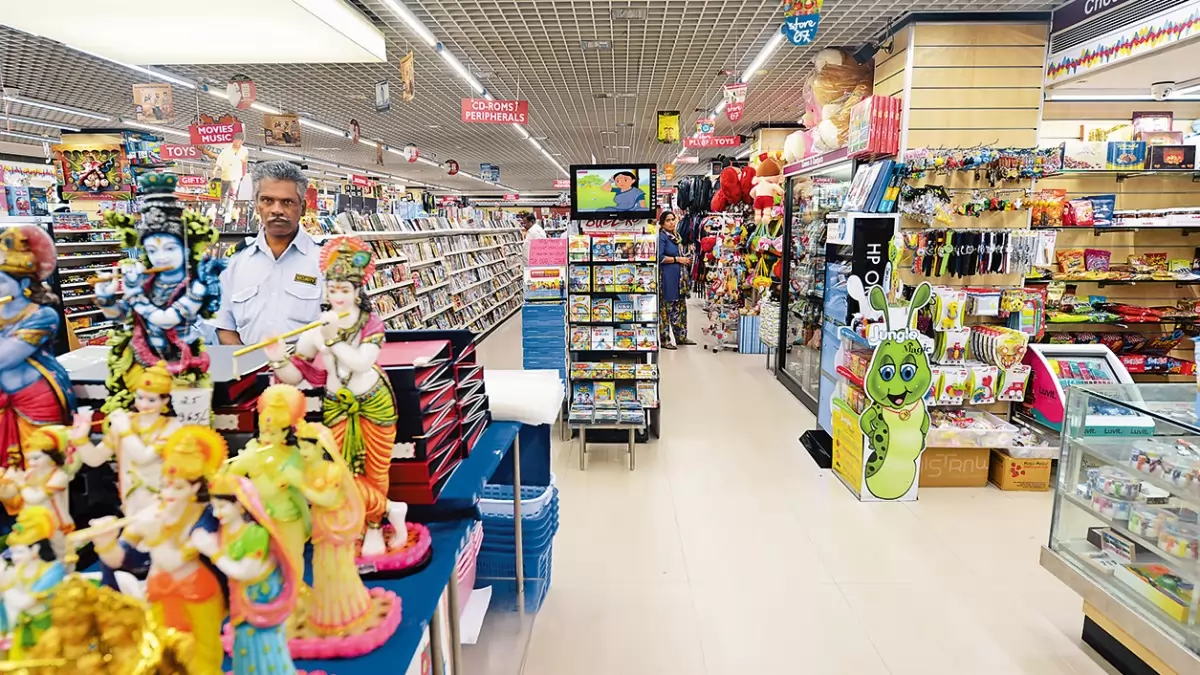 Lack of Government Patronage
Reading is undoubtedly a cultural phenomenon, and for any culture to grow and sustain itself, the involvement of its people, society, and government patronage is a must. However, presently, Karnataka lacks all of these. Although we cannot attribute the decline in the reading culture to one single entity, the lack of government patronage has contributed to it.
The recent government decisions in Karnataka have done little to support the reading move­ment or the struggling book industry. Unlike sister states where reading is encouraged by the res­pective governments, there is shocking government apathy towards the reading and publishing industry in Karnataka. Over the years, library book procurement schemes have been rendered ineffective, with the number of copies purchased declining sharply in the past four years.
The present government is not concerned with enhancing reading habits in society. Seemingly, they find it convenient to govern a population with limited knowledge and a lower capacity for critical thinking.
Regrettably, there are hardly any visible campaigns to promote reading in Karnataka, except for an initiative by the Department of Rural Development and Panchayati Raj. This is mainly due to the efforts of Uma Mahadevan, an Indian Administrative Service (IAS) officer and an avid reader who is serving as the Additional Chief Secretary for Panchayat Raj.
The present government is not concerned with enhancing reading habits or critical thinking in society. Seemingly, they find it convenient to govern a population with limited knowledge and a lower capacity for critical thinking. The government's recent steps also indicate their apathy towards the publishing sector and books due to their apprehension that the currently available works are not in line with the ruling party's ideology.
This is a worrisome trend, as the knowledge industry and reading culture play a crucial role in nation-building. Therefore, the government must understand the significance of the knowledge industry and reading culture in nation-buil­ding and leave ideological interference aside to revive reading in Karnataka.
Parents Are to be Blamed, Too
Parents are equally responsible for not understanding the relevance of books in their children's lives. Private schools are doing their bit, but their focus primarily lies in preparing children for higher education. As a result, the books offered in their libraries are largely academic or related to academics. Government schools, which depend on government funds for books, are again in a sorry state, with a lack of interest or demand for books from teachers, parents, and students.
The decline in the reading culture in Karnataka is a matter of concern that requires urgent attention. Unless there are concerted efforts to introduce books to people of all age groups and make books with diverse knowledge and opinions accessible and affordable to the public, the reading culture that once helped Karnataka stand out on the culture and knowledge map cannot be revived.
(Views expressed are personal)

(This appeared in the print as 'A Grim Tale')
---
Sreeja VN is a journalist and co-founder of Bahuroopi Publications