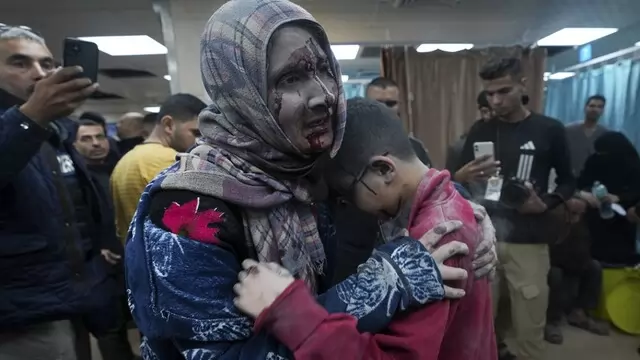 According to Gaza's Health Ministry, over 2,200 Palestinians have been killed so far since the December 1 collapse of the truce. About two-thirds of the deceased Palestinians were women and children.
---
As the attacks intensified during the second phase of the offensive, in the central Gaza town of Deir al-Balah, just north of Khan Younis, a strike Tuesday destroyed a house where dozens of displaced people were sheltering.
---
When Israeli Prime Minister Benjamin Netanyahu linked the Hamas' October 7 attack to the Holocaust and roared 'Never again', only those for whom Israel can do no wrong failed to recognise what Netanyahu had actually...
---
As the Israeli bombardment continues, Gaza hospitals grapple with an influx of casualties, revelations emerge from the Oct. 7 cross-border attack on Tel Aviv's Nova music festival, and mourners on both sides bid farewell to...
---
Several Palestinians are displaced by the Israeli bombardment of the Gaza Strip gather at a tent camp, in Rafah, southern Gaza strip.
---
Indigenous communities across the globe are lending their support to the Palestinians
---
The response came after the death of a Lebanese soldier as clashes at Israel's northern border with Lebanon have intensified with regular exchanges of fire since the war broke out in Gaza between Hamas militants and Israel...
---
Actress Susan Sarandon has issued an apology for controversial comments she made at a pro-Palestine rally in New York last month.
---