The troops fired at the drone at 11.05 pm on Monday after they noticed it entering the Indian territory near Chaharpur village, around 40 km north of Amritsar city, they said.
---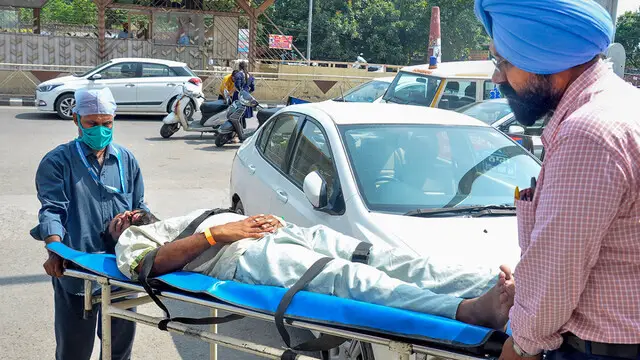 Three policemen and a journalist were also injured. Amritsar DCP M S Bhullar said police had asked the two gangsters suspected to be involved in Sidhu Moosewala's killing to surrender.
---
Badal was addressing a gathering at Manji Sahib Diwan Hall in the Golden Temple complex to protest the alleged sacrilege attempts, including at the sanctum sanctorum of the Golden Temple last month.
---
On Friday, Modi had said in a tweet, "Under the leadership of Baba Gurinder Singh Dhillon Ji, the RSSB is at the forefront of numerous community service efforts."
---
Amritsar's Police Commissioner Sukhchain Singh Gill said the motive behind the two murders was not clear.
---
Two men were beaten to death for their alleged desecration bids at the Golden Temple in Amritsar and at a gurdwara in Kapurthala district.
---
In the video that is widely shared on social media, superstar Allu Arjun is moving along with the other devotees
---
SGPC chief Harjinder Singh Dhami told reporters that the SGPC task force had stopped the perpetrator from entering the Golden Temple suspecting foul play. He managed to enter the sanctum sanctorum in the evening after the...
---