In Pics: Countries Across The Globe Send Rescue Teams And Relief Materials To Turkey, Syria
As search teams from nearly 30 countries race against time, the last two days have brought dramatic rescue, including small children emerging from mounds of debris more than 30 hours after Monday's pre-dawn quake. But with the damage spread across several cities and towns — some isolated by Syria's ongoing conflict — voices crying for help from within mounds of rubble fell silent.
South Korean rescue team members prepare to board a plane to leave for quake-ravaged Turkey at the Incheon International Airport in Incheon, South Korea.
This photo provided by the French Interior Ministry shows rescue workers boarding a bus for the Charles de Gaulle airport, north of Paris in Nogent-le-Rotrou, central France.
IAF's C-17 Globemaster III heavy lift aircraft departed India for earthquake-hit Turkey carrying NDRF teams and relief material.
NDRF's urban search and rescue medium team along with rescue dogs and other necessary equipments lands at Adana to support rescue and search work in earthquake-hit Turkey.
Greek firefighters wait to enter a military plane at Elefsina Air Force Base, in western Athens, Greece. Greece announced it is sending a team of 21 rescuers, two rescue dogs and a special rescue vehicle, together with a structural engineer, five doctors and seismic planning experts, all traveling in a military transport plane, after a 7.8 magnitude earthquake centered in Turkey.
Swiss experts and rescuers with service dogs prepare to fly to the earthquake-hit Turkey, at Zurich Airport, Switzerland.
In this photo released by Inter Services Public Relations, Pakistan Air Force crew load supplies of assistance package for earthquake hit areas of Turkey, into a plane at Nur Khan airbase in Rawalpindi, Pakistan.
People sort and pack relief supplies at a collection point for the Turkish community in Berlin, Germany. Hundreds of members of Berlin's Turkish community flocked to a music school in the German capital to donate essential humanitarian supplies after southern Turkey and northern Syria were hit by double earthquakes on Monday, Feb. 6, 2023.
Rescuers from Bosnia's mountain rescue services prepare food packages prior to their departure from Sarajevo, Bosnia. Team of 25 men and women left from Sarajevo to Turkey after devastating earthquake with more than 6000 casualties.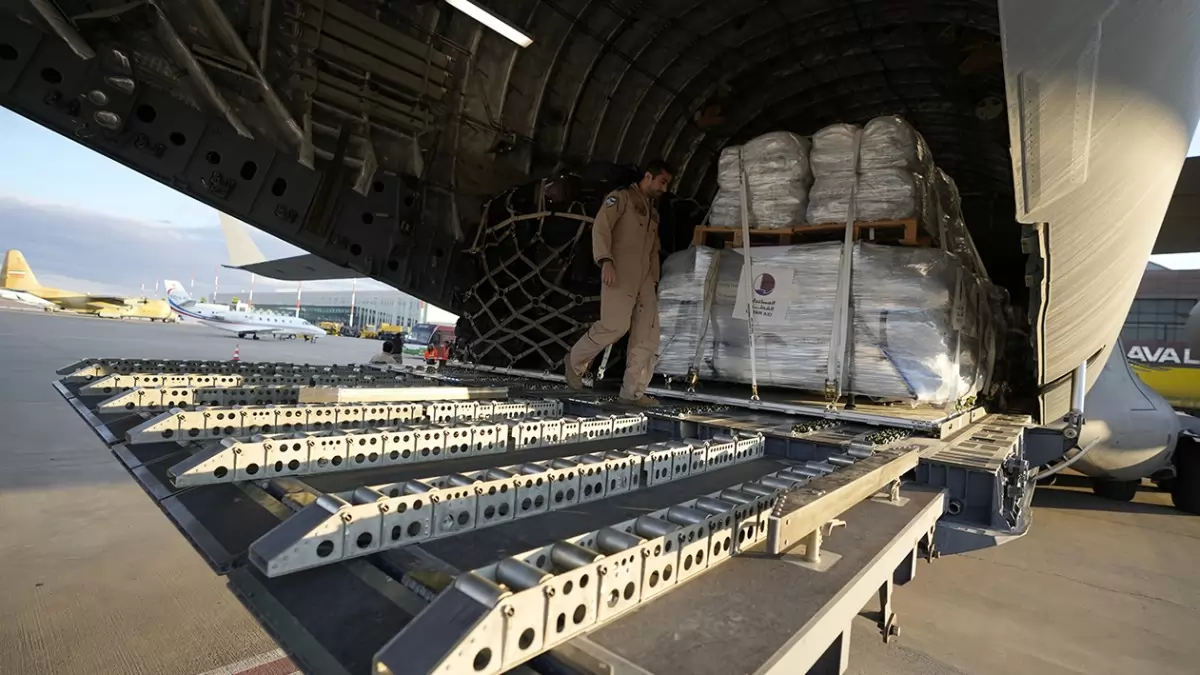 A Qatar Emiri Air Force officer prepares to offload supplies of assistance packages, in Gaziantep, southeastern Turkey.
Spanish firefighters load a cage with a dog on to an airport trolley at Barajas international airport on the way to help with a rescue mission in Turkey before boarding a flight in Madrid, Spain.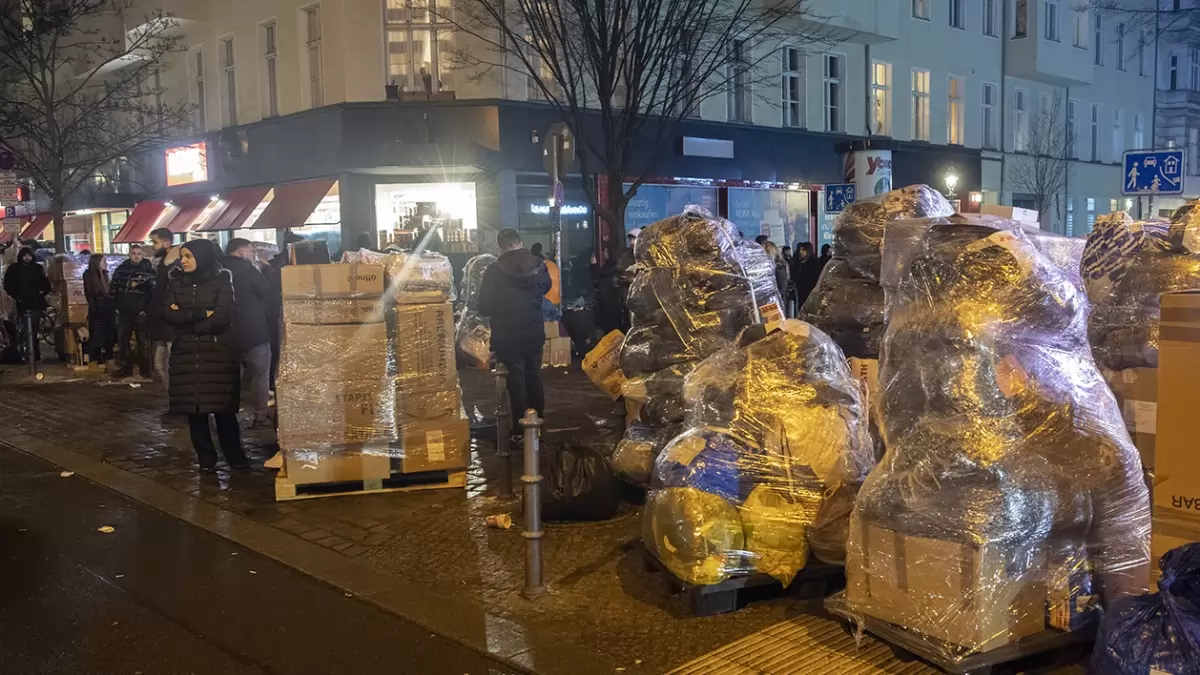 Relief supplies for earthquake victims in Turkey and Syria stand packed on Turmstrasse in Moabit, Berlin, Germany.