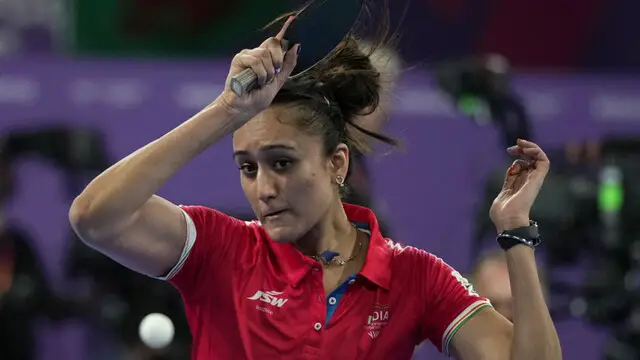 The 27-year-old, who won a historic bronze medal at the Asian Cup in November, reached the semifinals at the WTT Contender in Doha.
---
The Indian men's team blanked Uzbekistan 3-0 with Harmeet Desai, G Sathiyan and Manav Thakkar winning their respective matches.
---
In singles, Harmeet Desai defeated G Sathiyan while Sutirtha Mukherjee got the better of Manika Batra to enter their respective finals.
---
The CTTF was not able to organise events in the last three years due to COVID-19 and a busy season in 2022 when the Commonwealth Games were held in Birmingham.
---
West Bengal's Jeet Chandra and Ronit Bhanja clinched the men's doubles gold, beating statemates Arjun Ghosh and Anirban Ghosh in straight sets.
---
Sharath Kamal was leading two sets to one and 6-1 in the fourth set against Soumyajit Ghosh when he called for medical attention.
---
Manika Batra thumped Zhu Chengzhu of Hong Kong 13-11, 11-9, 11-6, 11-8 in the pre-quarterfinals to seal her spot.
---
G Sathiyan beat Wesley Do Roserio of Haryana while Sharath Kamal got better of Maharashtra's Ravindra Kotiyan. Sanil Shetty overcame Uttar Pradesh's Divyansh Srivastava.
---