Kylian Mbappé's twice-taken penalty moved him one goal behind Michel Platini on France's all-time scoring list as Greece was beaten 1-0 in European Championship qualifying.
---
The two strikers were included in coach Didier Deschamps' squad for upcoming European Championship qualifiers against Gibraltar and Greece after missing Les Bleus' previous games due to injury.
---
World Cup top scorer Kylian Mbappe was named as France's new captain on Tuesday, succeeding goalkeeper Hugo Lloris.
---
Strikers Olivier Giroud and Kylian Mbappé were on target as France won at Gibraltar 3-0 to maintain its perfect start to European Championship qualifying on Friday.
---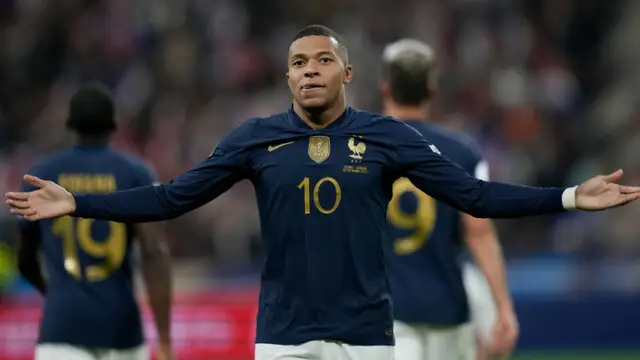 A new dawn begins for World Cup runners-up France as it begins European Championship qualifying without Ballon d'Or winner Karim Benzema, and with Kylian Mbappé leading the team against the Netherlands.
---
The 29-year-old Varane made his debut 10 years ago and played 93 matches for his national side.
---
Kamara's wife commented on their eventful Sunday on her Instagram account, saying their vacation was postponed "for the good cause."
---
The 36-year-old goalkeeper told L'Equipe newspaper he will focus on his Tottenham Hotspur club career in the English Premier League.
---