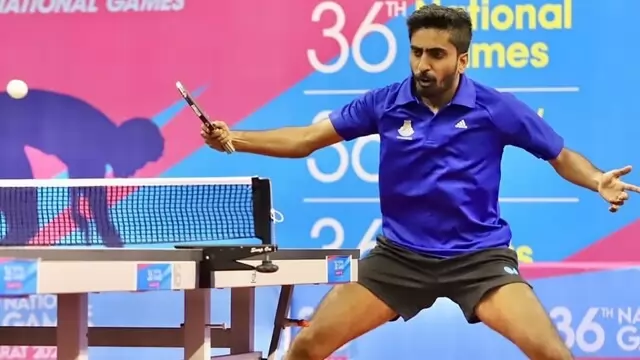 G Sathiyan won both his gruelling deciders, first against 36th ranked Duda Benedikt before edging out Germany's highest-ranked player Dang Qiu. India won 3-1.
---
G Sathiyan will lead the Indian men's team while the women are to be led by Manika Batra at the World Table Tennis Championships 2022 from September 30 to October 9.
---
From wrestling to lawn bowls, India broke new ground in various arenas in Birmingham.
---
West Bengal's Jeet Chandra and Ronit Bhanja clinched the men's doubles gold, beating statemates Arjun Ghosh and Anirban Ghosh in straight sets.
---
The 40-year-old Achanta Sharath Kamal won three Table Tennis gold medals at Commonwealth Games 2022 including a men's singles top prize on the final day of Games.
---
The pair of Achanta Sharath Kamal and Sreeja Akula comfortably beat Javen Choong and Karen Lyne of Malaysia 11-4, 9-11, 11-5, 11-6 in the gold medal contest at CWG 2022.
---
In singles, Harmeet Desai defeated G Sathiyan while Sutirtha Mukherjee got the better of Manika Batra to enter their respective finals.
---
Ace paddler Manika Batra returned home from CWG 2022 empty handed after losing the women's doubles quarterfinal. In 2018, Manika had won four medals.
---