In Pics | Winter Storm Hits Northeast US With Heavy, Wet Snow; Thousands Without Power
A winter storm has dumped heavy, wet snow in the northeastern parts of the United States, causing tens of thousands of power outages, widespread school closings, dangerous driving conditions and a plane to slide off a taxiway. The storm ravaged parts of New England, upstate New York, northeastern Pennsylvania as well as northern New Jersey.
Plows, at right, try to pass nearly stopped traffic, due to weather conditions, on Route 93 South in Londonderry, New Hampshire. By the time the winter storm wraps up Wednesday, snow totals in New England are expected to reach a couple of feet of snow in higher elevations to several inches along the coast.
Jack Whalen brushes snow off his truck with a push broom in Marshfield, Vermont.
National Grid lineman Jim Sheeran, top, and Matthew Jukes prepare to fix a primary power line during a winter snow storm in Ballston Lake, New York.
Cairnie Pokorney, right, a school board candidate, clears snow from a tree that was dropping on his head, while campaigning on Election Day in Derry, New Hampshire.
Bonnie Nobling, of Oneonta, New York, left, waits with her daughter Annie Nobling at The Albany International Airport hoping that her connecting Delta flight to San Francisco is not canceled during a winter snow storm in Albany, New York.
Trees near St. Joseph's Church are covered with snow in Pittsfield, Massachusetts. The New England states and parts of New York are bracing for a winter storm due to last into Wednesday.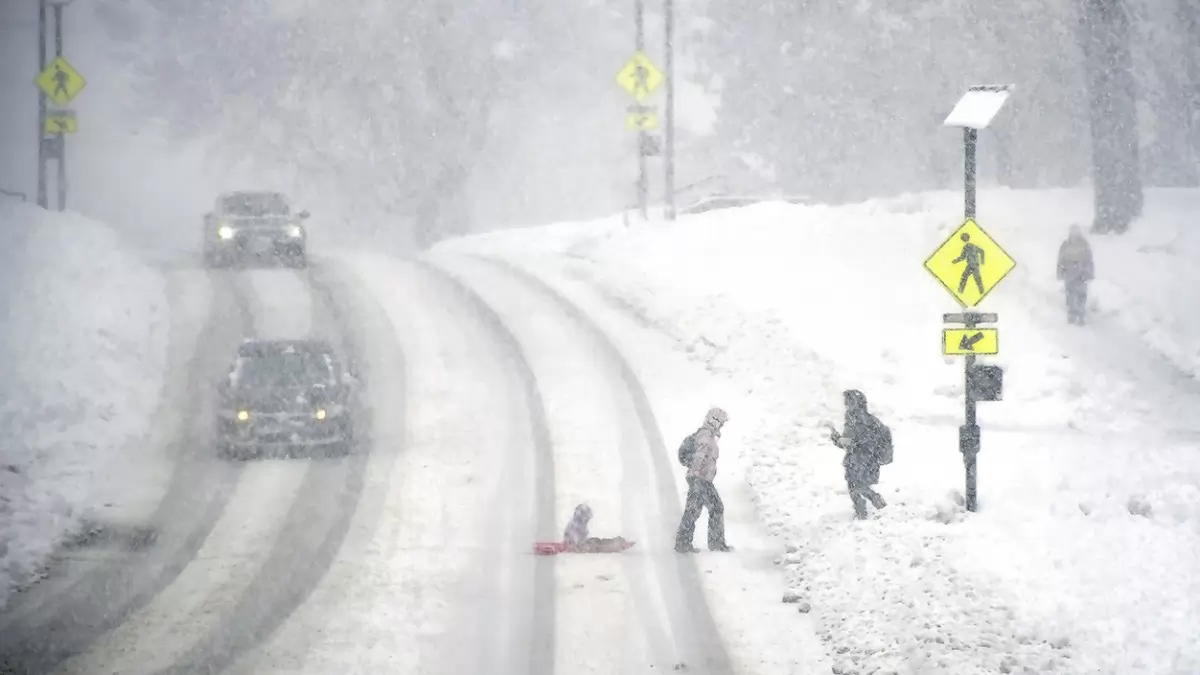 Pulling a sled with a child on board, a woman crosses Main Street in Williamstown, Massachusetts near the Williams College campus during a snowstorm.
Corey Baird rides his knobby-tired mountain bike on a slippery sidewalk while peddling to a grocery store during a heavy snowfall in Brunswick, Maine.
A Delta airline flight lands as Crews remove snow from the Albany International Airport during a winter snow storm in Albany, New York.
A roadway caution sign is seen on the New York Thruway as motorists commute during a winter snow storm in Albany, New York.
Jesse Sulham, 24, of Wolcott, Vt., shovels a sidewalk in Stowe, Vermont. Sulham described the snow as wet and heavy; and he said the shoveling "'gave me reason to be in a good mood."
A tree fell on a child in Derry, New Hampshire. Authorities said the girl had been playing outside near a parent who was clearing snow when the tree fell on her. The girl was taken to a hospital with minor injuries.