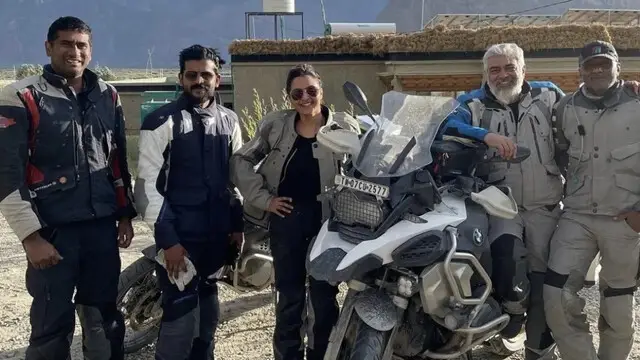 Bineesh Chandran, who accompanied actor Ajith Kumar and actress Manju Warrier on their biking trip to the Himalayas, has disclosed how the actor arranged not only the best BMW jackets, shoes and helmets for him, but also a...
---
Volunteers of Pradeep Sangwan's 'Healing Himalayas' foundation have trekked 10,000 km and handled more than 800 tonnes of garbage in five years.
---
Himalayan, a well-known water brand, enjoys significant equity among consumers because it is natural mineral water bottled directly from the source in the foothills of the Himalayas with strong sustainability credentials,...
---
Influential Russian painter Nicholas Roerich and his family managed to penetrate into the depth of Indian spiritual life and become co-workers with the 'Spiritual Teachers', 'Sages' and 'Mahatmas' of India, as they are known...
---
Furthermore, only 12 teams with 10 members each can scale the peak
---
Climate Change: The upward shift is linked to non-fulfilment of specific requirements concerning weather parameters like temperature, rainfall, snowfall, humidity and evaporation threatening the future of the apple sector.
---
Roerich's works have not only inspired a search for spirituality in the depiction of the Himalayas, it has also created a legacy of artists who have continued the Russian master's quest.
---
Climate scientists have failed to adequately acknowledge risks associated with large-scale hydropower development in the Himalayas.
---