Prime Minister Narendra Modi had informal interactions with US President Joe Biden, UK Prime Minister Rishi Sunak, French President Emmanuel Macron and several other global leaders on Tuesday on the sidelines of the summit.
---
There has been no one-on-one meeting between Prime Minister Narendra Modi and Chinese President Xi Jinping since the Ladakh standoff began in 2020.
---
On the sidelines of the summit, Modi has bilateral meetings scheduled for  Wednesday with Indonesian President Widodo, Spanish Prime Minister Pedro Sanchez, French President Macron and Singapore Prime Minister Lee Hsien...
---
Foreign Secretary Vinay Kwatra said PM Narendra Modi played a 'key role' in the successful resolution of differences over the 'outcome document' at the G-20 Summit.
---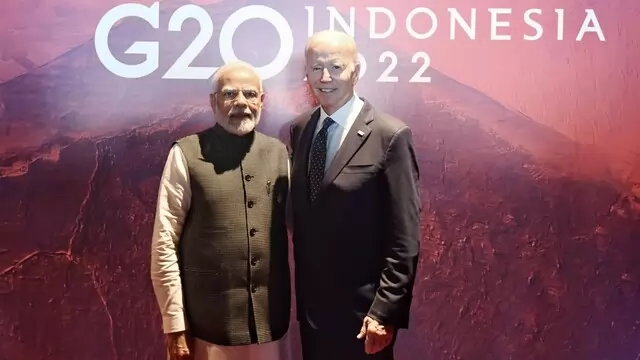 Prime Minister Narendra Modi, US President Joe Biden, and several world leaders are attending G-20 Summit in Bali, Indonesia.
---
In his remarks at the G2 Summit that began here on Tuesday, Indonesian President Joko Widodo asked world leaders to follow the UN charter and called for an end to 'the war', a reference to the Russia-Ukraine conflict.
---
Narendra Modi is in Bali to attend the G20 summit which opened here on Tuesday. Modi was welcomed at the summit venue by Indonesian President Joko Widodo, ahead of the formal opening of the summit.
---
US President Joe Biden told Chinese President Xi Jinping that the United States would continue to compete vigorously with China but that competition should not turn into conflict, according to White House.
---