The road, which connects Poonch and Rajouri districts in Jammu region with Shopian in South Kashmi, is an alternative route to the Jammu-Srinagar National Highway. The restoration work of the twin roads to Kashmir is in...
---
The rescue operations are going on as personnel from various agencies are clearing the debris in the hope of finding any survivor, a State Disaster Response Force (SDRF) official said.
---
The Indian Air Force has pressed in helicopters in rescue operations at the Amarnath shrine. The Indian Army and other security agencies have so far rescued 65 people from the debris.
---
Braving heavy rains, a fresh batch of over 4,703 Amarnath Yatra pilgrims left the Bhagwati Nagar base camp here for the twin base camps of Baltal and Pahalgam in central Kashmir's Ganderbal district on Thursday, officials...
---
Amarnath Yatra has been temporarily suspended and a decision on its resumption will be taken after rescue operations end.
---
A total of 5,726 pilgrims left the Bhagwati Nagar Yatri Niwas here in a convoy of 242 vehicles amid heavy security of the Central Reserve Police Force (CRPF).
---
Over 1.52 lakh pilgrims have offered their prayers at the Amarnath cave shrine in the annual Amarnath Yatra, according to officials.
---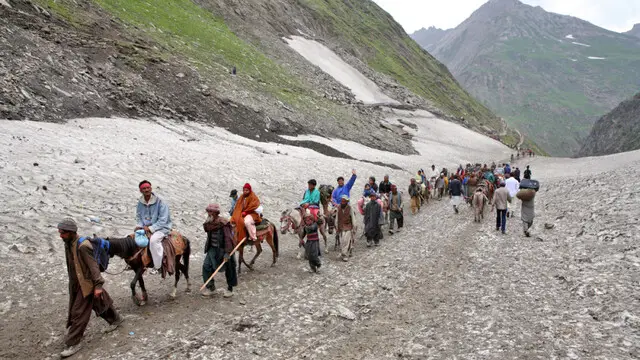 The main shrine is located 12,756 ft from the seal level and is covered with snow most of the year except for a few months in the summer season
---