As a result of The Resistance Front's threat to journalists on Saturday, Jammu and Kashmir Police launched massive searches at ten locations. 
---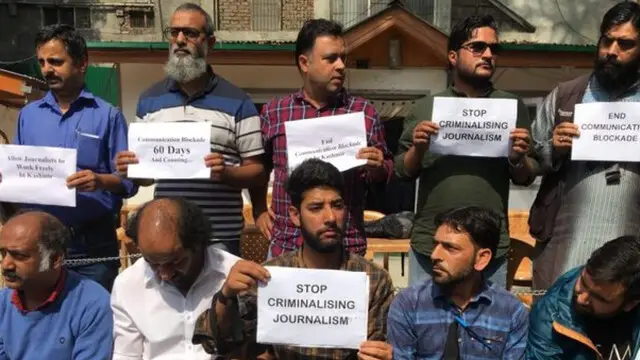 National Conference chief spokesperson Tanvir Sadiq said the report lays bare how news media in the Jammu and Kashmir region, especially in the Valley, was slowly being choked through extensive curbs.
---
Jammu and Kashmir administration retracted the premises allotted to the Kashmir Press Club, following "dissensions" between two factions, one of which had tacit support from the government.
---
For sending threatening letters to Kashmiri journalists, the police filed a case on Saturday against militants and handlers affiliated with Lashkar-e-Taiba.
---
According to police, case has been registered against journalist Fahad Shah at Safakdal Police Station and Pulwama Police Station. Shah is the founder and editor of weekly online magazine 'The Kashmir Walla'. 
---
Government officials said that the decision was taken after they became concerned over an unpleasant turn of events involving two rival warring groups using the banner of the Kashmir Press Club.
---
Officials in the Jammu and Kashmir Police confirmed that Pulitzer-winning photojournalist Sanna Irshad Mattoo had been placed on a no-fly list.
---
Opposition leaders call the take over of the Kashmir Press Club by a new body, a 'state-sponsored coup'. A group of people came into the press club with armed policemen and declared themselves, the 'new management.'
---