Australian PM Anthony Albanese said one Australian diver was injured when a Chinese destroyer used sonar while near an Australian frigate in international waters last Tuesday.
---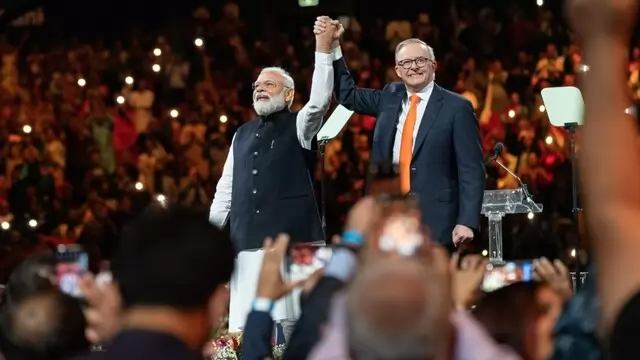 Speaking to the Australian Prime Minister Anthony Albanese, Indian Prime Minister Narendra Modi raises his concern over the recent temple attacks and pro-khalistani activities being reported in Australia.
---
Prime Minister Narendra Modi on Tuesday invoked cricketing ties between India and Australia and said millions of Indians mourned when the great Australian spinner Shane Warne died last year.
---
The India-Middle East-Europe Economic Corridor will consist of two separate corridors, the East corridor connecting India to West Asia/Middle East and the Northern corridor connecting West Asia/Middle East to Europe.
---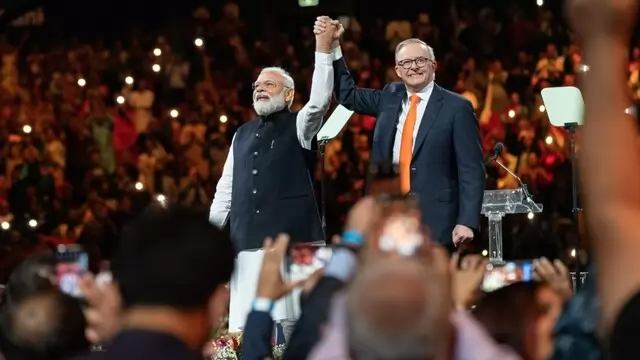 Prime Minister Narendra Modi praised several Indian-origins leaders in Australia, including Deputy Premier of New South Wales Car, New South Wales Treasurer Mookhey and Pandey, who have made great progress and are...
---
A 2021 census revealed that 45% of the Harris Park residents have Indian roots, according to reports.
---
White House press secretary Karine Jean-Pierre said in a statement Wednesday that the visit would "underscore the deep and enduring alliance between the United States and Australia and the two nations' shared commitment to...
---
Indian Prime Minister Narendra Modi will be visiting Australia after nine years this week. The Prime Minister of Australia Anthony Albanese said he is honoured to host Modi and spoke about the two countries' shared...
---