India has become a regular invitee, during his two terms in office former prime minister Manmohan Singh attended five such summits, while Prime Minister Modi has so far been to three, including the latest in Germany.
---
The White House said Tuesday that the United States is pitching in $2.76 billion toward the effort. The funding will be used to assist 47 countries and regional organizations dealing with food insecurity and malnutrition
---
A formal announcement was expected Tuesday as the leaders hold their annual summit.
---
Russia President Vladimir Putin made the comment during a visit to Turkmenistan, when asked about Western leaders joking about him at the G7 summit.
---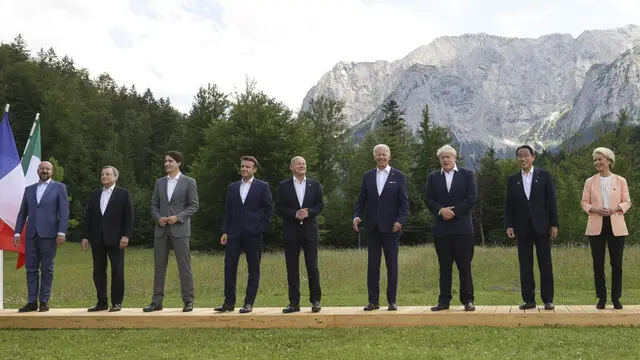 The Partnership for Global Infrastructure and Investment (PGII) unveiled on Sunday during the G7 Summit relaunches a scheme unveiled at last year's G7 talks in England
---
Russia holds roughly $130 billion in gold reserves, and the Bank of Russia announced Feb 28 that it would resume the purchase of gold on the domestic precious metals market.
---
PM Modi also held bilateral talks with German Chancellor Olaf Scholz and Canadian President Justin Trudeau on the sidelines of the summit
---