At 19, Bellingham had already established himself among the most sought-after players in football, with Manchester United, Manchester City, Liverpool and Paris Saint-Germain among his admirers.
---
Last season, it was Liverpool in pursuit of a quadruple of trophies. This year, it is a Manchester United team rejuvenated by manager Erik ten Hag that has a chance to win four titles.
---
Manchester United manager Erik ten Hag has wasted no time in guiding the club to silverware just 10 months after being hired.
---
Manchester United will be missing top scorer Marcus Rashford because of a muscle injury when it hosts six-time champion Sevilla in the first leg of the Europa League quarterfinals.
---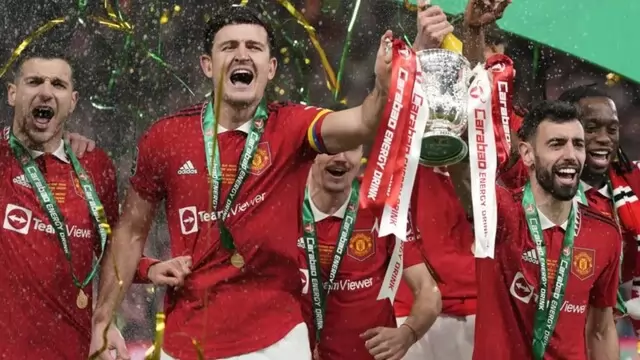 While a quadruple remains unlikely, Manchester United's hunt for more silverware is still alive after beating Newcastle United 2-0 in the League Cup final on Sunday.
---
The Brazil international was sent off in the second half for grabbing Palace midfielder Will Hughes by the neck and will serve a three-match ban for violent conduct.
---
Casemiro must now serve a four-match ban, given that it was his second sending-off of the season. His other was at Crystal Palace on Feb. 4.
---
Casemiro was a serial winner with Real Madrid and on Saturday he kept Manchester United's trophy hunt going strong in the FA Cup with a 3-1 victory over Reading.
---