In the United States, the bird flu since 2021 has killed millions of commercially-raised chickens, turkeys, ducks and geese, and has killed thousands of wild birds. Many virologists are concerned this virus could spill over...
---
The researchers screened de-identified electronic health records on the TriNetX research database for more than 70 million patients to identify two groups of 37,377 patients.
---
Two carcass samples have been sent to a Bhopal laboratory for testing for avian influenza, said an expert.
---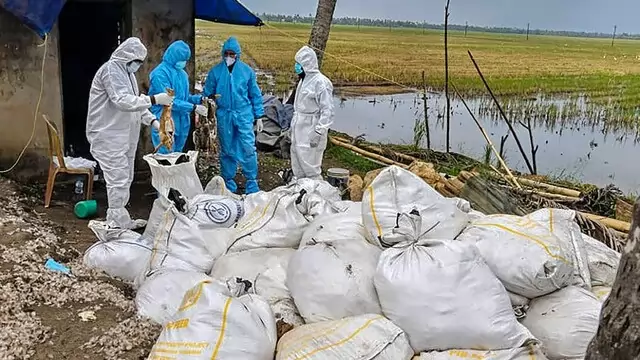 A total of 6,017 birds, mostly ducks, were killed on Saturday in the Vechur, Neendoor and Arpookara panchayats of the district, a release from the district administration said.
---
Bird flu also called avian influenza, is a viral infection that can infect not only birds but also humans and other animals. Most forms of the virus are restricted to birds.
---
The department of animal husbandry and dairying (DAHD) provides funds to states and Union Territories on a 50:50 sharing basis.
---
Palghar's district veterinary officer Dr Prashant Kamble said that some birds at the poultry farm died, after which their samples were sent for testing.
---
Amid the bird flu scare, the Red Fort monument will be closed for public till January 26, say officials
---