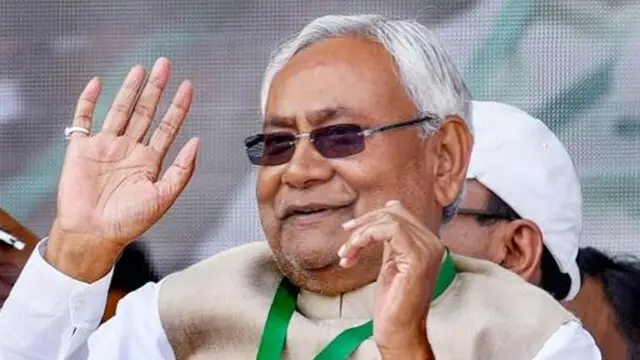 All officials concerned have been directed by Bihar Chief Minister Nitish Kumar to ensure strict implementation of the prohibition law, which is aimed at cutting off the supply of alcohol in the state.
---
It is time for the Left parties, Congress and all regional parties come together to form a united opposition, Kumar told reporters after meeting CPI-M general secretary Sitaram Yechury at the party office. 
---
In a Facebook post, without mentioning Kumar or JD(U) by name, Jaiswal said "the bluster of bundling out BJP for 50 seats out of nearly 540 in Parliament is ridiculous (hasyaspad)".
---
CM Nitish Kumar, in a statement issued during the day, said four people each died in Purnea and Araria and 3 in Supaul due to thunderstorm and lightning. 
---
His first meeting scheduled for the day is with CPIM General Secretary Sitaram Yechury, which will be followed by the chef minister visiting the CPI headquarters to hold talks with general secretary D Raja.
---
In his speech after winning the confidence motion, Nitish Kumar made indirect references to rebellion by LJP's Chirag Paswan, allegedly at BJP's behest, and attempts to cause a split in JD(U) through his former protege...
---
"If we get an opportunity to form the next government, all the backward states will be granted the special category status. There is no reason why it cannot be done," said Kumar, who snapped ties with the BJP and joined the...
---
When the weather conditions did not improve, the CM took the road route to reach the state capital.
---