Nineteen- year-old Mantasha Ansari is clad in shorts, a t-shirt, knee-length socks and cleats. Dribbling a football, she instructs the other girls­—some in shorts, others in track pants—to run, dodge and kick the ball hard. This continues for some time. When the practice session is over, the girls head back to the office of their mentor, Sabah Khan. Ansari and the other girls are part of the Parcham Girls Football Team of Mumbra, a first for this conservative town with a population of over 12 lakh.
In a 160 square foot room with a gymnasium in one corner, with a shelf of books spread across a wall and an array of computers mounted on tables in another, these girls dream of giving wings to their football dreams. In that room, Sabah Khan­—the co-founder of Parcham—works her magic with the girls. She has brought these girls out of their homes in conservative Muslim ghettos and into the public eye as footballers. The girls have challenged their conservative roots in Mumbra, a settlement that came up after the 1992-1993 riots in Mumbai, then Bombay.
Located about 60-odd km from Mumbai, Mumbra became a Muslim ghetto after the riots which followed the demolition of the Babri Masjid in Ayodhya, on December 6, 1992. After the riots, many Muslims fled Mumbai and settled in Mumbra. The then state government had allocated land measuring around 26 square km which was under the custody of the State Waqf Board for the resettlement of Muslims who had fled from different parts of Bombay, like Bhandup, Vikhroli, Ghatkopar and Walkeshwar. Mumbra, near the backwaters of the Thane creek, became their refuge.
Until 1975, much of the area around Mumbra was agricultural land. Between 1968 and 1975, when Mumbai saw significant growth in its population and area density, the agricultural land in Mumbra was urbanised. This was the first expansion of the Mumbai Metropolitan Region, of which Mumbra is a part. Until 1991, there were less than 50,000 residents in Mumbra. Following the exodus into Mumbra from Mumbai, the population grew exponentially. While 85 percent of the population are Muslim, 8.6 percent are Buddhists, 3 percent Hindus, 1.4 percent Christians, 1.7 percent Jain and 0.3 per cent of the population are from other communities. Urban development has also brought in a slew of English-medium schools operated by missionaries and other NGOs. Hindi- and Marathi-medium schools lag behind. Interestingly, there aren't many madrasas (Islamic seminaries) in this region.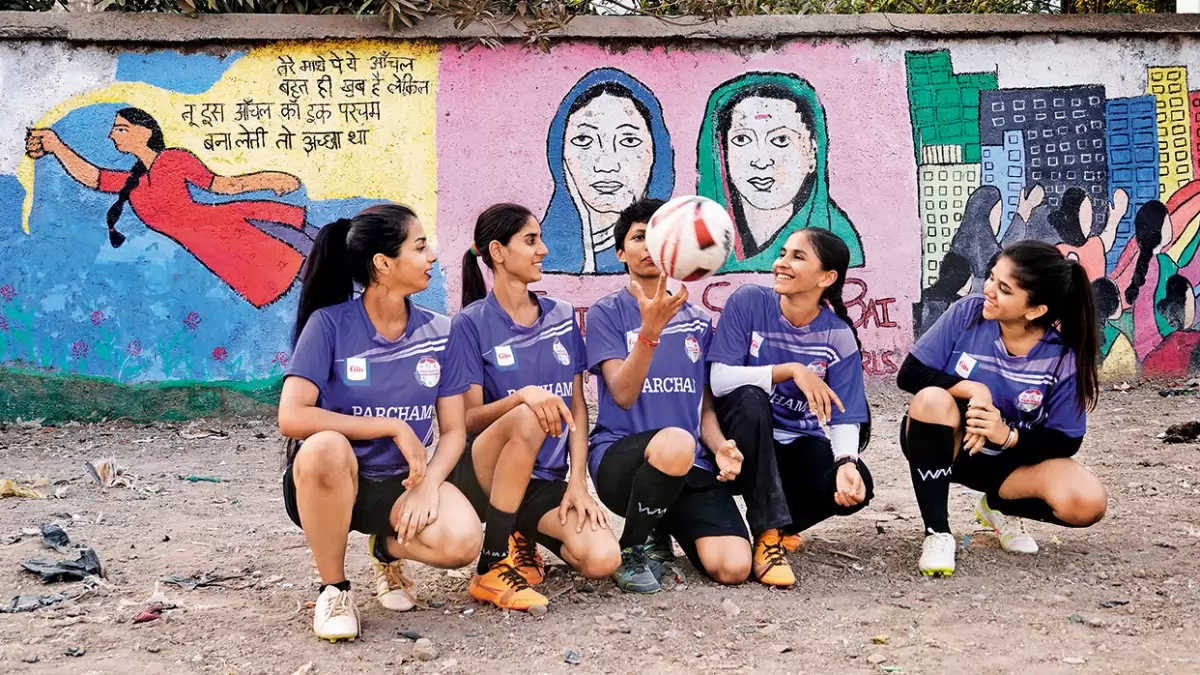 Though Ansari and the other girls come from diverse backgrounds, 90 per cent of them Muslim and the remaining from other communities, it is their love for football that binds them together in that room. They are also united by a secret—their parents do not know that they play football. They leave their homes in salwar kameez, a burqa covering them from head to toe. At the Parcham office, they change into their football gear and head to the public ground for their practice sessions. Once the session is over, they are back in their traditional wear for the trip back home. There are some like Ansari, the daughter of a maulana (priest), who faced violence at home due to her crazy love for football. "I have been playing football since I was three-and-a-half. Initially, I played football wearing the hijab. Later on, I played in a salwar kameez. I would tell my mother that I had extra classes. The day my mother was told by someone that I was playing football, I was beaten up. For five months, my family monitored my movements very closely. I gave up football for five months. Finally, my nani (maternal grandmother) convinced my family to let me play," she tells Outlook. The permission was conditional. She had to cook for the entire family and do all the household chores before she went out to play football. Ansari had to reach back home at the exact hour she told them she would. "One day, I got late from practice and I was beaten badly. For a week I lived in a hostile home. Then I left home with some clothes and Rs 400 which I had saved over months. I sought help from an NGO. I lived in a rescue home for some time and returned home after my mother promised that she would let me play football," says Ansari. Today, her mother has emerged as her greatest support. Shorts and t-shirt have replaced the hijab on the field. "Today, I am a coach and during practice, I hear stories similar to mine. That is my connect with the girls," she said.
The biggest challenges these girls face are finding a playground to practice without interruption and getting an experienced coach to train them. Speaking to Outlook, Khan says that no one was coming forward to coach them. "A national level goalkeeper had come to coach them. We paid him substantially. He coached the girls for two sessions. He did not accompany them when the team went for a tournament. He shouted at athem nd insulted them for wearing shorts. We sacked him. He bad-mouthed the girls saying they would never find a coach," said Khan. "No one takes the aspirations of these girls seriously."
In 2012, Mumbra got its first girls' football team. "When they played on the grounds, all of Mumbra's boys and men lined up to watch them. Lewd comments would be passed and they would be booed. Many girls would feel conscious to run on the field as their bodies were open to the male gaze. They would walk to the ball. We saw a high dropout rate, due to the pressure of the male gaze," says Khan. The female footballers here are given free coaching and football kits. "We know that parents will not invest in their girls learning football. We encourage footballers to volunteer at our events, which is, in a way, giving back to the community," she adds.
The girls got hooked to the game after Parcham started distributing flyers in schools and colleges announcing their intent to provide free football coaching to girls. Those who showed interest were contacted and trained. Khan feels that the game is also a form of release for the girls. "Despite being bound by conservative traditions, these girls feel some kind of freedom when playing the game," says Khan.
In 2015, the team participated in the Mumbai Mirror Tournament which gave them the experience of playing against professionally trained female footballers. In 2018, the Parcham Team participated in a tournament organised by Discover Football in Goa, a Berlin-based group. In 2021, Parcham entered into a collaboration with Puma and Man City to train the Mumbra female footballers to become coaches. Today, the girls have three female, licensed coaches— Kulsum Shaikh, Madina Maqbool and Fatima Shaikh – all of whom had once played for the Parcham Girls football team. When they practice, the hijab is off. A former female coach of the Parcham team is now training male footballers for advancement in her career, says Khan.
Many of these footballers live in extreme poverty. Some of them live in houses made of tin sheets without access to piped water or sanitation facilities. A majority also live in conservative ghettos within Mumbra, where women and girls are rebuked and ridiculed for being in public spaces. Sometimes, when the families are fine with their girls playing the game, it is neighbours or friends of the brothers who pressurise the families to 'rein in' and 'tame' the girls. There is talk that a group has approached the local maulanas demanding that they issue a fatwa against the female footballers.
Many of these footballers live in extreme poverty. Some of them live in houses made of tin sheets without access to piped water or sanitation facilities.
18-year-old Muskan Shaikh started playing football three years ago. Though she is very interested in the sport, she has not been able to give it quality time due to domestic compulsions. "I did not tell anyone that I played football. One day, I was injured during a session. As the injury was serious, I had to tell my mother. Since then, I was not allowed to play. I gave it up for some time. But I got back into the game during my interactions with Parcham. Though I have learnt to challenge stereotypes, as a reward, my family is looking for grooms for me. I will marry only if I want to and it will be my decision," says Sheikh.
Apart from empowering young girls, the football programme also addresses the politics of hate which gives birth to ghettos such as Mumbra, says Khan. "This game is bringing together girls from various communities. They are playing in the same team, alongside each other. This helps them get to know the 'dreaded' other, thereby challenging stereotypes fuelling hate and otherness," she said. The programme has now been expanded to the eastern and western suburbs. Currently, 176 girls from Mankhurd, Jogeshwari and Mumbra are being trained in football by Parcham. There are instances when girls cannot participate in tournaments as they do not have a birth certificate or have errors in it. Narrating an incident, Khan says that one of the players was selected to play in the district team but did not have a birth certificate. Since she was born in the village from which the family came from, there were no documents available. After much bureaucratic wrangling, Parcham managed to get the birth certificate made. In some cases, the names are spelt incorrectly, while in others neither the name of the child nor the date of birth is mentioned. There are families like that of 20-year-old Shabnam Shaikh. The Shaikhs live in Mankhurd, about 24 km from Mumbra. "My father brought me to Mumbra and enrolled me in the football team. I joined about five years ago. My father accompanies me to tournaments and has been very supportive. However, he has been constantly rebuked by his relatives and our neighbours for being supportive of my decision," said Shaikh. Though she wears shorts while playing, she has chosen to don the hijab due to the social pressures. "My parents have no issues with my clothes, but I have to wear the hijab due to pressure from people," she says.
Madina Maqbool's love for football got wings thanks to her father's keenness to teach her the game. "My father gave me permission and has supported my decision, cautioning me that I have to understand my limits. I always play in track pants. My parents are open-minded but our relatives are not. My father is a feminist and I feel lucky that I do not have to lie to my parents for anything," she says.
Twenty-year-old Mankhurd resident, Aarti Melkeri, has not told her parents that she plays football. She is unsure of the problems the revelation could cause. Yet, for now, she is pursuing her passion.
The battle for this team is more off the field than on it, with the challenge being finding a safe ground for their football practice. The boys have always taken the grounds available in Mumbra to practise. Though the development plan for Mumbra has a ground earmarked for girls and women, the civic authorities are not serious about handing over the ground to the women. "We fought for it and got the ground reserved for the girls. However, debris is being dumped on this ground to take it over. This ground is always dirty. Every time the girls want to play, they have to clean it up first. We do not see the same thing happening on the grounds used by the boys and men," says Khan. None of these girls know any international women footballers nor have they any icons. Some of them secretly watch football matches on YouTube. The dropout rate of female footballers is high due to the pressure from their neighbours, who often have more say in the matter than families, who are the main hindrances to these women dreaming of running with the ball.
(This appeared in the print edition as "Ghetto Girls Kick BALL")
---
Haima Deshpande in Mumbra