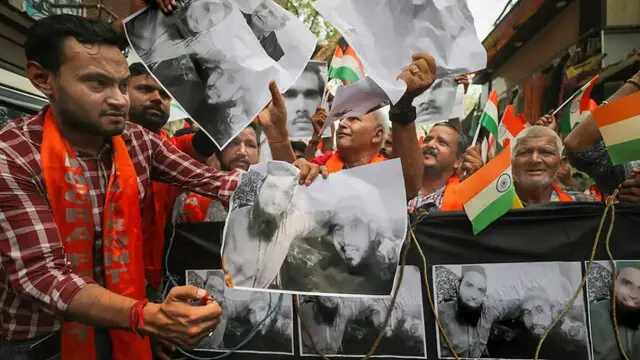 Kanhaiya Lal, a tailor, was killed by cleaver-wielding men-Riaz Akhtari and Ghouse Mohammad-at his shop on June 28 in Udaipur's Dhan Mandi police station area over a controversial post on social media.
---
AIUDF president Badruddin Ajmal on Thursday termed the brutal killing of a tailor in Rajasthan's Udaipur as ''un-Islamic and inhuman".
---
National Investigation Agency (NIA) has been directed by The Home Ministry to take over the investigation of the brutal murder of a tailor in Udaipur and prod the involvement of any organization and international links.
---
Traders at the wholesale market in Madhya Pradesh's Indore city shut their establishments for half-day to protest the gruesome killing of a tailor in Udaipur.
---
The tailor Kanhaiya Lal was attacked on Tuesday afternoon by two men who posted a video of the brutal attack with a cleaver on social media and claimed that they had avenged an insult to Islam.
---
The curfew imposed in selective areas of Udaipur remains rigid while mobile Internet services have been suspended across all 33 districts of Rajasthan after a tailor was brutally murdered here by two men, triggering stray...
---
Three people have been arrested in Rajasthan for delivering a hate speech in which they allegedly called for beheading to avenge the insult to Prophet Mohammad, as stated by the officials.
---