Mamata Barla has been the sarpanch of Itawa Bhopji Gram Panchayat—around 50 kilometres from Jaipur—since 2010. When she became the sarpanch, the hamlets within the ambit of her panchayat were facing an acute water crisis. She decided to deal with this issue first.
"Only women understand the importance of water as they have to wake up at 4 AM and store water for the entire household. Men won't understand this problem because it's the women who do the household work," says Barla, who is now in her mid-40s. She called for a panchayat meeting and got installed two water tanks of one lakh litre each. In the next few years, boring facilities were provided in at least 20 places across the hamlets. Now, there is a four-km-long pipeline that brings water from a nearby river to the tanks.
Being led by Barla for the past 13 years, the residents of Itawa Bhopji, which falls under the Govindgarh Panchayat Samiti, feel that women leaders have different priorities. "They focus on everyday issues like water, health of women and children and education and use the limited funds accordingly. If women get a chance to run the country, the idea of development will change," says Rekha Kumawat, who was one of the first women panchayat samiti members from Govindgarh.
With the passing of the Women's Reservation Bill in both Houses, the village is convinced that the nazariya (perspective) of the country will soon change as well. For them, 33 per cent is not just about numbers in Parliament and state assemblies, it represents a new vision, a new idea, and moreover, a different gaze.
In 2008, the Rajasthan government increased the reservation for women in Panchayati Raj Institutions (PRIs) to 50 per cent. At present, Govindgarh Panchayat Samiti has 49 panchayats, of which 25 are run by women. Notably, women have won here even from general seats, Kumawat points out. "That's because people here believe that women can bring positive changes," she adds.
Leading panchayats in a state with a poor sex ratio—928, far below the national average of 940—what did these women do differently to bring about so many changes? As the number of women in the 'House of the People' is about to witness a significant jump, it is necessary to look back at those constituencies where the reservation of women following the 73rd and 74th constitutional amendments transformed the political landscape. A visit to women-led panchayats in Govindgarh Panchayat Samiti can helps us in understand how a different gaze can lead to inclusive and participatory development.
Notably, the changes are very apparent and gender-inclusive—school grounds having a vibrant presence of girls, sanitary napkin disposal machines, concrete cement (CC) roads connecting villages to essential services, study rooms for women, functional labour rooms and Operation Theatres (OT) in Community Health Centers (CHCs), street lights and CCTVs are all signs of the changing times.
A New Form of Development
Itawa Bhopji has a population of around 11,000 and is divided in 17 wards. Based on the 50 per cent reservation rule, nine ward members are women. While most of the ward panchs are new, Barla has got elected thrice as sarpanch.
Her long stint has helped her examine specific issues ailing the village. Some problems were and are persistent—while Rajasthan's share in the population of the country is at 5.5 per cent, its share of water resources stands at 1.1 per cent. In the summer of 2022, out of 285 blocks, 203 were overexploiting groundwater, government data shows.
So when the severe water crisis continued to haunt Itawa Bhopji and groundwater started depleting, Barla had to come up with a new plan. That's when she got the pipeline installed. "Now the water issue is resolved, at least for the time being," says one of the panchayat officials.
Leading panchayats in a state with a poor sex ratio, women sarpanchs have managed to bring about gender-inclusive Changes.
After fixing the water issue, Barla's next agenda was to expand the roads. "Water-logging due to poor sewage system was common. Students would struggle to reach schools. So we made CC roads for their convenience," adds Barla. As per the panchayat officials, in the past 10 years, around Rs 5 crore have been spent on making CC roads.
Barla also helped to develop the local government school and the CHC. "The panchayat installed a 20,000-litre water tank in the school in 2021. A boring was made 15 months ago, but it is not operational yet," says Maliram Yadav, who teaches Sanskrit in the government school. The school currently has 412 students; 250 are girls.
The nearby CHC, which was earlier a Primary Health Centre (PHC), got a labour room after the panchayat intervened. "Not just women, everyone gets benefitted if the sarpanch is a woman," says a village elder.
While Barla has studied till 10th standard, Sanjana Jat, the sarpanch of Tankarda gram panchayat, around 11 kms from Itawa Bhopji, is an M.Sc in zoology. Besides working hard to develop the villages, the second-time sarpanch is now preparing for CSIR-NET.
The major problem that she had to deal with was illegal encroachment. Her village is famous for the Dussera mela and Narsimha leela. Many people visit the village during Navaratri. Over the years, the shops that had carried out illegal extensions would lead to road blockage and accidents. "In 2015, when I got elected for the first time, I enabled the removal of illegal structures that had been place for the past 40 years," says Jat. Every year, her panchayat invests around Rs 50,000 to get the village cleaned ahead of the festival season.
However, the biggest achievement of her panchayat was to make people aware of government policies on population control, sterilisation and child vaccination. In 2019, the state health department awarded them a cash prize of Rs 1 lakh for contributing to population stabilisation. Jat's support and monitoring of Auxiliary Nurse and Midwives (ANM) and Accredited Social Health Activists (ASHA) made it possible, feel village residents.
Jat, who was earlier teaching at the Laxmi Badhala College, also contributed to the local government school. "When I became a sarpanch, the number of students was around 250. Now it has increased to almost 500." She had sanctioned around Rs 50,000 to install two sanitary napkin disposal machines in the local government school. Such small steps help the girl students, she adds.
Talking about the significance of sanitary napkin disposal machine, Meera Devi, the former sarpanch of Bhutera, a village within the Govindgarh Panchayat Samiti, says: "When I was the sarpanch, girls used to tell me that they miss schools for 5-6 days every month due to the lack of facilities to dispose of the sanitary pads. I installed two machines in the school and it helped." Such machines have been installed in 11 villages of Govindgarh Panchayat Samiti with the help of Participatory Research in Asia (PRIA), which has been working in the area for years trying to scale up the participation of women in administration.
Before becoming a sarpanch in 2010, Meera Devi was a panchayat samiti member between 2000 and 2005. After becoming the sarpanch, her priority was to focus on women-related issues. "I knew I must do something that would help the women because nobody thinks about them," she says. In 2010, the local government school at Bhutera had only 25 students; in 2023, the number stands at 450. "They needed basic facilities like water, toilets, etc. After I installed the water tank and toilets, the number of students gradually increased," she adds.
Approximately 30 kms from Bhutera is Niwana village. First-time sarpanch Raju Devi has sent a proposal to the panchayat samiti to sanction funds for the installation of CCTV cameras at the main junctions of the village to enhance security. "We have also sent a proposal to start a study room for women," says the sarpanch.
The adjacent village panchayat of Devthala, led by woman sarpanch Koyali Devi, got its first women's study room in 2022. "We received a lump sum as a donation and decided to utilise it to make this study room for our girls. As there is hardly any space for girls to study at home, they needed a safe and peaceful space," says the sarpanch's sister.
New Ways of Seeing
The major force behind the changes in women-led panchayats stems from their different ways of seeing. On being asked why women sarpanch look at issues differently, Kumawat says: "While men are mostly interested in construction work where there are chances of getting 'cuts', women focus on solving day-to-day issues."
Citing an example, Barla says: "In 2011, our village received a huge donation. The men were of the opinion that we should buy benches for the school. But I insisted on getting more hospital beds. Schools come at a later stage. Having proper healthcare would ensure that healthy babies are born."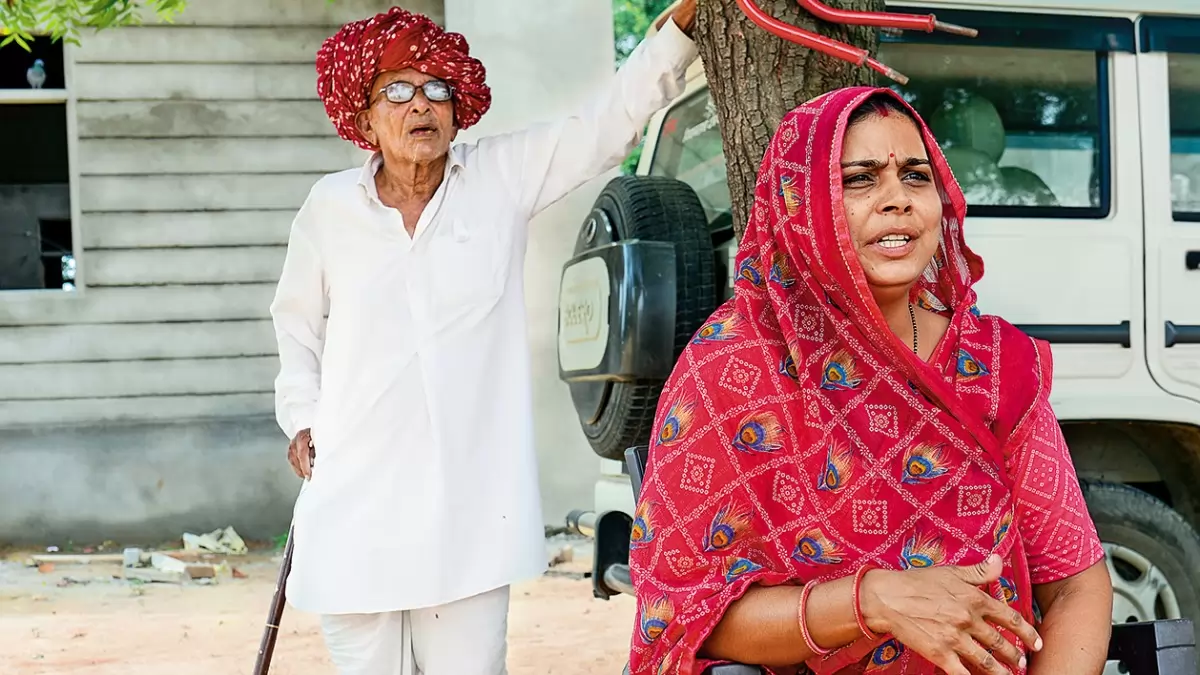 Sarpanch Meera Devi feels sometimes men in leadership positions overlook issues related to women or hesitate to sanction funds for important projects. In 2017, she sent a proposal for a sonography machine at the local CHC, but nothing happened. "There is not a single sonography machine in our panchayat samiti. The nearest one is far, in Chomu municipality. Men didn't think it was necessary and expecting mothers had to travel a long distance in the absence of a sonography machine," she says.
There are five CHCs and nine PHCs in Govindgarh Panchayat Samiti, but none has an ultrasound machine. The samiti's pradhan post has been held by a man three times consecutively, the former sarpanch points out.
Sarpanch Jat, however, feels as compared to women, more men engage in corruption and bribery. "They try to siphon money from welfare schemes," she says. A survey by Transparency International India shows that 37 per cent of their respondents believed that men are prone to corruption, whereas only five per cent believe women would voluntarily engage in corrupt activities.
Meera Devi feels that sometimes the ambitions of men come in the way of focussing on the development of villages. "Most men aspire to become MLAs, MPs or ministers and get themselves involved in party politics that is detrimental to productivity at panchayat levels," she says.
According to Kumawat, women sarpanch leaders are more approachable and hence women feel comfortable discussing their issues with them. "Earlier, there was the issue of women's participation in gram sabha meetings. A woman feels comfortable when other women accompany them for the meetings. But now everyone knows that with the 50 per cent reservation norm, one or more women will be present," adds Kumawat.
'Rubber Stamp' Panchayats
While women sarpanch are putting in all their efforts to bring in significant changes in their respective constituencies, the reaction of elderly men in these villages to women's leadership stems from two prejudiced trajectories—the presumption that women are not aware or knew nothing prior to their participation in Panchayat Raj, or deification—treating women as goddesses.
Bhagwan Yadav, the former Sarpanch of Itawa Bhopji, who is in his late 60s, says women are coming out of their ghungats because of the reservation. They are more aware now and the presence of women is making panchayats more disciplined. "Men don't curse when a woman is present," says Yadav. Murlidhar, 70, who lives in the neighbouring village, feels as women are considered as goddess Laxmi, they must do wonders.
"Sometimes men in leadership positions overlook issues related to women or hesitate to sanction funds for important projects"
The unchanged perception of men thrives along with another societal ill—the 'rubber stamp' panchayats. In a village close to Itawa Bhopji, the woman sarpanch is what most of the villagers call 'a proxy candidate'. Her husband, who is associated with the Bharatiya Janata Party, works as an e-Mitra operator.
"Due to his political clout, people urged him to be the sarpanch. But in 2020, the seat was declared a reserved one and he asked me to fight. I don't know much. I learn from him," says the sarpanch. Her brother-in-law was also a sarpanch.
She is not the only one. Raju Devi from Niwana also fought the election in 2020 after the seat was reserved. "Her husband is a two-time sarpanch. She was the natural choice," says a panchayat official.
The idea of a 'rubber stamp' panchayat is prevalent across Rajasthan villages. Chhavi Rajawat, the former sarpanch of Soda village in Tonk district feels it's a big hurdle. "After I became a sarpanch in 2010, the first thing I did was to remind the men that they had not won the election. Even if they accompanied their wives, they should not attend the meetings. I encouraged women ward-councillors to speak," she says.
Kumawat, who has been working with different NGOs for many years, highlights two issues that are working against women. "Political parties are mostly dominated by men and they don't like to give tickets to women who have already completed a term or two. They always want fresh candidate so that they can manipulate them," she notes.
The decision of the Ashok Gehlot government to make literacy the only criteria is the second deterrent. "Most women are inexperienced and illiterate and husbands often take charge. Often, male panchayat secretaries don't support women sarpanch leaders. It's unfortunate," she says.
Besides, government training for the panchayat members is just a formality, says Meera Devi. Due to the lack of support, women find it difficult to file nominations. Most of the women sarpanch leaders have a family member in politics, or come from a family of sarpanchs.
What should be done to include more women in the system? Kumawat says with a sigh: "To fight elections, you need money." Govindgarh got its first women reservation in 1995. "The clutches of men are still holding us tightly ... even after 28 years," she laments.

(This appeared in the print as ' A Different Gaze')