In Pictures: Last Supermoon Of 2022
The fourth and the final supermoon of 2022 began on Wednesday, became visible to naked eye on Thursday, and is expected to be in that phase till Saturday morning, according to NASA. Space.com describes full moons as a situation when full moon coincides with the moon's closest approach to Earth in its orbit. Supermoons are 17% bigger and 30% brighter than when the moon is at its farthest point away from Earth, as per NASA.
A couple enjoys a drink at a viewpoint overlooking Lisbon as a super moon rises in the background.
A supermoon—also called a sturgeon moon—rises as a jetliner approaches John F. Kennedy International airport in New York.
The moon rises over Malvin Beach in Montevideo, Uruguay.
The Super Moon rises behind a cross on the dome of a Maronites church St. Maron in Anthoupolis a suburb of capital Nicosia in the southeast Mediterranean island of Cyprus.
The Super Moon rises behind monument "The Victor," a distinctive symbol of Belgrade, on Kalemegdan fortress in Belgrade, Serbia.
A supermoon rises beyond the Art Deco spire of the Power and Light building in downtown Kansas City, Mo.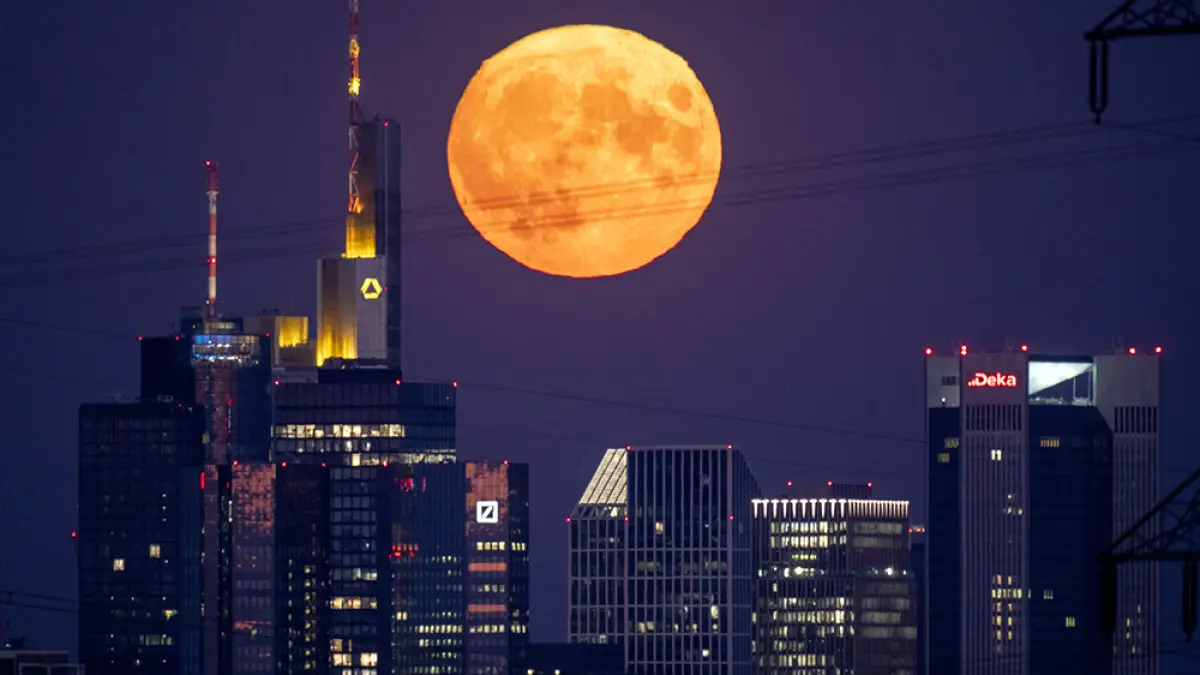 The full moon rises behind the buildings of the banking district in Frankfurt, Germany.
Two children walk with a dog as the moon rises over Hefer Vally, Israel.
The moon rises above the Indian Ocean in Diani Beach, Kenya.
Residents wearing masks take a selfie near a statue of Cupid as a Supermoon rises in the night sky in Beijing.