The protests which started in late January in New Delhi, brought into the multiple allegations of sexual harassment and criminal intimidation against the WFI chief.
---
Wrestlers Vinesh Phogat and Sakshi Malik expressed disappointment that while it took seven days for the police to register an FIR against WFI chief Brij Bhushan, it took them under seven hours to register an FIR against the...
---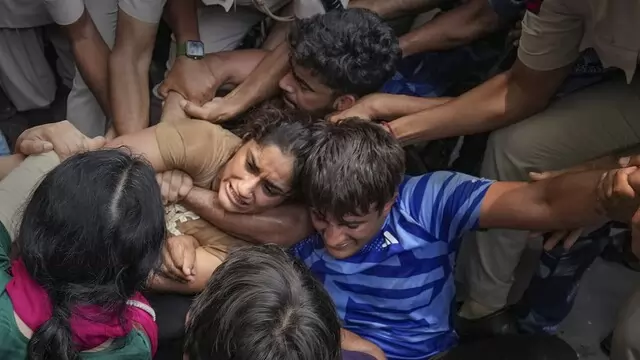 The police said that 700 people were detained across the national capital. As many as 109 protesters, including the three wrestlers, were detained at Jantar Mantar. Women detainees were released later in the evening.
---
The grapplers had resumed their agitation against Wrestling Federation of India (WFI) chief Brij Bhushan Sharan Singh on April 23 at Jantar Mantar and stayed there till May 28, the day they were detained by the Delhi Police...
---
Barely two kilometres from the dharna site at Jantar Mantar, the new Parliament building was being inaugurated by Prime Minister Narendra Modi while top wrestlers were being physically mandhandled by the Delhi police.
---
The protest organisers and others have been booked for rioting and obstructing public servant in discharge of duty, Delhi police said.
---
The wrestlers, who had been protesting at Jantar Mantar since April 23 seeking the arrest of Singh, were removed from the site by the Delhi Police on Sunday after they tried to march to the new Parliament building that was...
---
Top wrestlers, including Vinesh Phogat, Sakshi Malik, and Bajrang Punia, who have been protesting at Jantar Mantar for over a month against Wrestling Federation of India Chief (WFI) Brij Bhushan Singh were among the ones who...
---