Amid a continuing tussle between the Rajasthan chief minister Ashok Gehlot and his former deputy chief minister Sachin Pilot, the Congress leadership will likely hold a meeting in Delhi on May 25.
---
After a landslide victory in the Karnataka polls, the Congress seems to be giving the BJP a taste of its own medicine. Practising what has been largely preached by BJP, the Congress said the Assembly had been 'polluted' by...
---
Earlier, there were speculations about a power-sharing deal or rotational CM arrangement being brokered between Siddaramaiah and DK Shivakumar.
---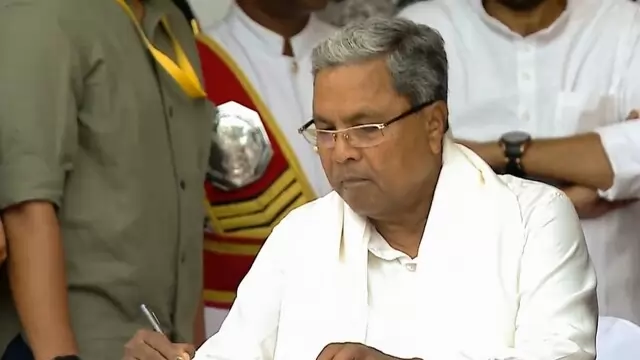 Details of the Delhi visit has not been shared with media, but party sources said they are expected to meet Congress leadership to discuss allocation of portfolios to Ministers and cabinet expansion.
---
As per the complaint by activists from Andhashraddha Nirmulan Samiti, an organisation that works towards eradicating superstitions and blind faith, Landge had a fever for many days and there was no relief despite treatment.
---
During his previous term from 2013 to 2018, Karnataka Chief Minister Siddaramaiah burdened the state with debts, according to a post on a teacher's Facebook page.
---
It has been reported that some casualties were caused by falling trees while some died due to thunder strikes or got washed away in rainwater.
---
Former J&K CM Mehbooba Mufti during her presser in Karnataka's Bengaluru also said the people of the state have given a ray of hope to the entire country by defeating a 'fascist, communal and divisive' BJP in the...
---