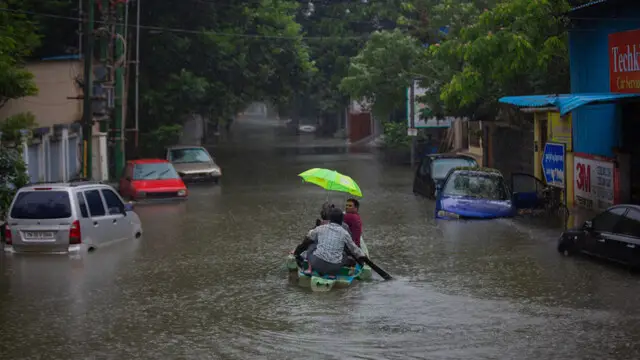 Experts say flooding in urban and peri-urban areas are happening due to unplanned waste dumping and continuous disregard for natural recharge structures like ponds, wetlands, and tanks.
---
The Chief Minister, referring to his Tuticorin visit on Thursday, said people knew more than officials on the reasons for inundation and requested officials to factor in local wisdom in their proposals to avert flooding.
---
In IMD parlance, departure means an increase or decrease (here increase) from the average mean temperature/rainfall of the given time period based on 30 years' records.
---
Pointing to the surprise heavy rainfall here on December 30, Stalin, in a letter to Union Home Minister Amit Shah quoted extensively from India Meteorological Department-Regional Meteorological Centre's bulletins of that day.
---
In the wake of monsoon rains and water-logging, 15,111 medical camps have been set up in Greater Chennai Corporation localities in which over 4,88,000 people have participated.
---
The Indian Meteorological Department said the depression over Bay of Bengal has started crossing coast near Chennai.
---
Tamil Nadu: The intense spell is likely to be one of the heaviest witnessed in recent years, while police said three subways were closed and in view of inundation and traffic moved at a snail's pace in at least 14 arterial...
---