One reaches Angela Govindraj's small flat after a dark climb where every landing has a window to bring in sunlight. The tiny kitchen—unsuitable for a single person to even work around—cannot defeat her spirit of feeding people. It is said that nobody goes empty stomach from here.
Angela, 59, lives in one of the seven blocks of Bow Barracks—a locality in Kolkata that is a small hub of mainly Anglo-Indians who have lived here for generations. She is the secretary of the Bow Barracks Residential Welfare Association (BBRWA). It's a Saturday evening. While preparing brinjal pork, Angela talks about the Anglo-Indians living here.
Bow Barracks is distinctive. The red-bricked, three-storied buildings with green windows and small balconies, the rectangular structures and the inter-connecting lanes, take one to a different world. The cosmopolitan status of Bow Barracks is quite obvious when one comes across a gathering of three—a Chinese, a Bengali and a Tamil Christian—gossiping at the entry of the locality.
"Who are Anglo-Indians here? We are cosmopolitan. I am a Chinese descendant, she is a Bengali—we all are part of Bow Barracks," says Jason in his late 30s whose grandparents came here around the 1940s. "You can find only 2-3 original Anglo-Indian families. The rest don't have authentic roots. People with the surname Gomes have Portuguese ancestry. You can't call them Anglo-Indians," he adds.
"I married a South Indian Christian and spent my whole life here. I am not an Anglo-Indian," the Bengali woman intervenes. Then, where are the Anglo-Indians in Bow Barracks? Peeping from the balcony, an octogenarian, whom the locals 'sarcastically' call 'Sri Lankan'—perhaps for his skin colour—says: "There are hardly any left."
However, this perception changes within another hour. Passing through the grotto that holds regular evening prayers for the Christians of Barracks, one reaches the B Block where Angela stays in her one-room flat on the first floor. "More than 50% staying here are Anglo-Indians. Yes, you can say that there are lots of inter-community marriages. I married a Tamil. But still, we are Anglos," she says. She has spent her whole life in Bow Barracks.
When Barracks Became 'Home'
"My mother used to tell me that the Anglo-Indians in the nearby areas started coming and staying in Bow Barracks when they got to know about it," says Angela whose family, like others, got the option to choose from single and double-room units.
The Barracks were made by the British during World War I for the American soldiers. But they refused the order and the Barracks laid vacant when it attracted the Anglo-Indian community. Around 132 Anglo-Indian families came to the Barracks and started paying rent to the Calcutta Improvement Trust (CIT) which was set up in 1911 through the Calcutta Improvement Act.
The red-bricked, three-storied buildings with green windows and small balconies take one to a different world.
While the age of Bow Barracks is debated, a few people claim it is more than 100 years old and deserves the heritage status. "When I searched for the records of the first baptism in this area, I found that it happened in 1906. The older people claim, prior to that, the place used to be a graveyard!" says Angela.
Her grandmother was a Bengali Christian while her grandfather was an Australian who served in the British Army. But her family has seen several inter-community marriages since then. Her father was Chinese and she herself got married to a Tamil Christian. Angela says one can call her family truly cosmopolitan. During her childhood, besides Anglo-Indians, a Bengali, a Gujarati and a few Chinese families lived here.
Life was vibrant in the Barracks. Every evening one would come across children playing in the lanes, old people sitting on chairs scattered across the streets and groups of people playing music. People were poor, but what they achieved was a community life, says Angela.
While the evening lives are not the same anymore, what they have retained is the sense of solidarity. "Nobody starves in Bow Barracks. If anybody gets to know that her neighbour is starving, she immediately serves her food. This is our tradition," says Angela.
Why did people leave? Denise O'Brien, who is currently the President of the Anglo-Indian Association's Calcutta branch, explains: "They left for better lives. The educated ones started settling down in different parts of the world."
Those who have left still consider Bow Barracks as their home. A few of them call up Angela regularly. They miss Christmas, the celebrations and the joy that the community is habituated to. As a close-knit community, they learned how to help others. Many staying in western countries don't get the sense of 'community', and feel like coming back to their homes.
A Celebration of a 'Community'
Known as 'Angela aunty', she has been trying to rebuild the socio-cultural lives and vibrancy of the community that has certainly been lost with the intervention of "social media and excessive usage of mobiles".
The lively experience at Angela's house displayed what she referred to as 'community life'. Anybody can come here and have food. None needs any formal invitation.
The lively experience at her house displayed what she referred to as 'community life'. Anybody can come here and have food. None needs any formal invitation.
It starts raining. Some kids assemble at the basketball court that 'Angela aunty' got made for them in the backyards of the barracks. She wanted the children to have everything within the barracks so that they don't have to go out. The kids play football and basketball.
Bow Barracks has been known for its players for decades.
"Our ancestors used to play football and hockey for several big clubs. Now we are taking forward the legacy," says Milano, 23, who had a brief period of training from Mohun Bagan, a well-known football club in West Bengal.
A few years back, they formed their own team named 'Naughty Boys' which has been winning tournaments across different states.
"Recently, we played a football tournament at Jharkhand and we went up to the finals," says Milano, who works at a call centre.
Is it a lost glory then? Jason, himself a football player, feels nothing is the same anymore.
"We don't get much support from the government. We used to produce the best football and hockey players of the country," he says, lamenting that in recent times nobody could reach such heights.
'We Marry Only If We Fall In Love'
From the grotto to the one-room flats where one can find the photos of Jesus and Mother Mary, there is an overwhelming presence of Christianity, but marriages in the community are fluid.
"We marry only when we fall in love! This is the reason why you find so many inter-community marriages here," says Angela.
Around 25 years ago, the residents were told to leave as it was "risky" to stay in these buildings.
Earlier people only used to marry within the community but nowadays everything is accepted. One just needs to find a partner. People are getting married to Hindus and Muslims as well without any inhibition. One of her own daughters is married to a Hindu and celebrates both religions together.
Fear of Wrongful Depiction
In the barracks people are hardly comfortable speaking about their community lives. "Most don't want to repeat the same history. For 25 years we have been saying the same thing," says Rodriguez, a resident of Bow Barracks in her late 50s.
"There are very poor depictions of our lives. So, why should we speak?" asks the homemaker whose children are well-settled across the globe.
"It is just because of the wrong depictions that the community is perceived in bad lights," says Mark Morass, who was one of the founders of Bow United in 2004. While the rest of the world sees Bow Barracks through the lens of Anjan Dutta's film Bow Barracks Forever, the community is extremely sceptical about it.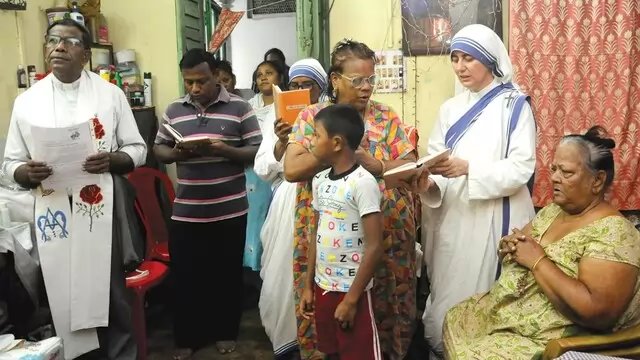 "We asked him to show the script and he didn't. We couldn't even say much as he was a renowned director," Morass alleges.
"There was another article by a journalist who interviewed Anglo-Indians from other parts of the city and had put it as of Bow Barracks. He showed poverty, talked about cabaret dancers, and so on. But that is not our life," says another resident.
Despite all this, residents have welcomed people with open hearts.
"When football or hockey matches are organised, anybody can go and find a space in the balcony to watch these," Denise O'Brien recalls the warmth she receives whenever she goes to the Barracks.
Around 25 years ago, the residents were told to leave as it was considered risky to stay in these buildings. They submitted a letter saying they would live at their own risk. The Mamata Banerjee government has promised that the flats would be officially handed over to the residents. Many of them are hopeful that they will be paying legal rent soon for their houses. As we were about to leave, Angela starts planning her next day. She would be distributing food among the homeless old people. Yes, nobody starves in Bow Barracks.