Another Russian missile attack overnight damaged unspecified infrastructure in the regional capital of Zaporizhzhia.
---
Ukrainian forces said Thursday they made some gains on the border of the southern regions of Kherson and Mykolaiv and repelled 11 Russian attacks in the Donetsk and Luhansk regions that make up the Donbas. 
---
According to the Ukrainian military, the strikes were artillery strikes. They hit the Svyatoshynskyi district of western Kyiv, adjacent to the suburb of Irpin that has seen some of the worst battles of the war.
---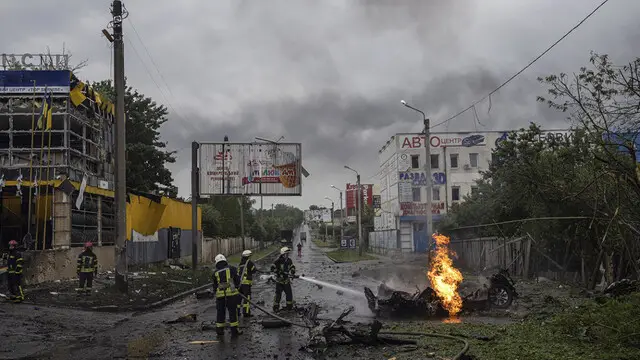 Ukraine's navy and an adviser to President Volodymyr Zelenskyy said the reported drone attack underlined the weakness of Russian air defences.
---
A new round of talks between the countries was scheduled Friday, five weeks into a conflict that has left thousands dead and driven 4 million Ukrainians from the country. "We know their intentions," Zelenskyy said in his...
---
Russian forces appeared to make progress from the northeast in Ukraine's capital, tanks and artillery pounded places under siege with shelling so heavy that residents of city were unable to bury the growing number of dead.
---
Engaged in a ferocious war, Ukrainian forces have begun seeking refuge in a besieged city in the country's east to move to stronger positions at the four-month mark of Russia's invasion.
---
Ukraine's President Volodymyr Zelenskyy accused Russia of kidnapping the mayor of the city of Melitopol, equating it to the actions of ISIS terrorists.
---