The G-7 countries also affirmed their coordinated action to ;further counter Russia's capacity to wage its illegal aggression' and pledged to prevent Russia from obtaining military equipment and technology. They also called...
---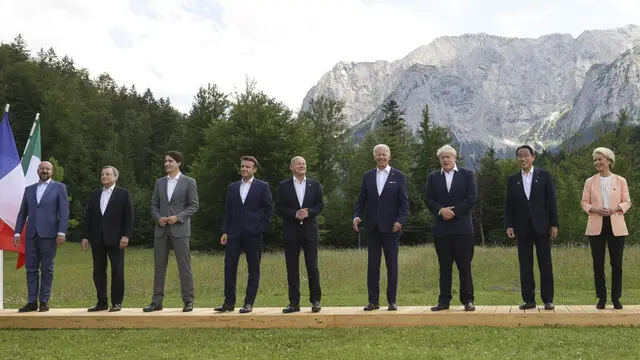 The G-7 countries on Monday came out in support of India's presidency of G-20 countries and reiterated its commitments towards an equitable world.  
---
Addressing a joint press conference with US Secretary of State Antony Blinken after holding bilateral talks, Jaishankar on Tuesday said there is a very deep concern among developing countries about how their energy needs are...
---
The G7 finance ministers and Central Bank governors deliberated on Ukraine's overall economic condition at a meeting on Thursday, on the eve of the first anniversary of the Russian aggression.
---
Meeting in the western German city of Muenster, foreign ministers from the Group of Seven nations were taking stock of the situation in Ukraine more than eight months since Russia invaded the country, exacerbating food and...
---
As per the announcement, the G7 countries, along with other allies and partners, plan to prohibit the provision of services that enable maritime transportation of such oil and products unless purchased at or below a price...
---
The move had sparked international outrage, including from Muslim nations, who deemed it against Islam, besides the G7 group of nations, who tagged it as a 'crime against humanity.'
---
PM Modi also held bilateral talks with German Chancellor Olaf Scholz and Canadian President Justin Trudeau on the sidelines of the summit
---