Armita Geravand, 16, was injured in mysterious circumstances at a Tehran metro station while she was not wearing hijab. Activists have said she was assaulted for not wearing hijab.
---
The regime has arrested her 13 times, convicted her five times, and sentenced her to a total of 31 years in prison and 154 lashes. She is still in prison and yet has continued to tirelessly campaign for the abolition of the...
---
The move came just days after the anniversary of the death of Mahsa Amini, a 22-year-old woman who had been detained by the morality police for violating the country's dress code.
---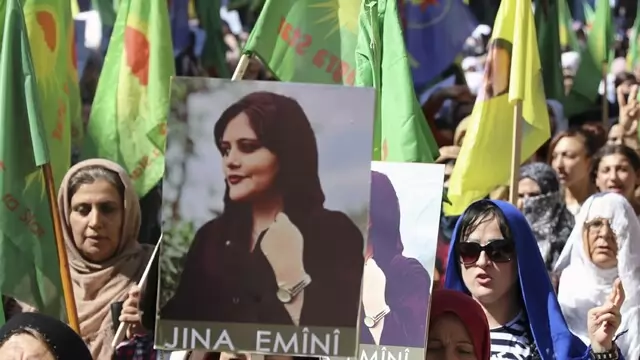 One of two journalists sentenced to prison, Niloufar Hamedi, had broken the news of the death of Mahsa Amini after Iran's morality police had taken her in custody for alleged violation of the hijab law.
---
The proposed legislation defines unacceptable covering for women as "revealing or tight clothing, or clothing that shows parts of the body lower than the neck or above the ankles or above the forearms", and for men, it...
---
A 70-item bill approved by 152 lawmakers in the 290-seat parliament of Iran now extends punishments to business owners who serve women not wearing the Hijab and also to activists organising against it.
---
According to the Nobel committee, Mohammadi has been arrested no less than 13 times. She has been convicted five times, sentenced to a total of 31 years in prison and 154 lashes. While she has been released on and off over...
---
The death of Mahsa Amini, a 22-year-old Kurdish woman, in the custody of Iran's morality police over alleged non-compliance with the hijab law led to nationwide, women-led protests. Now, protests have largely died after a...
---