Each shampoo caters to slightly different needs and hair types, but there's bound to be something for everyone on this list. Even you, men. Whether your hair needs a top-to-bottom revival, or just a little extra bounce, you can find your new favorite shower buddy here.
The Blu Atlas Classic Shampoo is perfect if you've been struggling with hair loss or thin hair. This product is the one for you. The ketchup to your fries. The PB to your J. Blu Atlas Classic Shampoo will work wonders.
This product works so well due to its three key ingredients: jojoba oil, aloe barbadensis and saw palmetto. The jojoba oil is absolutely packed with vitamins and nutrients, meaning that it easily penetrates the skin to provide aid to your scalp, whilst the aloe barbadensis acts as a moisturizer, protecting your hair's natural oils. Saw palmetto comes in at the end with the most powerful attack on hair loss. This ingredient actively fights against the hormones that are linked to thinning hair, so by using the Blu Atlas Shampoo, it's really a no-brainer as to who will win the fight against hair loss. You.
In summary, if you're looking for the best shampoo for thin hair? It's Blu Atlas.
2. OGX Thick & Full+ Biotin & Collagen Shampoo
The OGX Thick & Full+ Biotin & Collagen shampoo will have your hair looking thick and luxurious in no time. This product uses a variety of ingredients, all full of vitamins and minerals, to take your hair from thin to a win in no time.
Thin hair is often caused by a lack of biotin in the body, so the OGX shampoo is a perfect solution. Biotin, also known as vitamin H, comes from the Greek biotos, meaning "life" and "sustenance". To give your hair the life and sustenance it deserves? Use OGX shampoo!
And collagen is not anything to shake your head at. It protects your hair from external damage by fortifying your roots, giving it more day-to-day power, ensuring less fall out and thicker hair.
3. Kérastase Bain Densité Shampoo
Say goodbye to thin hair forever when you use the Kérastase Bain Densité shampoo. Gone are days of worrying about your hair looking limp in pictures! This product uses hyaluronic acid, gluco peptides and ceramides to strengthen and nurture your hair. Perfect for any gender, weekly use of this shampoo will see your hair at new heights!
The hyaluronic acid in this formula will hydrate hair from root to tip, as well as reducing any frizz or damage. Ceramides are naturally present in both our skin and our hair, and they need replenishing in order to keep their work at an A+, so by using the Kérastase Bain Densité shampoo, you'll be giving your hair what it needs in order to flourish. This formula will keep it from thinning any further, looking positively thick by the end of a 30-day period.
4. MONDAY Hair Care VOLUME Shampoo
The MONDAY Hair Care VOLUME shampoo is an incredible product if you've found yourself with a head of thinning hair. While lifeless isn't quite a term you want to wrap your head around when describing your own hair … sometimes with thin hair, it's true. That's why MONDAY is here to help.
This product will have your hair looking more voluminous in no time, and it will add an aesthetically pleasing touch to your bathroom with the minimal design and soft pink packaging. Using coconut oil for hydration, vitamin E and ginger root to aid in your scalp's health in the long term, and gardenia scent which will leave your hair smelling like freshly picked flowers, there really is no downside to using MONDAY Hair Care's VOLUME Shampoo for thin hair.
5. Kiehl's Rice & Wheat Volumizing Shampoo
Rice, wheat and honey sound more like they should be in your kitchen, not your shower, but Kiehl's has created a formula using all three which can revive the thinnest of hair.
Wheat helps to condition and moisturize your hair, while the rice proteins are high in nutrients and vitamins for overall hair health. This product doesn't leave your hair feeling naked and afraid after shampooing, as it simply cleanses without stripping, before adding a thickening formula. If you're a daily shampoo user and often forgo the conditioner, the Kiehl's Rice & Wheat Shampoo is perfect to keep thin hair looking and feeling thick and fresh.
6. Pureology PURE VOLUME Shampoo
Pureology does not mess around when it comes to their haircare products, and this shampoo is no exception. With a name like "PURE VOLUME," you really know what you're getting yourself in for.
This shampoo cleanses any blockages or debris from your hair, allowing it to hang naturally without the extra baggage. While your hair may normally be still and limp, this product grants your hair its wings!
The PURE VOLUME Shampoo is perfect for those with colored hair, since it uses Pureology's Antifade Complex, a formula created with a UV protectant, vitamin E and sunflower seeds to protect the dyes in your hair! This product also acts as a heat-protectant against hair-styling tools. No more thin and crispy hair for you. That's a description of bacon, not your hairstyle.
7. Nivea Strong Power Shampoo
Any men in your life? Has the topic of a potential head shave come into discussion? Are you coming away with fistfuls of their hair after giving them a scalp massage?
Well, Nivea Strong Power is for you. And them. This product does all the heavy lifting by revitalizing tired hair and bringing it back thick and luscious. The formula is created using sea minerals, which are packed with healthy vitamins and minerals for a stronger scalp and hair follicles. Therefore, the hair can withstand more obstacles in its day to day, leaving you (or the man in your life) with thicker, healthier hair.
8. Function of Beauty Shampoo
Function of Beauty is a relative newcomer to the haircare scene, providing a personalized shampoo formula once you take their brief, 2-minute quiz to determine your hair type and what you're looking for.
No longer do you have to feel like your hair is paying the price for trying to follow brands and trends, as the individual formula is targeted to you, catering to your needs, including thinning hair.
You can opt for a silicon-free product (which has been known to cause excess dryness on your scalp and in hair follicles), but that's up to you. You can also select from a variety of fragrances to make it that extra bit you. The volumizing formula most commonly uses coconut, avocado and hemp seed oil to aid in your hair-thickening mission, although the total ingredient list will vary based on personal hair needs.
9. OUAI Fine Hair Shampoo
The OUAI (pronounced "way") Fine Hair Shampoo may be small but, boy, is it mighty. Using keratin, biotin and chia seed oil, it revitalizes the thinnest of hair.
Keratin strengthens your hair, scalp and follicles, creating an overall structure that promotes healthy hair growth. Meanwhile, the chia seed oil keeps your hair hydrated and smooth, while the biotin promotes hair growth and additional strength! With less fallout from the washing process to the day-to-day hustle and bustle, your hair is bound to be looking and feeling thicker.
And the scent? God, it's addicting. Foreign and mysterious with notes of Turkish lemon, rose, jasmine and musk, anyone who comes within a passing distance is going to wonder what you're using, and how they can get some of it themselves. It's safe to say that OUAI Fine Hair Shampoo definitely deserves a place on our list of the best shampoos for thin hair.
10. Vegamour GRO Revitalizing Shampoo
Now this is a product you'll want to get your hands on as quickly as possible. Sprint, don't run. It will be off the shelves in no time.
The Vegamour GRO Revitalizing Shampoo is revolutionary, because not only does it do a fantastic job at thickening up your hair, it's also vegan! Something which is pretty hard to come by in the haircare arena. They use a formula called Karmatin, which is their vegan silk keratin product, to smooth out any frizz whilst strengthening your roots. Vegamour also uses three vegan phyto-actives (the vitamins and minerals found within plant extracts) from mung bean, curcumin, and red clover, which all support healthy hair growth and promote thickening!
If you weren't already convinced, this product is perfect for all hair types, whether you're 1 or 4. It's also safe for daily use, will protect your colored hair and it comes in such beautiful packaging. Does that do it? Are you buying this shampoo right now?
11. Aveda Invati Advanced Exfoliating Shampoo (light/rich)
The Aveda Invati Advanced Exfoliating Shampoo is a crucial piece of your thin-haircare regime. Aveda suggests that by using their products daily, in just 12 weeks your hair will be transformed. It's as easy as clicking "buy" and getting it delivered right to your door.
This product is incredibly clean and great for both you and the environment, as it's free from sulfates, silicons, parabens, mineral oils, formaldehyde and any animal ingredients—so yes, it's vegan, too!
The Advanced Exfoliating Shampoo comes in either light or rich, depending on whether your hair tends more to the dry or oily side. Whichever is your prerogative, Aveda has you sorted.
12. Keeps Thickening Shampoo
Listen. Historically, men's shampoo doesn't always get the best rep. It's either a 400-in-one product, becoming utility grease, shaving cream, and a low-carb spread, or it makes you smell like a mechanic. It's just never good. But recently, a couple new players have been arriving on the scene and making us look twice.
One of them? Keeps. Keeps makes personalized shampoo for men based on their needs, and their shampoo for thin hair is the real deal. Statistically, 2 out of 3 men will face some sort of hair loss by the age of 35, so why not find a product that can help out? Keeps Thickening Shampoo is made up from biotin and saw palmetto to garner results in just 4 weeks.
This brand is wholeheartedly committed to getting everyone the healthy hair they deserve. If thin hair is something that's been stressing you out, take a look at Keeps. You'll be Keep-ing it on your shelf for the rest of your life.
13. Herbal Essences White Grapefruit & Mint Volumizing Shampoo
The Herbal Essences White Grapefruit & Mint Volumizing Shampoo is a sensory sensation. The smell? Divine. Packaging? Super cute. Sound—maybe nice if you're a frequenter of ASMR, and taste we'd best stay away from… But touch? Applying this to your hair feels like a dream.
This product volumizes hair easily, with noticeable results after only a handful of washes—you can reap the benefits early on in this game! The benefits are only doubled down, as Herbal Essences has the tick of approval from the Royal Botanic Gardens, Kew, that all the fruit and plant essences and oils such as the grapefruit and mint are legitimate.
And with no BHAs, colorants, parabens or DEA, this shampoo is super safe to use, even if your hair is dyed or bleached! Perfect!
14. Lush BIG Shampoo
As it says on the tin, this shampoo makes BIG hair. Do you remember that scene in Hairspray, when Tracy Turnblad's hair is so voluminous the person sitting behind her can't see? That might be you. If you use this shampoo.
Movie musicals aside, the Lush BIG Shampoo is a game changer for thin hair. One of Lush's best-selling products, this shampoo creates big volume using hand-harvested coarse sea salt and sea water to create thick hair au naturel. Lush is known for their scented products too, and this is no exception; your hair will be left smelling beautifully of vanilla and neroli. Like you've been walking through a field of oranges, and someone has just taken the cap off a fresh bottle of vanilla essence. That sounds pretty fabulous to us.
15. Briogeo Caffeine & Biotin Peptide Density Shampoo
The catchphrase of Briogeo's volumizing line is "destined for density." Is that not fortuitous for your new, thick hair journey? We certainly think so.
If you're anything like the majority of the population, you need a cup of coffee (or two, or three) to survive the day. What about your hair? Did you ever even ask? The Briogeo Caffeine & Biotin Peptide Density Shampoo gives your thin hair what it needs, without even thinking twice. Briogeo's formula is made up of incredibly nourishing ingredients such as copper peptides, zinc, vitamin E and biotin to help volumize and keep your hair looking luscious.
What does caffeine do for your hair, you ask? It restores your scalp and provides nourishment, creating barriers between your hair follicles and potential damage from the outside. It creates a perfect base for your hair to take on any task, just like our morning cup does for us. Match made in heaven.
16. Biolage Advanced FULL DENSITY Shampoo
Biolage Advanced FULL DENSITY Shampoo is going to be the new powerhouse in your life. We'd suggest you keep it under lock and key, considering that anyone who steps foot into your shower will be stealing some of this.
This product is formulated using biotin, which is a vitamin that helps stimulate hair growth. Your body also needs biotin in order to create keratin—the building block for healthy nails and hair! If you're not picking up what we're putting down, this is really good for you!
Biolage uses vegan ingredients and cruelty-free tests to ensure their product is of the highest quality for you and the planet. And their packaging is made from 100% recycled materials, so it's a triple win all around.
17. Shea Moisture Jamaican Black Castor Oil Strengthen & Restore Shampoo
We're not sure about you, but shea butter, and shea oil, and shea anything has always been a little bit mysterious to us.
Shea Moisture, the brand, however is not a mystery. These folks are proven to be one of the best in the haircare game, with a large array of products and devout following as proof.
The Jamaican Black Castor Oil Strengthen & Restore Shampoo uses shea butter to thicken up your hair and fortify your scalp. The shea butter hydrates and moisturizes, whilst the Jamaican black castor oil thickens and promotes fast-growing hair! In addition, this formula has peppermint and apple cider vinegar for extra cleansing power, and a lovely scent for your hair.
Formulated for thin hair, this product is especially recommended if your hair is naturally curly, types 3A to 4C.
18. Pantene Sheer Volume Shampoo
If you think Pantene is only good for the strange but guiltily entertaining advertisements, you're wrong. The ads? Still great. But Pantene products are incredibly high quality, so if you suffer from thin, limp hair, this shampoo will be your holy grail.
Pantene uses their special Pro-V formula, which contains vitamin B5 to aid in transporting you from hair woes to "your hair, woah!". Vitamin B5 is also known as pantothen, and as one of eight B vitamins (do you remember biotin?), it helps with hair volume and also the glossiness of your hair!
Containing no harsh ingredients or chemicals, Pantene's Sheer Volume Shampoo is a great, affordable choice, and one we just had to include on our list of the best shampoos for thin hair.
19. Authentic Beauty Concept Amplify Cleanser
This guy might have snuck under your radar, being known as a cleanser instead of a shampoo. Sneaky. But only for the last time, as we are signposting this for you LOUD and CLEAR. Authentic Beauty Concept has made a fabulous product for thin hair, leaving your locks looking … well … on lock.
This kind of product is probably more commonly found at your nearest hairdressers, rather than your friend's house, because it's a well-kept secret. But this is it.
Now, Authentic Beauty Concept is pretty hush-hush about their formulas, but trust us, it works. The key ingredients are green tea and lime, which not only are restorative for your hair, follicles and scalp but also leave you smelling oh-so-fresh. If you're still not convinced, how about we tell you that this product was the winner of the Glamour 2021 Beauty Awards. Intrigued? You should be!
20. JVN Embody Volumizing Shampoo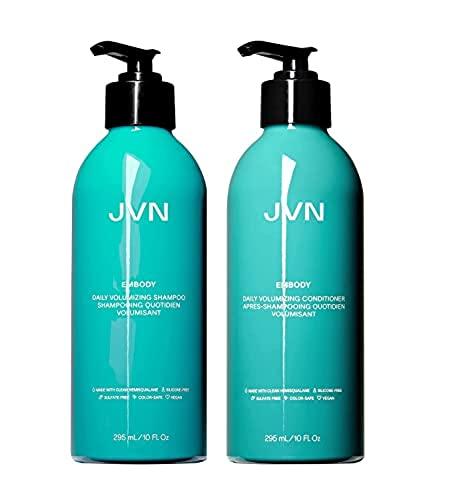 Please raise your hand if you too were left sobbing after finishing literally any episode of Queer Eye.
Better not just be me.
If you're not familiar, one of the members of the show is Jonathan van Ness, or JVN. He's an author, podcast host, TV personality, social media mogul, hair stylist and an entrepreneur. Girl boss, without the gaslighting or the gatekeeping.
Now we won't harp on too much about the ingredients or how they are used, as on the JVN website each product has a special video from Mr. van Ness himself, and we wouldn't want to take the limelight away. But if you simply cannot wait, this product uses caffeine, aloe and hemisqualane to create one of the most volumizing formulas around.
To be used daily, this will have your hair achieving liftoff in the best way possible. And if you're truly not happy with the results, they offer free returns within 60 days. Though you definitely will not be needing it.
21. Amika 3D Volume and Thickening Shampoo
Amika's packaging reminds us of the classic Lizzie McGuire designs. If that doesn't make you immediately click "add to cart," what will?
This volumizing shampoo is created using hydrolyzed rice and wheat protein to both thicken and moisturize your hair. Hydrolyzed means that proteins have been combined with water to make them water-soluble and perfect in products like haircare!
Amika's secret ingredient, though, is sea buckthorn. This is one of the only plant-based origins of omega 7, which is most commonly found in fish oil. The omega 7 provides deep nourishment and hydration, alongside strengthening the existing strands of hair to look fuller and fresher, longer.
22. Olaplex No. 4 Bond Maintenance Shampoo
The Olaplex No. 4 Bond Maintenance Shampoo has been the holy-grail product for "it girls" all around the world. Frequenting TikToks and Instagram posts, Olaplex is the aesthetically pleasing product that we can assure you, you need.
But where its merits truly lie is in how your hair looks and feels after using it.
Olaplex formulas contain their patented ingredient of bis-aminopropyl diglycol dimaleate. While we can't pronounce it, and probably neither can you, we can tell you it's a single molecule which drastically improves hair strength, regardless of whether your hair is bone dry or super oily. And with improved strength, your hair will be thicker in no time, making it one of the best shampoos for thin hair on the market.
23. Hair Biology Volumizing Shampoo
Hair Biology's Volumizing Shampoo is, in our opinion, the classic cosmopolitan drink of haircare. It's classy, well known, always relevant, and does the job well.
This product is mainly targeted for middle-aged women, so if you've started noticing your hair looking a bit thinner due to aging or lifestyle factors, this will get you back to full confidence!
Infused with biotin, Hair Biology's Volumizing Shampoo doesn't beat around the bush with treating your hair, diving into your scalp to nourish the follicles and strengthen your hair's elasticity.
This product is inexpensive, and will take one extra stress off your plate. So sit back, grab yourself a cosmopolitan, and allow this shampoo to do the hard work.
24. Andrew Fitzsimons BODY VOLUME Shampoo
Andrew Fitzsimons tells his customers to be themselves "AF," so that's exactly what we plan to do. And you should too. Using caffeine to add volume, density and strength, this product should be at the top of your list to treat thin hair.
If you're in any way interested in celebrity culture, you'll have heard of Andrew Fitzsimons before. He is THE stylist behind celebrities' stellar hairdos, boasting clients such as Kim Kardashian, Megan Fox and Jennifer Lopez. You literally couldn't come across anyone more qualified than him.
He's all about celebrating your hair, saying that his product is a "contribution to women" and calling out the notion that beauty products should exploit female insecurities. Already this is a triple threat of winning. And with the BODY VOLUME Shampoo coming in at an extremely low price point, we can't see anything wrong with this bold red product.
25. TRESemmé Full Fiber Volume Shampoo for Thin Hair
There are some juicy secrets you're learning in this article, especially with TRESemmé's Full Fiber Volume Shampoo being on this list.
This product uses their Collagen & Peptide Complex to make an award-winning formula which moisturizes, thickens, cleanses and leaves your hair looking silky smooth. It's phenomenal, and the product is an absolute must-buy.
Collagen helps your body develop building proteins, which allows your hair to grow thicker and stronger. And! If you've begun to notice some gray hairs blossoming—not to worry. Firstly, because it's nothing of concern, but secondly, if you did want to naturally aid your hair color, the collagen in TRESemmé's shampoo strengthens your hair follicles too—which may squeeze a little extra color out and hold off the grays for a while longer yet!
26. Living proof Volumizing Full Shampoo
The Living proof Full Shampoo is something you're going to want to keep your eyes on. Having won numerous awards from sites like Allure, Cosmopolitan, Glamour, Esquire and IGT, Living proof isn't here to play.
This shampoo uses slip modifiers to aid in volume creation, which allow products to more easily cover the surface of your hair. If your hair is dead straight, this probably isn't something you'll think too much about, but if you have curly, easily knotted hair, then Living proof Volumizing Shampoo is the one for you. This product cleanses your hair from any external debris and oil to remove extra weight and add volume!
27. Bumble and bumble Thickening Volume Shampoo
One of Bumble and bumble's best-selling products, this Thickening Volume Shampoo creates volume after just a handful of uses.
Their formula is created using wheat proteins, panthenol and aloe for a hydrating yet nourishing effect on the scalp and hair. if you've noticed your hair is thin, or thinning, Bumble and bumble is what we recommend.
It's free of parabens, phthalates, mineral oils and formaldehyde, and cruelty-free, so you can sleep easy knowing you're treating yourself to the crème de la crème of haircare. Nothing budget around here.
28. Oribe Shampoo for Magnificent Volume
If this shampoo bottle doesn't immediately evoke images of dark oak offices, old leather-bound books, maybe a cartographic map, and a warm crackling fireplace, we're not sure what to suggest. Search up dark academia on Pinterest, maybe.
Oribe's Shampoo for Magnificent Volume is exactly what it says: magnificent. Their formula is a careful concoction of plant proteins, coconut cleanser, moringa seed extract, the Oribe Signature Complex, and a polymer blend that heightens hair volume and will leave your thin hair unrecognizable.
These ingredients will strengthen your hair follicles, whilst moisturizing and hydrating your scalp and cleansing your hair without stripping it of its natural beauty.
Oribe is the new product in town for the most sophisticated hair.