The official result are going to be out on 16th but almost all the exit polls have already declared BJP as the single largest Party and its coalition—National Democratic Alliance (NDA)—forming the next government. From two seats in 1984 elections to more than 272 seats (as predicted by exit polls) in 2014, it has come a long way in 30 years.
The biggest milestone in this long journey has to be the Ram-Mandir movement which in 1992 saw the demolition of Babri Mosque. Has the city of Ayodhya also seen a spectacular growth, post the movement, just like the BJP has, or has it remained frozen in the past? What does a resident of Ayodhya think about Ram Mandir/Babri Masjid? Does it still influence his political decision? These were a few questions in my mind which forced me to venture in to the city.
While entering the disputed site, I was under awe. What would it be like? What added fuel to this fire was the high level of security. State police, paramilitary forces, Black-cat commandos, Army, you name it and it's there. One has to pass through four check-points before entering the 'fortress.' I have never felt as 'violated' during frisking as I felt at these check-points. Their deft fingers even check for a possible weapon between your buttocks.
Inside the 'fortress', I was behind two police constables, one of whom was going inside for the first time despite being on-duty for the past two years. When we reached the alleged birth-place, our eyes were searching for traces of Lord Rama. The idols were so small and the distance so long, we couldn't immediately spot them.
"Where is the god?" asked Raj Kumar Yadav, the first timer constable.
"There," replied his friend pointing towards the idols.
"Oh the thing resembling a ***** is the idol?" he inquired innocently. His friend was looking at him astonished and I was in splits. The two priests were amused as well but were trying to hide their smile. No, he didn't say anything blasphemous. Even your eyes could have made the similar mistake. But this mistake reduced the tension and the uneasiness in the atmosphere.
Shouldn't it be always like that? Shouldn't the present and the future of Ayodhya be given priority over the past? Shouldn't people be allowed to live a life sans all the suspicion and distrust?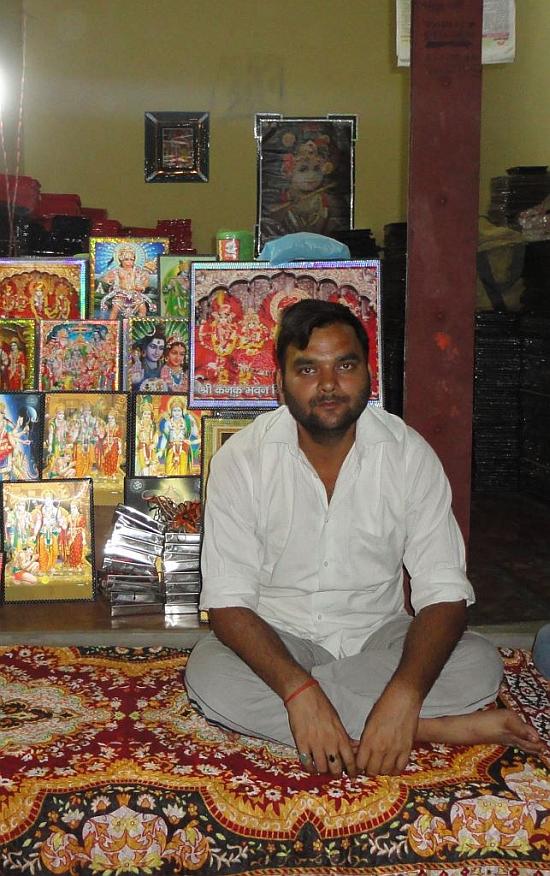 There is an area (around the disputed structure) which has been acquired by the central government but there is also an adjoining area which isn't, yet one has to pass through the barriers. "If a relative comes to meet me, I have to come down to the barrier to receive him. Furnish my identity proof and validate his authenticity, Karamveer, a young resident of this ancient city who has a house falling in this unofficial red-zone, said. "When I purchased a fridge, I had to give a demonstration to these (security) guys how it works and that it's safe to let it in," he continued. Such is the smothering grip of security, you simply can't live there, he said resignedly. Thankfully, he has another house far away from the disputed structure where he lives presently … in peace.
When so much politics is played in the name of Lord Rama, how can his alleged birthplace remain cordoned off from it? The two priests, sitting there to give prasad and collect donations were discussing whether Kejriwal would be a disruptive agent in an otherwise smooth sail for Modi. "Congress is totally silent in Varanasi on Modi," observed the junior. "Of course. Why would they speak? They must be thinking, 'When he (Kejriwal) is doing our job, why should we be worried?'" inferred the senior.
Sitting in the epicentre of Hindutva, the views of one of the temple priests (who provided me with lunch but not his name) were quite a surprise, if not shock, to me. He blamed the BJP for not constructing the Ram Temple. "They simply came and turned it into ruins. They actually didn't want to build it," he said. On the contrary, he praised the then Congress government for providing security to the area. He was also against holding monkeys and cows sacred. In the context of the place and his position, his views seemed seriously radical.
Bharatdas Shastri, a priest living at Hanuman Gadhi wasn't happy with the early exit of Aam Aadmi Party (AAP). "There is a difference between blabbing while sitting in Lucknow and coming here to observe first-hand. Similarly, there is a difference between lashing out accusations at other parties and executing a given responsibility. (I was like, 'Man, did you just compliment me?')
As the priests, so were the security guards; everybody seemed to be engrossed in the electoral potpourri.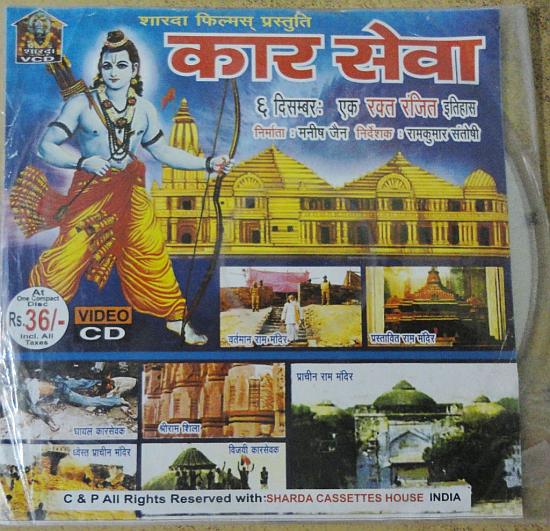 Blistering shouts of kar sevaks demolishing the Babri Mosque startled me the moment I came out. Every second shop seems to be selling a CD by the name 'Kar Sewa 6 December: a blood-strewn history'. Sure, the video is factual but the voiceover is so venomous, it invariably poisons your mind. It validates the demolition of Babri Masjid and holds kar sevaks equivalent to Kargil war martyrs. How can this propaganda go on so blatantly and unhindered right under the nose of such tight security?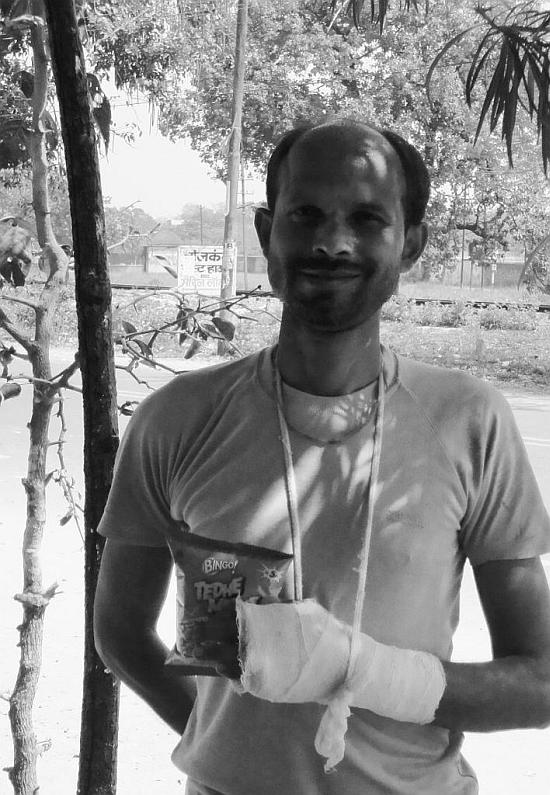 Who were these people, by the way, who demolished the mosque? Ordinary men like Mr Sonkar, swayed by ephemeral passions. "I have been to the temple only twice," he told. "Once to visit, the other time to demolish," he clarified. After the demolition, I brought back two bricks, on which crescent moon were embossed, as souvenir.
Is he a big shot? No. He happens to be a Dalit.
Does he have a political clout? No. He had to pay Rs 1000 to get an FIR (First Information Report) registered against a guy who broke his hand.
But his views otherwise seemed progressive. "There should be development based politics, not caste based," he said. And probably that's why, he has left his traditional camp of Bahujan Samaj Party and is backing Modi.
Mr Sonkar is associating development with Modi. But there are umpteen people in Ayodhya who associate Mandir with Modi. "Temple will be constructed only when Modiji will come to power," said Aman, a waiter at Kanak Bhavan—the most famous and very economical restaurant in Ayodhya. Despite the matter being in Supreme Court, people believe that Modi would somehow device a way to build the proposed Ram Temple. Employment and prosperity (Ram Rajya) would follow, they think.