At Ramlila Maidan
We went to Ramlila Maidan yesterday, the four of "us" considerably swelling the numbers of about a lakh and a half of people there by 6.30 pm, when we left. They were either sitting inside, milling about outside all around its walls, or pouring in having walked from India Gate. (Is the media exaggerating the numbers? In our opinion it is underestimating them considerably).
We got off our car at 5 pm, about half a kilometre away, at the beginning of Asaf Ali Road, and at that point we were at the end of a long orderly line patiently inching along in the sweltering heat. I can assure you from that point onwards, the four of us stood out by our upper class markers the way PLU do in any ordinary part of Delhi, especially Old Delhi. Even just really middle-class people were few and far between, the large majority seemed lower middle class to working class. Much Vande Mataram all along, and just as we were muttering 'what happened to the Inquilab', we reached a section that gladdened our ears with the zindabad to revolution. Yes, it was a small one, that section. (Do let's stay away more from these places, that will help.)
When we reached the entrance to the Maidan at the back end, we realized we could stand there forever to get in — there was a mass of people in orderly ranks inside the barricade already, and the top of the line that we had walked past, was entering one by one. We decided to walk around to the main entrance and see if there was a greater possibility of getting in from there, and we circled the Maidan, which practically shares a wall with a masjid, the roof of which was lined with people looking down.
As we turned the corner, the crowd started growing, more groups of people shouting Vande Mataram, more flags, and we gradually reached first, the media entrance (which is also the exit from the maidan) and then another entrance through which some people were entering. We realized later that that entrance had probably been kept for those coming from India Gate, for by the time we left, there was an endless line outside that one too.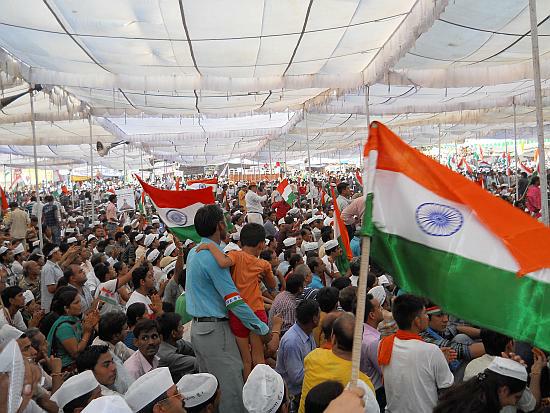 Inside, just people, people, people. No hysteria, no major flag waving, though many were holding flags; much of the performance you see on TV is done especially for the cameras. Away from all of that, people were just seated fairly quietly and listening to incendiary speeches like Pata hai aap ko, hamare mulazim, in mantriyon ki tankhwah kya hai? Ek lakh rupaye mahine. Kya hamein yeh haq nahin hai ki hum unse hisab mange? (Do you know what salary these employees of ours, these ministers, get? One lakh rupees a month. Don't we have the right to ask them for accounts?).
That amount — One hundred thousand rupees — seemed so huge and unimaginable when we looked around at the kind of people sitting there…
We could just about barely see the huge Gandhi backdrop over the sea of heads, but never actually reached a point where we could see the stage itself, because towards the front, many were standing. As we slowly pushed our way through a yielding wall of people to the front, which we never reached, because we gave up and turned back, not once did we feel unsafe or threatened (two of us were women), and the wall was never solid, but yielding and swaying to let people go up front, and to turn back.
Suddenly, we heard the strains of jaago mohan pyaare jaago and thought oh-oh… How happy our friends will be. (Because most of them are waiting with bated breath, with great hope, for our self-fulfilling prophecy to come true, for the movement go the Hindu right way.) Then we thought, but iftar was also celebrated here yesterday, so surely…And then we heard the words of that well-known bhajan to Krishna, only they were jaago manmohan pyaare jaago — it was a prayer to our PM to wake up and listen to the people. The audience also sang Raghupati Ragahava Rajaram, led from the stage, and as enthusiastically responded to the cry of Inquilab from there.
We could imagine our very own Sumangala Damodaran's IPTA songs going down very well there, and had a brief moment of fantasy about the strains of Jaanewale sipahi se poochho echoing around the maidan. (No, never. Let us proudly stay away. We are proud members of the pure Left, don't pollute Sumi's music by making her sing there, to a hundred thousand people — each and every one of whom must surely be communal and casteist).
In the short period we were there we randomly asked a few people where they were from . Here's the list in order of our meeting them:
Arunachal Pradesh Chakma Students' Union
Farmers from western Uttar Pradesh
People from a village in Sonipat, Haryana
Some men from a madarsa in Nangloi
A whole team of darzis (tailors) from NOIDA
A middle class family (not upper class English speaking, but sort of middle-middle) from Janakpuri, another from Rohini and another from Shahdara.
That was just a quick survey that took us about 15 minutes.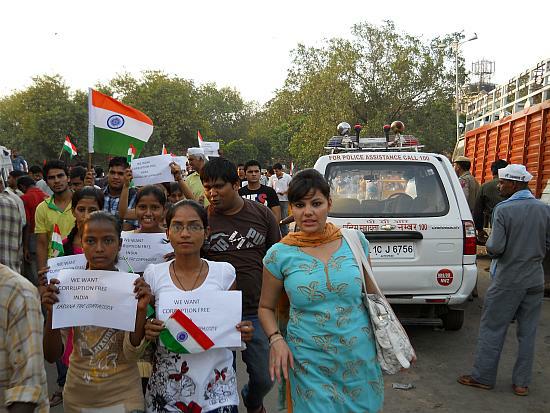 There were proportionally about as many women as there are in our kinds of protests, by the way, to answer a specific question someone asked us at some point; women of all ages and in all sorts of clothes.
Our friend Rachana Johri sent a mail which said in part:
"So I did go to Ramlila Maidan yesterday. I wasn't there for very long but will definitely go again, if nothing else to sense the nature of this movement. It immediately struck me as different from the many marches and dharnas I have been too. I was immediately struck by the total absence of familiar people. I actually scanned the crowd to check for any university type and couldn't find one. It was a Saturday so clearly work was not the reason. People were walking in largely it appeared on their own initiative. (This seemed somewhat altered already by the evening when Ashok and I drove past the maidan again. At that time people were arriving in trucks and I wondered what that meant) Anna was of course quite far away from the crowd. The area had a small partition for women. There were at least 300 women seated inside it. This separate space for women was fairly comforting although it was not mandatory for women to be inside. I found myself quite moved when I saw people distributing bananas with another person collecting peels in a bag. The entire atmosphere resembled a cross between a keertan and a langar. There was a distinct Hinduness to the idioms which worried me although someone like Nandy might say it is a South Asian quality. Anyway, I guess what I'm saying is that I went and feel tempted to go again but I did feel alone and a bit of a foreign element in the context."
We know what she meant. Unlike any other dharna or demo that we generally go to, where we expect to see many people we know, and sometimes every single face is familiar, this was one place where we were routinely mistaken for "media" whenever we talked to someone, for our class markers were so unmistakably different.
We were told by a friend who is deeply suspicious of this thing, in a revelatory sort of way that the Amarnath Yatra Trust is providing food at Ramlila. Perhaps. And a gurudwara did at Chhatrasal Stadium to the people detained there. We don't how many and who are contributing in what ways. But we did read in the papers of a hundred farmers from NOIDA who had cooked food for a few thousand people — from their own resources — and brought it along. But we did not see a single banner or flag or symbol of any particular group.
Meanwhile, another friend Charu Gupta told us her parents had been to Ramlila Maidan the previous day. They were so moved by the atmosphere, they wanted to come back again. They reported how, amidst all the chants of various Hinduised nationalist slogans (like Bharat Mata ki Jai and Vande Mataram) that make us so uncomfortable, there was an announcement that it was time for the iftar namaaz at the adjacent mosque. Pin drop silence. Indeed, some of those ending their fast came and offered their namaaz right inside the venue, near the dais.
The Great Unwashed?
All the way back home, at different points — in the lower middle class areas of Shakarpur and in the middle class housing societies of Patparganj, we saw small rallies and processions, carrying candles; there were teenagers, the elderly. Those who could not make it to India Gate to join the big rally were taking out rallies in their own areas. There were neither TV cameras nor spectators — except those who were about on their daily work.
We wondered at the arrogance and cynicism that can only see communalism and casteism in these protests. The arrogance of the 'Enlightened' — who can only deal with 'the masses' as long as they are an abstract category and shrink in horror when confronted with them in reality. We kept thinking of the hundreds of thousands of people participating in the movement. So many of them — easily the huge majority — were semi-literate workers or peasants. The 'great unwashed'. These darzis and kisans are largely OBCs, against whom the anti-Mandal agitation took place. They are all there in pretty large numbers even if it is in their name now that the pious, pure Left stays immured in its fortress.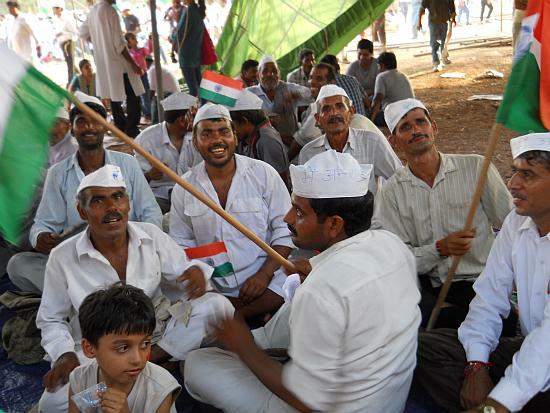 And while we are at casteism, why not also look at the charge of 'communalism'? Today's Jansatta carries a story "Andolan ka Daira Phaila, Muslim Bhi Saath Aaye" which mentions how organizations like the All India Muslim Women Personal Law Board and the Okhla based 'Real Cause' have joined in the movement. Kamran Siddiqui of Real Cause claimed that members of his organization are going to Ramlila Maida everyday, in order to express support to the movement. Shaista Ambar of the AIMWPLB also claimed that from the day that Anna Hazare was arrested, her organization decided to stand by him and the movement. And while the Shahi Imam of Jama Masjid has been exhorting Muslims to stay away from the movement due to its communalism (and we know how secular his own track record is), the Imam of Fatehpuri Masjid Mufti Mukarram Ahmed also came out in support of the movement saying that it (and Hazare) have raised an issue under whose impact the entire country is reeling. He also said that the anger of the people on the corruption issue was completely justified.
What 'Corruption' signifies
We must confess, though, that we too came back with many questions.
We saw noisy intimidating exclusively male motorcycle rallies roaring into the area, and the slogan of vande mataram from them sounded like an incitement to violence. Another friend travelling with her small daughter in the Metro said she experienced real fear when a large group of men entered shouting the same slogan, and I know it is no coincidence that she is from a minority community. Nothing happened in either case, and perhaps we were responding to a historical memory, but the feeling of threat was real.
This is the messy terrain of mass politics, there are troubling tendencies and it throws up a whole range of issues for us to think about, completely afresh.
But we need to get one point repeatedly thrown at us out of the way first. We are no great votaries of the Jan Lokpal Bill and in fact, have on other earlier occasions, incurred the wrath of our left-radical community for our utter lack of faith in the Law. We stand by that larger position. For us the issue is not that of the Lokpal Bill but of what is it that is moving the people from all walks of life in such large numbers.
Clearly, the Lokpal idea or the Jan Lokpal Bill has here become the rallying point for a slowly accumulating mass anger — not just against one party or government (the Congress and the UPA) but against the entire political class itself. This anger was waiting to be tapped — and the political class or the system could have redeemed itself, had it taken up the issue of corruption. It did not. Until an entirely new cast of characters came and occupied centre-stage. As we have said earlier, 'corruption' is the name by which a larger democratic principle is being enunciated quite clearly — the accountability of elected legislators to the people whom they represent.
A friend from Sri Lanka, Pradeep Jeganathan, asked,
"Would you disagree that one of the underlying catalysts for this protest is felt need, by 'the people' for a point of neutrality, that appears to be beyond politics, like the supreme court used to be?"
We do actually disagree. This was the kind of critique that was initially made and is still being made by some, but as we have noted earlier, the Janlokpal Bill is about appointing an Ombudsman, and Arvind Kejriwal has explained that his/her powers are "no greater than that of an Income tax Officer " who has the power to scrutinize everyone's tax returns, up to the PM. While there may be sections among the supporters of the movement who hanker for army rule/strong and incorruptible leader etc., what is reiterated from the platform (and we heard it again yesterday) is the people's right to ensure accountability of the people they send to Parliament, and this can be ensured only if the overseer is not one of them. Not outside politics, but outside the circle of politicians and bureaucrats who must be kept in line. Very much inside politics as such, then.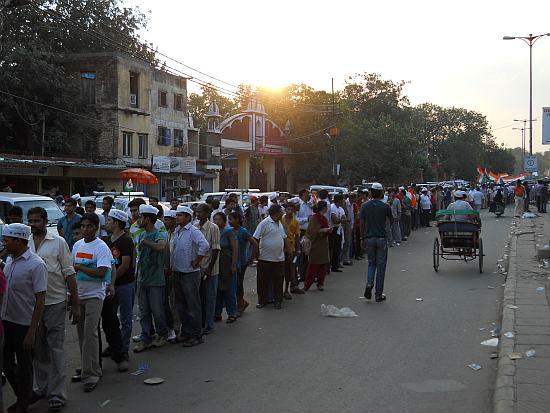 If you're not with us…
It is the logic of the development of a mass movement in all its messiness that we seek to understand, rather than look for that pure, 22-carat revolution where everything will proceed according to the programme laid down by the Left elite. Nothing less than our maximum agenda is acceptable — from SEZs to farmers' suicides, from AFSPA in the Northeast to the murder of democracy in Kashmir. If you will not accept even one of these points, you're out. We will have nothing to do with you. It is not "they" who say 'if you are not with us you are against us', this arrogant divisive slogan has always been ours, alas.
Those issues listed above are our issues too, but what if a mass movement does not raise them? What if it articulates itself around a more generalized and widespread concern? Any student of mass movements anywhere in the world knows that mass movements of this scale only arise around issues where the largest sections of the people feel affected by it. They can never arise around sectional issues — however big the sections concerned may be. And the question really is of the potentiality of the movement rather than what it is, at any given point. It will only be inclusive to the extent that it is able to draw in the largest number.
We will of course have to part ways at some point to fight our separate battles, but we can come together for a specific limited goal.
What to do with religion!
The real question for us, however, is the one raised by some of the most thoughtful comments in the various posts on Kafila, especially by Rahul Roy, and by Rachana Johri's email — of the presence of religious symbols and slogans in mass movements and how we might deal with them. Now, there is a very simple solution — become a mobile republic of one and secede. No questions asked and no responsibility to take. This is not an option available to those who believe in larger transformations of any sort, especially transformation of our ways of thinking, which are so deeply inflected by our beliefs, our cultural repertoire and myths and legends. These ways of thinking may include anything from caste practices to the practice of Sati.
Any change in these requires our engagement with on-going internal debates within communities — for it is important to recognize that no practice is uncontested internally. Mere legal enactments that outlaw specific practices can produce just the opposite results — as they indeed have. They simply widen the gulf of incomprehension between the secular modernist and the believer.
Creation and expansion of this space for internal dialogue with believers is critical — if we are to prevent them from being mobilized time and time again, by the religious right. Some people will have to take the risk of being ostracized from their happy community of secularists, in order to be able to 'be there'. Those who wish to preserve their purity are welcome to do so, but we have not forgotten that not very long ago, it was this aggressive arrogance which led to the labelling of the likes of Ashis Nandy, Partha Chatterjee, and TN Madan as agents of the Hindu Right. But let it also be underlined that few secular intellectuals have been attacked by the Hindu Right in the manner that an Ashis Nandy or Prabash Joshi have been.
In the end, it is a question of strengthening the democratic fabric of society and the lives and dignity of minorities; for this, it is necessary that the Hindu majority stays away from the Hindu Right. And this project is doomed from the start if we continuously ridicule their ways of thinking, their symbols, and their untutored 'unpolitical' language.
So urgent is the need to attack the inconvenient and disobedient people, that often analysis is upstaged by rhetoric. Arundhati Roy for instance claims "the Maoists and the Jan Lokpal Bill have one thing in common — they both seek the overthrow of the Indian State."
Huh? India Against Corruption, with its most liberal and minimalist of agendas, directly addressing the state and seeking to make it accountable, is about overthrowing it? And then Arundhati makes the even more astounding assertion that militaristic Maoist groups working through secretive cells are doing the work of transformation from the 'bottom up' while a massive non-violent movement is working 'top down.'
What to say?
What 'being there' means
Many friends have raised the question about how they can possibly 'be there' when their soul is elsewhere. Our answer is, at the very least, just don't be judgemental and dismissive. 'Being there' does not mean that everyone has to be there, literally; it is rather the stance that we adopt that is important. There are already people there who are engaged in internal contestation in the movement — if you look, for instance, at the composition of the core team and many others at other levels. Vituperative attacks will only strengthen the more negative tendencies within the movement and widen the gulf between it and the secular/liberal/ left sectors. The continuous equation of the movement with its most right-wing elements is a self-fulfilling prophecy.
But being there physically also means something else. If we enter the field physically in our usual style — of being the vanguard, trying to 'capture' the movement, to split it — the entire effort would be self-defeating. This is our shameful legacy and has never yielded any positive results.
Intervention calls for patience, engagement and transformation, not instrumental 'takeover'.
Finally, many have asked — should we be in places just because large numbers of people are there?
Of course not, but do we have to turn away sharply in the opposite direction because the people are there?
---
This piece was written for and first published at Kafila. Also See: Nivedita Menon's We should be there: The Left and the Anna moment



---
For in-depth, objective and more importantly balanced journalism, Click here to subscribe to Outlook Magazine
---