Finding the Best Sticker Printing Company
Looking for the best sticker printing company can feel like finding a needle in a haystack. Deciding which company is right for you can be overwhelming, but don't stress - we've done the work for you!
Our team has conducted extensive research and compared the best custom sticker companies to bring you the best.
Which Sticker Printing Company is Best?
Now, the question on everyone's mind: which company is the best? Without further ado, here are the top sticker printing companies of 2023:
StickerGuy.com – Best Budget Option
Each of these companies has something unique to offer, and we'll dive into the details in just a bit.
Using custom stickers for your business or project has numerous benefits. They're a fantastic tool to increase brand recognition and market your product or service. With a custom design, the endless possibilities allow you to tailor your stickers to your specific needs.
And let's not forget the bang for your buck - when you buy custom printed products, it can be an excellent investment for your advertising efforts.
Methodology for our List
Let's get into the nitty-gritty of selecting the perfect sticker printing company.
Factors to consider:
Quality: The quality of the sticker printing is essential for durability, vibrant colors, and sharp designs. We chose manufacturers that use high-quality materials and advanced printing techniques to ensure the best results.
Services and Capabilities: Consider the range of services and capabilities offered by sticker manufacturers. Do they offer design assistance? Can they handle large or bulk orders? These manufacturers can meet your specific requirements.
Customization Options: Check if the manufacturer offers various customization options, such as different shapes, sizes, finishes, and adhesive types. Creating truly unique stickers is important for personal or brand expression.
Customer Reviews and Reputation: Research the manufacturer's reputation and read customer reviews. This will give you insights into their reliability, customer service, and overall satisfaction.
Price and Value: While price isn't the sole determining factor, it's important to consider the balance between price and value. Look for manufacturers that offer competitive pricing while maintaining quality.
Turnaround Time: Consider the turnaround time for production and delivery. If you have a specific deadline or event, ensure that the manufacturer can meet your timeframe.
Details on the Best Sticker Manufacturers
Custom Stickers: Best Overall Sticker Printing
Check Prices on Custom Stickers
Key Takeaway: The combination of excellent quality, and fantastic pricing puts CustomStickers at the top of our list.
Looking for the best quality stickers that won't break the bank? Look no further than CustomStickers.com. These sticker masters produce some of the most superior stickers on the market, with quality that some would argue is even better than those made by their competitor, Sticker Mule.
But despite their top-of-the-line quality, CustomStickers.com offers highly competitive pricing that's tough to beat, especially among the other best sticker companies.
CustomStickers.com stands out from the crowd with their use of high-quality vinyl material, which means their stickers are incredibly durable, waterproof, and able to withstand even the harshest weather conditions.
You can customize your stickers with a variety of options, including labels, clear or holographic designs, as well as a range of finishes and sizes. And no matter what you choose, you can expect prints with vibrant colors and sharp resolution.
What sets CustomStickers.com apart is their exceptional customer service. They provide free online proofs to guarantee your stickers meet your expectations before printing. Additionally, they offer free shipping on all orders, and there is no minimum order quantity.
Whether you need a small batch or a large quantity, they can deliver.
Finally, if you contact them, they can produce stickers overnight and you can receive your stickers in just a few days, making them the perfect choice for anyone with a tight deadline.
In short, they are the best sticker manufacturer in our view. The clear choice for anyone looking for affordable high quality stickers without sacrificing quality or customer service.
You won't be disappointed with high-quality materials, a wide range of customization options whether you need multiple stickers or just one.
Sticker Giant: Best for Labels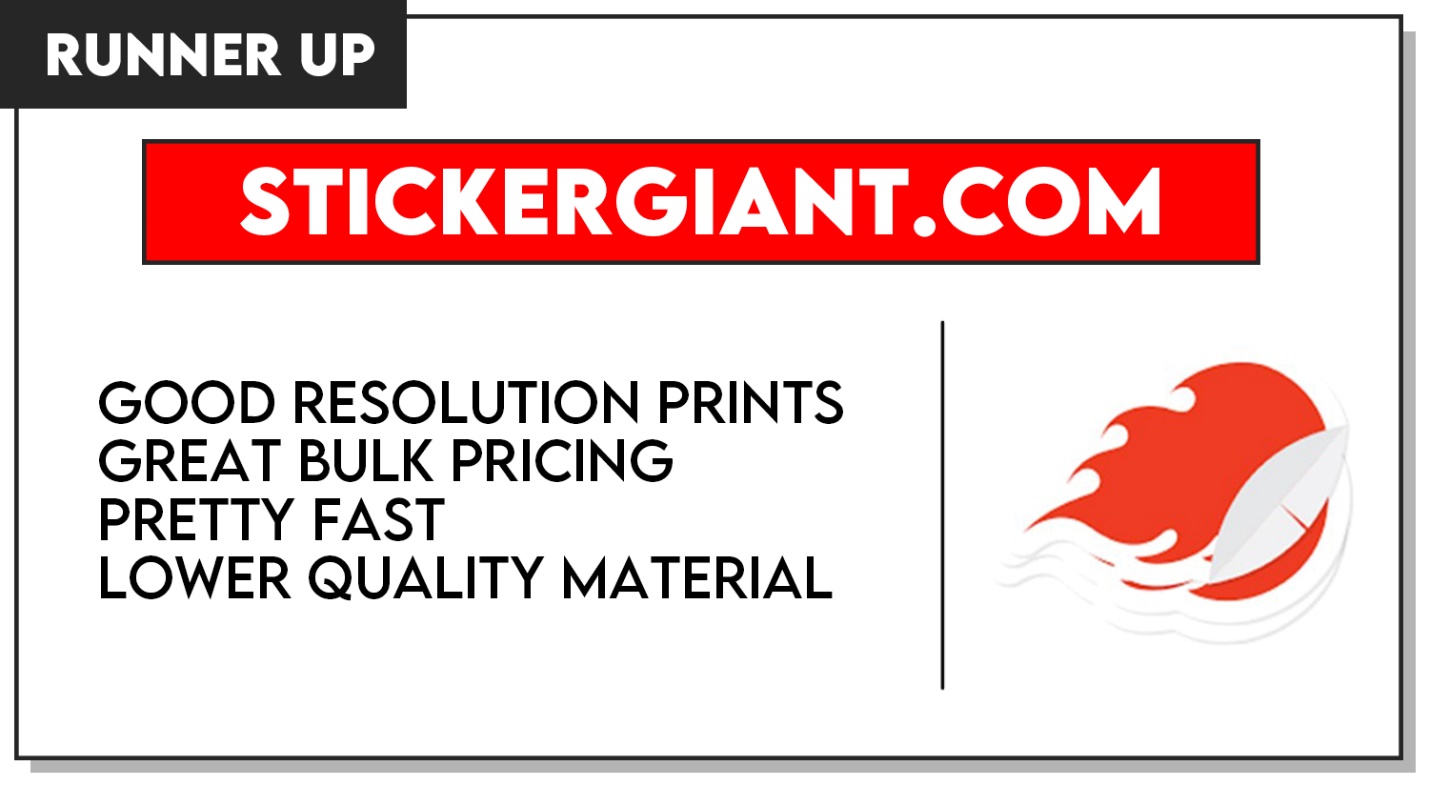 Key Takeaway: A lower quality material, but high print resolution makes them the ideal pick for custom labels.
Sticker Giant has established itself as a prominent player in the sticker industry, well-known for its sharp printing and label expertise. Their stickers are visually appealing, with vibrant colors and precise printing, ensuring your designs are accurately represented. They are ideal for kiss cut stickers, and labels, but not as much for die cut single stickers.
One of the notable advantages of Sticker Giant is their pricing structure, particularly for larger orders. If you require stickers in bulk, their competitive pricing can be advantageous and help you maximize your budget.
However, it's important to keep in mind that Sticker Giant has minimum order quantities that are larger than what most other companies require. This may pose a challenge if you only need a small number of stickers or have limited flexibility in terms of your budget.
In terms of turnaround time, Sticker Giant typically meets customer expectations by providing a reasonable timeframe for production and delivery.
Finally, it's important to consider the durability of all the materials they use.
While their stickers look great, they may not be as resilient as those offered by some other manufacturers. If durability is a priority for your stickers, exploring alternative options might be beneficial.
It's worth noting that a Tennessee-based company recently acquired Sticker Giant. While it's difficult to predict the exact impact this acquisition will have on their business practices and pricing, it's a development worth keeping an eye on.
Ink & Main: Best for Businesses
Key Takeaway: Ink & Main offers a wide range of printed products, and their stickers are excellent. They are made of durable vinyl and offered at a reasonable price.
Ink & Main has gained a reputation as a top-quality producer of custom stickers, labels, and an extensive range of business print options, such as banners, flyers, postcards, photos, and more. Their commitment to excellence and customer satisfaction is evident in the outstanding products they offer.
Customers seeking custom stickers and labels will be impressed by the exceptional quality provided by Ink & Main. The stickers are crafted to be thick and durable, ensuring long-lasting use. The printing process results in high-resolution images with vibrant colors, bringing designs to life. From intricate illustrations to company logos, the stickers maintain their clarity and visual appeal.
One noteworthy aspect of Ink & Main is their competitive pricing. Despite their emphasis on delivering high-quality products, they manage to offer affordable prices. This combination of craftsmanship and affordability makes their offerings accessible to a wide range of customers, ensuring satisfaction and value for money.
Their turnaround time aligns with industry standards, ensuring that customers receive their orders in a timely manner. For those with urgent needs, Ink & Main also provides expedited options, allowing for quick processing and delivery without compromising the quality of the final product.
Sticker Guy: Budget-Friendly Option
Key Takeaway: This sticker shop offers cheap high quality custom stickers, but they generally have to be simple shapes and colors. They are great for car stickers, and simple, multi purpose stickers.
Sticker Guy is worth considering if you're searching for an affordable sticker company. This small business offers competitive pricing, particularly for simple stickers and designs.
Their affordability stems from utilizing a silk screen process for printing, which is ideal for large quantities of stickers with straightforward colors and shapes such as square cut stickers.
If your designs are basic and don't require complex, full-color printing, Sticker Guy's pricing will certainly catch your attention.
However, it's important to be aware of certain limitations. Sticker Guy's focus on affordability means they lack the capabilities of full-color digital printers.
Intricate details, gradients, and a wide range of vibrant colors may not be best suited for their silk screen process.
For more complex designs requiring these features, exploring other sticker manufacturers offering digital printing options may be beneficial.
However, if you have a more relaxed timeline or are willing to trade off some waiting time for cost savings, Sticker Guy remains a viable option that shouldn't be overlooked.
Understanding Custom Stickers
Die cut stickers are personalized adhesive labels that can be designed according to specific requirements.
These stickers come in various shapes, sizes, and designs, allowing individuals and businesses to showcase their creativity and brand identity through graphic designers.
Die cut stickers and decals are versatile and can be used for promotional purposes, product labeling, event branding, or simply adding a personal touch to items.
Custom stickers offer several advantages for individuals and businesses alike:
Brand Promotion: The best custom stickers cost-effectively promote your brand, products, or services. They can be placed on vehicles, packaging, laptops, and other surfaces, increasing visibility and recognition.
Enhanced Personalization: With custom sticker decals, you have the freedom to create unique designs that reflect your personality, style, or brand image. This allows for a more personalized and engaging experience.
Increased Visibility: Eye-catching stickers can grab attention and generate interest in your brand or message. Whether used for advertising, giveaways, or product labeling, custom stickers help increase visibility and attract potential customers.
Versatility: Custom sticker decals can be applied to various surfaces such as glass, metal, plastic, and paper. They are durable and weather-resistant, making them suitable for both indoor and outdoor use.
Different Types of Custom Stickers
Die cut stickers offer versatility and cater to various preferences and purposes. Here are some popular types:
Vinyl Stickers: Highly durable and weather-resistant, ideal for indoor and outdoor use. Vibrant colors and long-lasting adhesive make them stand out.
Die cut Stickers: Precisely cut into custom shapes, eliminating the need for white borders. Perfect for logos, artwork, and intricate designs.
Kiss cut Stickers: Lightly cut stickers that are easy to peel from the backing. Often used for sticker sheets or individual stickers.
Circle Stickers: Simple and versatile shape suitable for numerous applications, such as branding, packaging, and product labeling.
Square Stickers: Clean and modern, ideal for displaying logos, slogans, or messages. Can be used individually or as part of a sticker sheet.
Clear Stickers: Transparent background for seamless blending with any surface. Popular for window displays, product packaging, and subtle branding.
Holographic Stickers: Captivating and eye-catching, reflecting light and creating a shimmering effect. Adds uniqueness and style.
Bumper Stickers: Designed for car bumpers but usable on other surfaces. Express opinions, support causes, or promote businesses.
Sticker Sheets: Printing stickers, multiple to a page. These are kiss cut stickers, so the cut doesn't go through the backing material. .
These examples represent only a fraction of the available custom sticker types. Consider your needs and aesthetic preferences when choosing the type that best fits your purpose.
Final Thoughts
For those seeking custom printed products, it is important to consider companies that prioritize print quality and offer a variety of backing materials.
The best custom stickers are made using techniques like screen printing or the Pantone machine system, ensuring precise colors and a professional finish and durable stickers.
Efficient sticker production processes and online proofing systems help you receive your custom printing quickly.
You may look for a company that offers international shipping options. This is important if you have a global customer base or need to ship your own stickers abroad.
We hope this guide helps with your quest to print stickers.
Disclaimer: The above is a sponsored post, the views expressed are those of the sponsor/author and do not represent the stand and views of Outlook Editorial.