Natural deodorant. Now there's a conversation starter!
Once dismissed as a tree-hugger's niche, the natural deodorant market is alive and kicking in 2023 with some incredible alternatives to traditional deodorants. In recent years, natural healthcare products have well and truly entered the limelight, and they seem to be here to stay. With a renewed focus on both personal and environmental health, today's consumers are more aware of the potentially harmful ingredients often lurking in our products and the option to go toxin-free has become increasingly popular.
Deodorant products appeared on shelves in the early 20th century; however, the first commercialized natural deodorants did not emerge until the 1980s. Since then, the industry has boomed. A 2021 study found that 46% of US adults indicated that it is somewhat important to them to choose personal healthcare products that are free of chemical ingredients. The recent demand for natural products has revolutionized the personal care industry. In fact, Grand View Research Inc. forecasts the natural deodorant industry to reach a market value of US 158.5 million by 2025, a figure that reflects the growing social demand for toxin-free healthcare.
For the health-conscious consumer, natural deodorants are a favored choice. Typically free from parabens, sulfates, aluminum and artificial fragrance, you can rest assured that you're getting all of the goodness with none of the nasties. Generally speaking, natural deodorants are formulated without animal testing, with most products being certified cruelty-free making them an ethical choice - something we should all be prioritizing.
Nowadays, there are a variety of natural deodorants on the market. From roll-on formulas to spray or cream applications, there is something for everyone. The nature of natural products means that ingredients can vary greatly between brands, but this is the beauty of it. What works for one may not work for another, as with any personal care product trial and error is the best strategy, and luckily there is plenty to choose from!
So without further ado, let's get into it! Here are the best natural deodorants for men in 2023.
New York brand Blu Atlas tops our list as the best natural deodorant option for men in 2023. Available in three different scents, Blu Atlas is formulated from a variety of premium natural ingredients such as plants, fruits and minerals which work to eliminate body odor and reduce underarm bacteria. Volcanic ash (bentonite) absorbs excess oil and tightens pores, helping to reduce underarm moisture. Anti-inflammatory horsetail extract soothes the skin while contributing powerful antibacterial properties. Blu Atlas also utilizes bamboo extract, a strong antimicrobial agent, to control odor-causing bacteria. Free from aluminum, parabens, sulfates, phthalates and artificial fragrances, this formula is 98-100% naturally derived, cruelty-free and suitable for vegans. Fragrance options include 'Classic', 'Coconut Apricot' or 'Fragrance-Free'. With an easy-to-use push-up mechanism in simple packaging, Blu Atlas not only appeals to our noses but our eyes too! Endorsed by dermatologists, Blu Atlas deodorant is undoubtedly our favorite natural deodorant for men in 2023.
2. Native Deodorant - Eucalyptus and Mint
Native deodorant incorporates coconut oil and shea butter to produce a buttery, moisturizing formula that feels great on the skin and applies easily. The Native formula includes baking soda to absorb moisture and magnesium which helps to control odor-causing bacteria. This product is available in 12 classic scents, with special editions often for sale too.
Our personal favorite is eucalyptus and mint, a cooling, shower-fresh scent that we can't get enough of. Native deodorant is free from aluminum, phthalates and parabens. It is also cruelty-free and vegan-friendly. Also offered in spray form, Native has a deodorant product for everyone. With naturally derived ingredients, this product is an eco-friendly and health-conscious choice.
3. Surface Deep Anti-Odorant Spray
For those who prefer a spray application, Surface Deep offers something a little different with their Anti-Odorant spray. This product utilizes fruit acids to alter skin pH which helps to reduce odor-causing bacteria that may be lurking on the skin. The addition of botanical extracts, such as eucalyptus, means more antibacterial action, effectively minimizing odor.
Aluminum-free, sulfate-free, paraben-free and phthalate-free, Surface Deep's Anti-Odorant spray includes the probiotic 'lactobacillus' as a natural anti-inflammatory, making it a worry-free choice for those with sensitive skin. Cruelty-free and suitable for vegans, this product is a well-rounded natural deodorant choice.
4. Tom's of Maine Men's Natural Strength Plastic Free Deodorant
Plastic free packaging and a natural product - it's a 2023 dream come true! Tom's of Maine Natural Strength Deodorant promises up to 48 hours of odor protection, a truly impressive claim for a natural deodorant. Formulated without animal testing, this deodorant is also aluminum-free, paraben-free and does not have any added artificial fragrance.
Ingredients include zinc which deodorizes and beeswax for skin integrity. Tom's of Maine Natural Strength Deodorant is available in four scents: Rugged Coast (pictured), Cedar Peak, Coconut Lavender and Fresh Powder. The tube is designed to easily push up from the bottom for application.
4. Every Man Jack Natural Deodorant
Every Man Jack Natural Deodorant employs the antimicrobial properties of lichen extract to reduce odor-causing bacteria while keeping their product free from unnecessary toxins. Aluminum-free, paraben-free and phthalate-free, this formula relies on cotton extract and witch hazel to absorb sweat from the skin. With soothing calendula extract and aloe vera for hydration, this product is suitable for sensitive skin.
Essential oils (depending on the fragrance option) are used to scent the product which is also vegan-friendly. Every Man Jack Deodorant is a no-nonsense natural product that offers the best of both worlds.
6. Purely Great Spice Cream Deodorant for Men
A not-quite-so-mainstream option that we couldn't leave out is cream deodorant! One of the more traditional forms of natural deodorant, to use cream deodorant you simply take a small amount on your fingertips and apply it to the underarms. It's a good idea to let it dry completely before getting dressed to avoid any deodorant getting onto your clothes, although Purely Great Cream Deodorant boasts a stain-free formula.
With cloves, cinnamon and cardamom, the 'Spice' Cream Deodorant is a deliciously warm scent that smells more like a fancy moisturizer than a deodorant. Formulated with cornstarch to reduce moisture and essential oils for fragrance and aromatherapy benefits, this product is free from aluminum, parabens and phthalates. Produced without testing on animals with recyclable packaging, Purely Great Cream Deodorant looks out for personal, environmental and animal health which we think really is, purely great.
7. Malin + Goetz Eucalyptus Deodorant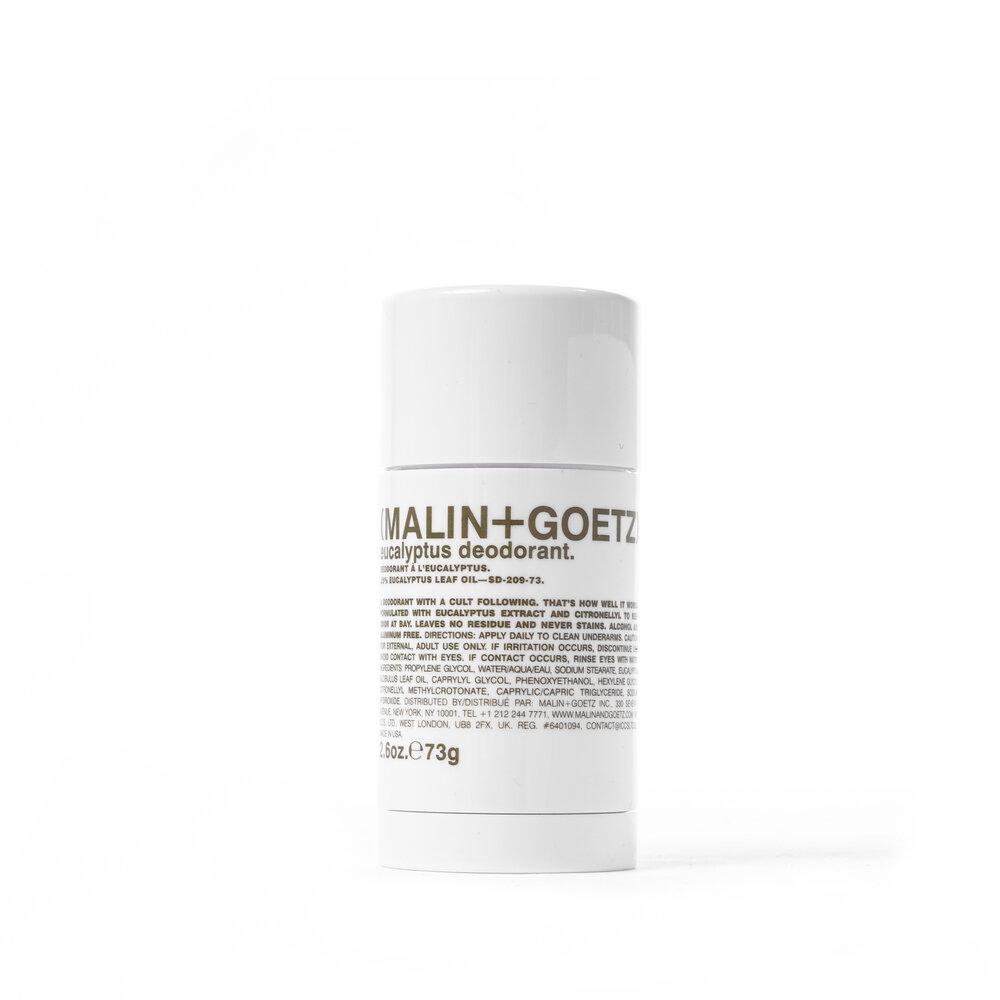 Malin + Goetz's natural deodorant product is available in three different botanical scents. For us, eucalyptus tops the list, although the bergamot and botanical scents are tempting.
This product is alcohol-free, aluminum-free, sulfate-free and paraben-free, so you can rest assured that your skin is being cared for without any unnecessary chemicals. This product is not tested on animals and is suitable for vegans. With 100% recyclable packaging, Malin + Goetz gets our vote as a great eco-friendly natural deodorant option.
8. Aesop Natural Roll-On Deodorant
Aesop's natural roll-on deodorant is widely available all over the world. Described as having a 'milky lotion' texture, this product is available in two different scents: 'woody, herbaceous, earthy' with vetiver root or 'herbaceous, camphorous, fresh' with sage leaf.
Aesop's natural deodorant is formulated with zinc which helps to naturally reduce body odor and antimicrobial wasabi extract which minimizes any odor-causing bacteria that are present on the skin. This deodorant is aluminum-free and vegan-friendly. All up, Aesop's natural roll-on deodorant is a great option for those new to natural deodorant, as the application is very similar to traditional roll-on deodorant.
9. Arm & Hammer Essentials Deodorant
Arm & Hammer holds down the natural deodorant fort with their essentials range. Free from aluminum, phthalates and parabens, this product is available in five fresh scents: Orange Citrus, Rosemary Lavender, Magnesium Vanilla Sandalwood, Coconut Geranium and Unscented. While we are always fans of citrus scents, the magnesium vanilla sandalwood takes the cake.
Described by users as having a 'gel-like' consistency, the formula glides on with ease. The added magnesium in this product alters skin pH to discourage any odor-causing bacteria from hanging out where they aren't wanted. Utilizing the absorbent properties of baking soda, the Essentials range wicks away sweat while minimizing odor with various botanical extracts (fragrance-dependent). Promising all-day odor protection, Arm & Hammer Essentials deodorant is a strong contender in the natural deodorant space.
10. Schmidt's Natural Deodorant - Avocado and Lemongrass
Schmidt's is undeniably a force in the natural deodorant space, offering their natural deodorant range in fifteen different scents (we love avocado and lemongrass, pictured above).
Also available in spray and cream formulas, Schmidt's natural deodorant range is free from aluminum salts, phthalates and parabens. It is also cruelty-free, vegan and safe for use on sensitive skin. Ingredients such as magnesium operate to reduce odor-causing bacteria while the addition of arrowroot powder helps to absorb any excess moisture.
11. VITAMAN Natural Body Deodorant
Vitaman offers another spray option in the natural deodorant space. With warm notes of patchouli and antimicrobial cinnamon in the 'Earth' scent, this product is also available in 'Ocean' with spearmint and eucalyptus. This natural deodorant does not contain aluminum and is also free from phthalates, parabens, sulfates and silicones. Specifically formulated for men 40+,
Vitaman pledges to take care of your skin's integrity, paying special attention to the moisturizing properties of their products. All in all, we think Vitaman's Natural Body Deodorant Spray is one of the best natural deodorants for men in 2023.
12. Dove Men+ Care 0% Aluminum Aerosol Deodorant
Deodorant giant Dove has branched out into the natural deodorant space. Although this product is certainly not as natural as many of the others on this list, it still deserves an honorable mention. With no aluminum, Dove's Men+ Care 0% Aluminum aerosol is a great first step towards natural deodorant for those who might be apprehensive.
Also available in traditional roll-on style, this formula is widely available for purchase. The fact that big brands like Dove are branching out into the natural deodorant space evidences a real demand for more organic ingredients - a consumer trend that only seems to be gaining traction.
13. Brothers Artisan Oil Magnesium Deodorant
Brothers Artisan Oil Magnesium Deodorant looks out for sensitive skin. While baking soda is often included in natural deodorant formulas for moisture absorption, it can have a drying effect on already-sensitive skin, so it is not included in this product. Ingredients include essential oils, antibacterial magnesium, arrowroot powder for moisture reduction, and kaolin clay - a natural detoxifying agent. This product has a twist-up tube design for ease of use and is available in five different scents.
Our favorite is Fir Needle and Cedar (pictured above), but also available are Eucalyptus and Lime, Tea Tree and Lavender, Frankincense and Black Pepper Citrus, and Tea Tree and Charcoal. Brothers Artisan Oil Magnesium Deodorant is cruelty-free and aluminum-free, checking the ethical box while also looking out for your health.
14. Milk and Honey Cream Deodorant No. 46
Texas brand Milk + Honey places a focus on premium ingredients to deliver skincare that works, without unnecessary toxins. This cream deodorant is paraben-free, aluminum-free and cruelty-free.
Moisturizing shea butter balances the inclusion of arrowroot and baking soda to absorb sweat, while fragrant botanical extracts such as vetiver root, sandalwood and cardamom exude a calming scent. The directions advise warming a small amount of product between the fingers before applying for ease of use.
15. Dr. Squatch Natural Deodorant
This 'odor-squatching' system has our attention! Dr. Squatch's Natural Deodorant is available in eight scents: Alpine Sage (pictured above), Birchwood Breeze, Summer Citrus, Cool Fresh Aloe, Fresh Falls, Bay Rum, and Wood Barrel.
The formula uses charcoal powder to absorb bacteria which can cause odor, while probiotics prevent new bacterial growth. With trusty arrowroot powder to reduce moisture, this deodorant is aluminum-free. Shea butter keeps this deodorant moisturizing with a smooth consistency that glides on easily.
16. Each & Every Deodorant
Ohio company Each & Every aims to provide natural skincare that works for one and all. Their aluminum-free deodorant is packaged sustainably with plant-based materials, cruelty-free and suitable for vegans.
Using magnesium for bacteria control and coconut oil for hydration, the Each & Every formula is also free from parabens and baking soda. There are 10 fragrance options available, with our top pick being cardamom and ginger (pictured above). There is also a fragrance-free option for those who prefer to keep it simple.
17. Crystal Mineral Deodorant Stick
Tried and true, it would be careless to underestimate the humble Crystal Mineral Deodorant Stick. Perhaps one of the earliest natural deodorant products to break the market, Crystal Deodorant was founded in 1984 and has enjoyed continued popularity since. Crystal Deodorant Stick relies on mineral salts to prevent the growth of odor-causing bacteria so, while you may still sweat, the odor will be reduced.
Many natural deodorants do not contain any aluminum; however, Crystal Mineral Deodorant Stick does contain aluminum in its natural salt form. Fragrance-free, this deodorant is suitable for everyone and is easy to use. Simply wet the top of the deodorant stick and apply it to the underarms. Many users find it easiest to apply it immediately after showering, while the skin is still slightly damp.
18. MagSol Natural Deodorant for Men and Women
MagSol Natural Deodorant is a 100% naturally derived magnesium-based formula that works by altering skin pH so that odor-causing bacteria no longer feel at home. It is aluminum-free and made without baking soda, which can dry out your skin.
Formulated without parabens this product relies on almond oil and beeswax for its smooth consistency and moisturizing properties, making it a great choice for sensitive skin. MagSol Natural Deodorant is available in six different scents. We love lemongrass, but there is also lavender, hunter, sandalwood, sweet orange and patchouli to choose from.
19. Ursa Major Sublime Sage Spray Deodorant
Ursa Major Sublime Sage Deodorant is yet another great natural deodorant spray option. Aluminum and baking soda free, this formula uses lemon myrtle to neutralize bacteria, and a refreshing blend of sage, geranium and sandalwood botanical extracts for fragrance. This product is cruelty-free and vegan-friendly. Also, the effortless spray on packaging makes it extra easy to get fresh armpits!
20. Soapwalla Sensitive Deodorant Cream
Last, but certainly not least, Soapwalla Sensitive Deodorant Cream is free from aluminum. This product relies on club moss and charcoal to absorb moisture while antibacterial magnesium and essential oils such as tea tree, cajeput and palmarosa reduce the presence of odor-causing bacteria on the skin. While Soapwalla's original formula does include baking soda, the Sensitive option does not, as baking soda can have a drying effect on sensitive skin.
Enriched with shea butter, cocoa butter and jojoba oil for hydration, this cream is easily applied. Simply scoop a small amount onto your fingers and apply to the underarms, allowing it to dry completely before getting dressed. Soapwalla gets kudos for eco-friendly glass packaging, and with two botanical fragrance options (citrus or lavender mint), this cream deodorant will keep you feeling fresh while smelling good.
So, there you have it, the best natural deodorants for men in 2023. With a variety of options to choose from, there are formulas to suit everyone. Whether you prefer a roll-on, spray or cream application, a fresh botanical scent or a spicier aroma, the natural deodorant industry is thriving with more to offer now than ever before. Gone are the days when natural deodorant was synonymous with smelly pits and a penchant for mansplaining. In 2023 we think going natural is where it's at.
Frequently asked questions
What can you expect when switching from traditional antiperspirant to natural deodorant?
According to industry professionals, it can take your body about 2-4 weeks to adjust to using natural deodorants after switching from traditional aluminum-based antiperspirants. Ceasing the use of antiperspirants means that you may seem to sweat more than usual. This is because the antiperspirant ingredients that your body is used to are no longer being applied to prevent it, so a larger volume of sweat is being produced. A 'detox' period is to be expected during which your body will release any aluminum stored in your pores. After about a month, any excess moisture production should settle and you'll be feeling suave and sweat-free once again.
Studies have shown that the number of odor-causing underarm bacteria increased when regular antiperspirant users stopped using it, whereas non-antiperspirant deodorant users did not experience this increase. This means that if you typically use an antiperspirant, you may also experience increased odor while your body adjusts to your natural deodorant. After a few weeks of switching to natural deodorant, the rate of bacteria production will lessen which means that body odor will decrease. Essentially, over time, your natural deodorant will start to become more effective. This timeframe does depend on individual body chemistry. For some, it will happen faster or slightly slower - it all varies. You can reasonably expect that after about a month, your body will have adjusted to natural deodorant.
While you are getting used to your new regime, it is advisable to wear breathable fabrics such as linen or cotton to promote air circulation. This will allow your body to sweat as needed with minimal odor sticking to your clothes. We know, we know, a month of feeling slick and sweaty doesn't sound all that appealing, but when you weigh the pros with the cons, it is certainly worth a go.
Consider this… without holding out too much hope, you listen to us and decide to give natural deo' a go. Within a month, traditional antiperspirant is a vague memory - who needs it?! You are now supporting your health with natural ingredients without absorbing any unnecessary toxins through your skin. This virtuous feeling will only increase when you remember that not only is this better for you but also for the environment! Natural healthcare products tend to go hand in hand with ethical production - both in terms of environmental health and zero animal testing. If you ask us, a month (or less) of feeling a bit sticky is a small price to pay for all this goodness.
Common ingredients in natural deodorants and how they work
While natural deodorants utilize a wide variety of different ingredients, there are several which are more common than others. Before you go, here is a brief run-down of ingredients you may see a lot of, and why they might be included in your deodorant. Going natural means making a conscious choice to avoid toxins in your products so we think it's a good idea to understand what's used instead.
Baking Soda - Effective at absorbing moisture (sweat) from the skin. Often criticized for having a drying effect on skin and causing many natural products to opt to forgo it, especially those formulated for sensitive skin.
Magnesium - Increases skin pH beyond what is hospitable for odor-causing bacteria. By reducing the number of bacteria present, magnesium can effectively reduce body odor.
Essential oils - An extremely broad category with different properties varying depending on the plant they are extracted from. Many, such as tea tree, eucalyptus, and lemongrass have strong antibacterial agents which, like magnesium, help to control any odor-causing bacteria. Other essential oils are often added for fragrance and aromatherapy benefits. Aromatherapy refers to the practice of using scented oils to produce beneficial physical and psychological effects. Many natural deodorants make use of this and include blends specifically formulated for this purpose.
What's the deal with aluminum?
As you may have noticed, most natural deodorants make a big deal of being aluminum-free, but why does aluminum matter so much?
Aluminum works by essentially melting into your pores, blocking any sweat from being excreted. This is how traditional antiperspirants effectively stop you from sweating. Although no concrete proof has been found to link aluminum absorption to serious health concerns, some research suggests that aluminum (like many other metals) can be harmful in larger amounts, particularly to women.
The FDA requires antiperspirant products to display a notice warning consumers who have kidney disease to check with their healthcare provider before use. While aluminum in deodorant is unlikely to cause kidney issues in healthy people, this FDA requirement has led to increased consumer caution about products containing aluminum.
While none of this research is conclusive, it is enough to have provoked a huge increase in demand for natural deodorant options without aluminum. Most people will not experience adverse effects from using products containing aluminum but in any case, going natural has numerous benefits beyond just avoiding undesirable ingredients. While uncommon, some deodorants advertised as natural do still contain aluminum, often in its 'natural form' which may be listed as potassium alum, alum or aluminum salts. This is still active aluminum, but when included in natural products, it is often combined with plant extracts for additional natural benefits.