The Aluminium-free deodorant game is no longer on the outskirts of the market. From luxury brands to niche start-ups to household names, there is an Aluminium-free deodorant for every man. In fact, the choices can be a little overwhelming.
To make the decision easier for you, we have compiled a list of 10 best Aluminium-free deodorants for men in 2023. This will help if you're looking for yourself, or for a man in your life that needs to step up his game.
To make it even easier, we have divided our list by the best fit for the kind of man that you are buying for!
Aside from our number one pick, which is a fantastic choice for any man, we have two options for the rugged, outdoorsy man and two options for the high-end, metropolitan man.
We have three options for the man on a budget who sticks to household brands, and two natural deodorants that have ingredients we can all recognize, for the health-conscious man.
Our number one pick is also powered naturally, sourced ethically, reasonably priced and clinically driven.
At the end of our list, we also have some information about the decision to go Aluminium-free, who this might be right for, and what this label does and doesn't mean. This information should help those who haven't decided if this is the choice for them.
Read on to find out which on our list of 10 Best Aluminium Free Deodorants for Men in 2023 is right for you!
The MVP
What box does the Blu Atlas Classic Deodorant not check?! This little powerhouse is the perfect over-achiever that sits unobtrusively in space, unassuming of the power contained within.
Aluminium is not the only 'nasty' this company has kicked to the curb. Add to the list parabens, phthalates, sulfates and synthetic fragrances. They are also vegan, cruelty-free and made in the USA!
The health-conscious consumer knows it is not just what isn't in the product, it's what is. Blu Atlas powers its products through natural origin materials - plants, fruits and minerals.
This particular product combines the eruptive power of volcanic ash, the soothing qualities of horsetail extract and the fighting properties of bamboo stem extract to combat odor across the board. The cooling blend is supported by a gentle sage scent and aloe juice to create a gentle, non-irritating formula that nourishes just as it fights!
And if this doesn't sound like your jam, Blu Atlas also offers two other formulations of deodorant: the fragrance-free deodorant and a warmer coconut apricot blend.
All of this is backed by their medical advisory board of board-certified dermatologists and by rave reviews from regular users. Looking for a product that the wifey can use if need be? Although designed for men, this Blu Atlas product is effective for all genders.
Join the movement with no risk - Blu Atlas offers a money-back guarantee if you don't love the product! This is another great reason to start here on your Aluminium-free search for the perfect deodorant.
It is no wonder then, when all this said, that the Blu Atlas Classic Deodorant has topped our list of 10 Best Aluminium-Free Deodorants for Men in 2023.
The Rugged, Outdoorsy Man
2. Ursa Major Hoppin' Fresh Deodorant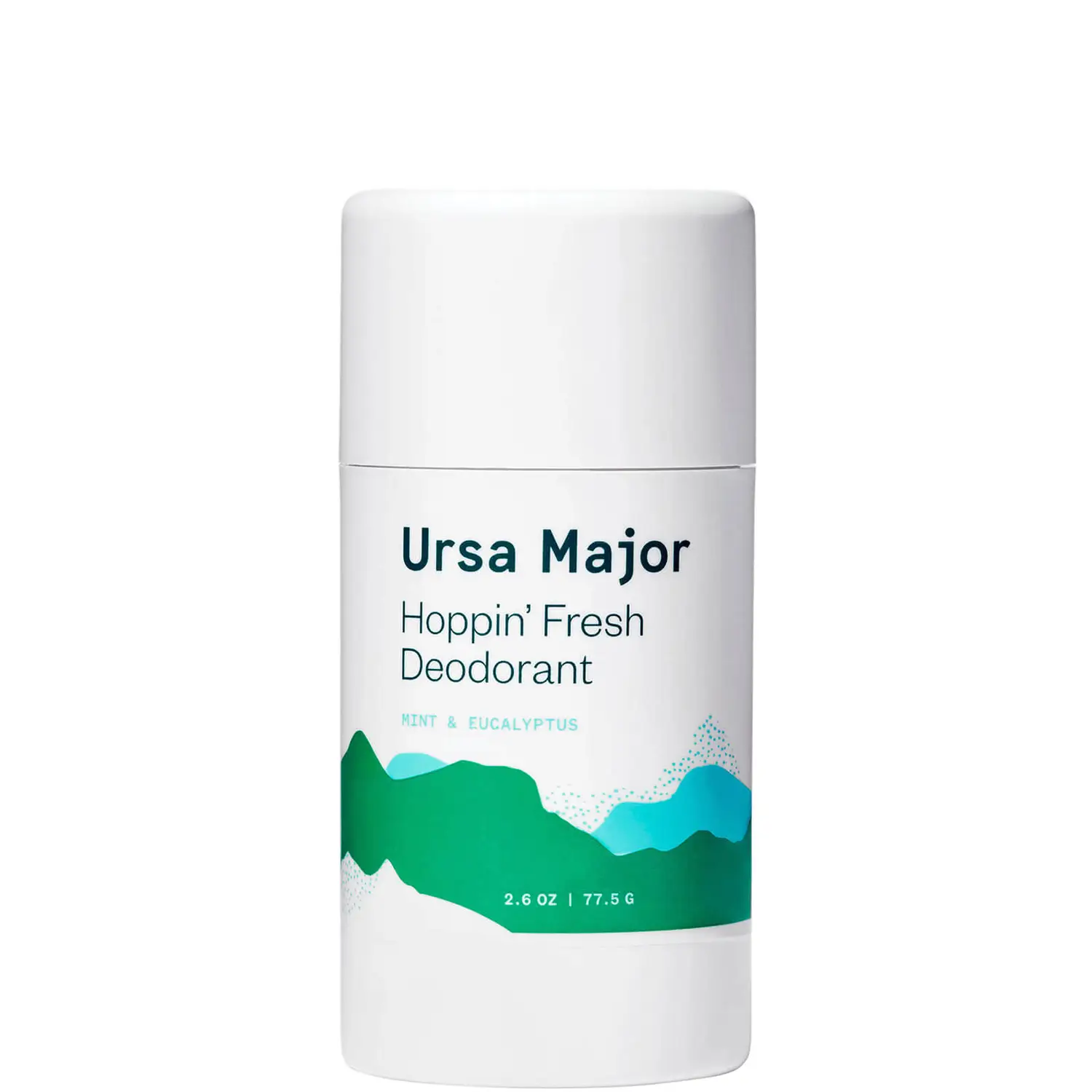 One word: Beer. What's more for men than that? This unique deodorant utilizes the power of hops, the indispensable ingredient for making beer.
You may be thinking.. hops? And, won't I smell like I brought the bar home with me? To your first question, yes. To the second, no.
Hops is a great ingredient for deodorant as it has antibacterial and other odor-quashing properties. This is a scentless, neutral antiperspirant, so no one around you will be privy to your innovative use of hops!
Also, as the name Hoppin' Fresh suggests, this deodorant has a pleasant cooling profile against the skin. This would also make a great novelty gift for the outdoorsy man in your life, which has a touch of sophistication in its presentation.
Ursa Major follows the philosophy that skin is skin, regardless of gender. So if you are looking for a more neutral option this could also be a great choice for you.
For these reasons, this hoppin' great Aluminium-free deodorant has made it to number 2 on our list of 10 Best Aluminium-Free Deodorants for Men (2023). Hop to their website to find out more.
3. Dr. Squatch Pine Tar Natural Deodorant
This fun deodorant brings to mind a rugged, bearded man living out in the forest. He's tough, he loves adventure and deodorants laced with the sweet smell of a pine forest are just the match for him. If you are an adventurer with bold tastes, this is the deodorant for you.
We love the Dr. Squatch philosophy, starting from the humble beginnings of one man making soap from his garage. This is a brand made by men for men. Any old product won't do - this brand looks to bring efficacy to the natural product game.
So what is contained in this adventurous little guy? With a balance of deodorizers, detoxifiers and nourishing oils, this blend will keep your skin in top condition as you battle any outdoor conditions.
We're talking charcoal powder, a natural detoxifier and deodorizer. We're talking arrowroot, a powerful absorber of sweat. We're talking probiotics to work on the bacteria profile of your underarms for the long term.
And all of this is balanced by oils such as jojoba, coconut and shea, to nourish and replenish, and fragrant oils such as orange peel and Pinus sylvestris leaf oil.
This is another product backed by stellar ratings and a money-back guarantee. Although we love the pine tar scent in particular, note that there are seven other aromas to choose from: other trees, waterfalls, aloe, citrus and warmer spicy tones such as rum and bourbon mixes.
Don't just enter the forest, let the forest enter you.
The luxury man
4. Kosas Serene Clean Chemistry Deodorant
At this point in the list, we have switched to a different line of recommendations. For a man unafraid to dive into self-care and nourish his skin, the Kosasport gel deodorant is an innovative and clinically-driven product.
Did someone say AHAs? This product utilizes these helpful acids taking the dermatology world by storm. Along with a whole host of repairing and revitalizing functions, AHAs also have powerful anti-odor properties. Combine that with bioactive peptides and soothing aloe vera and you have a recipe for strong clinically-driven action.
I can hear your reluctance… a gel formula? What we are asking is why these formulas haven't hit the market sooner. Most consumers of this product report not only staying fresh but it even lasting through grueling workouts. If you are working on building muscle, you may as well care for your skin to showcase the results of your hard work.
Innovative, clinically driven, and award-winning. For these reasons and more, the Kosas Serene Clean Chemistry Deodorant ranks fourth on our list of 10 Best Aluminium-Free Deodorants for Men in 2023.
5. Lumin Natural Mineral Deodorant
Another simple, refined option comes in at number five on our list of 10 best Aluminium-free deodorants for men in 2023. Fascinated by the reserved mystique of the ocean? As reflected in the mute and reverent blue used on the packaging, this product is powered by both ocean and earth and runs on a base of deep sea minerals.
Three key ingredients power this gentle formula. Shea butter is first - and what can't this ingredient do? Shea butter is anti-inflammatory, promotes healing, hydrates, softens and smoothes. Next up is a new one on our list, a humble herb from the backyard. Rosemary leaf extract soothes inflammation, cooling away any redness, and has antiseptic properties in its playbook.
Peppermint oil does these and more, adding antibacterial and cleansing properties to the list. This ingredient gives this deodorant a gentle peppermint scent, along with a hint of tea tree oil.
We love that Lumin created this deodorant with everyday use in mind. Thus this blend is a mix of powerful, yet gentle and soothing ingredients, that will build up your skin in the long run, rather than cause abrasion. Another win for the Aluminium-free deodorant scene.
Love to hear from a real human when deciding on a purchase? Lumin also offers customer care around the clock - 24 hours a day, 7 days a week to ease any decision anxieties.
Man on a budget
6. Dove MEN + CARE Eucalyptus + Birch Deodorant Spray
Change is stressful. One key to reducing decision stress is to minimize the magnitude of change. If this is your first foray into the Aluminium-free deodorant scene, perhaps you'd like to start with a mainstream trusted brand you can find in most stores near you.
Dove has come out fighting to join the Aluminium-free scene. This product from the MEN + CARE range is guaranteed to contain 0% Aluminium.
This product is the first on our list to come in spray form. Sprays are great for providing a lighter dusting of deodorant. They are also useful for reaching harder-to-get areas if you're someone who likes to use deodorant beyond the classic places.
As with most drugstore brand products, the fragrance on this one is strong. If you like entering the room with a powerful presence, this could be the deodorant choice for you. This particular product in their range is scented with eucalyptus and birch bringing to mind a fresh, forest-y breeze.
Not feeling the forest? There are a whole host of scent profiles in this range from warmer scents such as sandalwood + orange to more summery scents such as turmeric + fresh mandarin, to classic cooling scents such as lime + sage. Note that some of these are dry sprays, while others are 'wet'.
Providing well for those on a budget or dipping their toes into the Aluminium-free deodorant market, we love the Dove Men + Care Spray Range as number 6 on our list of 10 best Aluminium-free deodorants in 2023,
7. Old Spice Original High Endurance Deodorant
Number seven on our list is another tried and true brand. Old Spice has been in the soap game now for over eighty years, so they have had time to get this formulation just right! Old Spice prides itself on its Aluminium-free deodorants, and this option brings musk to the table.
This deodorant has the classic texture and application we associate with Aluminium-free formulations. The product is applied by twisting the bottom, which results in the block formula coming out the top.
Another good option for those on a budget, or looking to try out an Aluminium-free deodorant for the first time, you can find Old Spice just about anywhere.
We love that Old Spice offers bundle discounts - if you buy a 'manly amount' you get to save more. So if you fall in love with the Old Spice scent you can look to branch out to their other body products and save!
8. Schmidt's Charcoal and Magnesium
We are now cooling down our list of household brand deodorants with the scent of freshly fallen rain. With Schmidt's long-lasting and effective formula, rain should be the only liquid running down your body!
With the same application style as our option in number 7, this is a familiar face for the Aluminium-free market. Don't be put off by the initial dry texture, these formulations warm up on your skin and then glide easily.
Schmidt's is a better option for those looking for more natural ingredients. For example, their scents come from essential oils - no artificial fragrances here! Add to the list no propylene glycol, phthalates and parabens, plus certifications for their vegan and cruelty-free status, and you get a blend that pays attention to the quality and consciousness of what you use on your body.
If you've been a fan of the activated charcoal trends seeping into most products, this could be the product for you. Activated charcoal is known for its ability to pick out oils and impurities from the skin. But if it's not to your liking, with eight other possible scents to choose from, there is sure to be a scent for you!
Minimalist natural man
Following our number one pick, numbers nine and ten on our list of 10 best Aluminium-free deodorants for men (2023) are the most natural deodorant options on our list.
9. Jack Henry Deodorant
Jack Henry has created a formula with only nine ingredients–nothing you won't recognize! This sleek product emanates understated sophistication and luxury, without the nasty chemicals found in many high-end products. It looks so good we could see this in the hotel room of agent 007.
This product doesn't just look good, ethics and health are at the cornerstones of this product. From fair trade certifications to organic ingredients to cruelty-free certifications and sustainable packaging, this product is doing it all.
With a five-star rating from over 231 reviews on their website, this is a product that doesn't miss.
So what is contained inside this seductive capsule? For hydration and scent, we have five organic oils: coconut, avocado, hinoki, juniper and eucalyptus.
Bentonite clay, arrowroot powder and baking soda make the dry components of this mix, rounded off with some smoothing organic beeswax. And that's all!
This dream team of ingredients (that don't twist your tongue the way most impossibly long chemical compounds do) work together to provide a fresh scent and absorb sweat and odor.
The stick form is easy to apply, and it will look great sitting on your cabinet too. What's not to love?
Note: Those with sensitive skin may wish to avoid baking soda-containing products.
10. Meow Meow Tweet Unscented Baking Soda Free Deodorant Cream
You thought an effective formula with nine natural ingredients was impressive? How about only five?! And unlike the last product, this one is without any baking soda for those with sensitive skin.
This is the truly clean blend for the no-nonsense man: the minimalist cleaning out his life or for the no-fuss, practical man who likes a product that could be used by anyone in the household.
So what are these five ingredients?
First up we have two oils - jojoba seed oil and coconut oil. These classic high-quality oils speak for themselves. Next, we have shea fruit butter for even deeper nourishment.
The powerhouse for deodorizing in this product is the arrowroot powder, which absorbs oil and makes skin softer and smoother.
Finally, we have magnesium hydroxide, an alkaline that helps balance the PH of our skin, working to balance out the bacteria that cause odor. Topping it off, four of the five ingredients are certified organic and fair trade.
And yes, this product comes in a refillable glass jar that you can refill with more product or anything else when you are finished.
This neutral clean and no-fuss product ends our list of 10 Best Aluminium-Free Deodorants for Men in 2023.
Why Aluminium-free?
In 2023, consumers are interested in products that are not only effective but products that take health into consideration too.
So what does Aluminium have to do with your health?
The answer is not so straightforward. There are some indications that Aluminium may contribute to the development of a few health problems, but there is still some scientific debate about the existence and extent of these links between product and problem.
The biggest thing we advocate for is making the choices for your body that are right for you. If you decide that avoiding Aluminium is in your best interest, we hope you enjoyed our recommendations about products in our list of 10 best Aluminium-free deodorants for men in 2023.
For those who aren't sure yet whether Aluminium status is something that they want to take into consideration, below we list some of the reasons people have chosen to reduce their Aluminium intake through their product choices.
Breast cancer
There is some indication in scientific literature that Aluminium can contribute to the development of breast cancers. As with a lot of findings of this nature, the research is mostly correlational so it is hard to say that the link is definite or how strong this link might be.
Even the possibility of a link is enough for some to make the change to an Aluminium-free deodorant. This is especially true if breast cancer has already affected you or someone close. Our deepest sympathy to those of you who have had this experience. Please note that there are many cancer support groups you can reach out to if you are struggling.
Alzheimer's
Another condition that Aluminium has been linked to is the development of Alzheimer's disease. This is a neuro-degenerative condition that generally manifests in the older adult population. Alzheimer's disease leads to mood disruption, memory problems and degradation of other key mental functions.
The memory component is probably the most well-known symptom of this disease - this is the illness where eventually even those closest to the sufferer may no longer be recognized. Memory tends to erode first from the most recent memory, whilst longer-term details stay intact for longer. This is the illness featured, with some creative license, in the classic film The Notebook.
The case for the link between Aluminium and Alzheimer's disease is slightly stronger in the research literature available. As this is a scary and heart-breaking condition to confront, the possibility of increasing the odds of developing Alzheimer's is one of the key reasons some people choose to opt for an Aluminium-free deodorant.
Heavy metals
There are some people in the natural health community who prefer to avoid Aluminium-containing products as they are looking to avoid heavy metals. These are considered by such communities as compounds with particularly negative effects on general health and well-being.
Exactly which compounds are defined as a heavy metal and what the effects on health are, depends on who you ask. Some compounds are scientifically validated as very toxic at very low doses. Others like Aluminium do not always make it to the list of heavy metals and are not generally considered to have highly toxic properties.
In saying that, every human body is unique in how it reacts to the world and the things that enter the body. If you notice that you feel better when you avoid Aluminium products, self-knowledge is as good a reason as any to evict certain compounds from your lifestyle.
Aluminium and the natural state
One of the biggest reasons many avoid Aluminium from their anti-odor products, specifically, is how Aluminium works in antiperspirants.
Odor mechanisms
There are generally two ways to reduce body odor from sweating: either change how the sweat smells or stop it coming out of your glands in the first place.
Deodorants work on this first premise. Whilst some natural compounds might also reduce the amount of sweat produced, generally, deodorants absorb sweat and use scent and bacteria-altering technologies to change the scent of your sweat. You might still produce sweat, but it will no longer be as smelly. Deodorants do not contain Aluminium.
Antiperspirants on the other hand work on the second premise. That is, generally, antiperspirants use Aluminium to block the sweat glands, stopping the sweat from exiting in the first place.
Body balance
There are two major concerns with this latter method of battling odor. These include the human body's tendency towards homeostasis, leading to overcompensation and the function of sweat.
What is homeostasis? Your body has a natural balance that it likes to maintain. Often if we come in and mess with that system, the body will go into overdrive to return to that balance. If we block sweat glands, the body may try to produce more sweat to reach the level of sweat expulsion it thinks is healthy.
This is why some long-term users of antiperspirants report finding the product less effective as time goes on. Therefore, for those playing the long game for better-smelling bodies, a deodorant without an antiperspirant may be the way to go.
Another reason some consumers are avoiding Aluminium-based odor protection is the 'naturalness' of sweating - ie. the function sweat provides to our body. As well as cooling the body to maintain our core temperature homeostasis, sweat is a way for the body to expel toxins and any compounds that we have stored in excess.
Thus blocking our sweat, means blocking one of our body's means of keeping us healthy and balanced. For those looking to align their lifestyles more with a natural way of being, going for an Aluminium-free antiperspirant may be enticing.
We say this with a strong caveat–Aluminium-free does not automatically mean natural. Read our next section to understand more.
Does Aluminium-free mean "natural"?
No. Aluminium-free alerts us only to the absence of Aluminium or Aluminium salts in a product. There are plenty of other non-natural chemical compounds that can be used in a product with this label.
What is considered natural is of course subject to variation and opinion. But in general 'natural' is used to state that there is a lack of certain compounds and a drive towards plant-powered ingredients and/or a more ethical production approach.
Our list of 10 best Aluminium-free deodorants for men in 2023 had a combination of both natural and non-natural deodorants. Our number one pick - the classic deodorant from Blu Atlas - is both Aluminium-free and natural!
The same can be said for many others on our list. However, our budget-friendly home brand options such as items 6 and 7 from our list do not purport to be natural deodorants.