Triumph has secured a three-year contract with Dorna, the commercial rights holder to the MotoGP franchise, to supply race engines to Moto2. For this, the British engine supplier has developed its 765cc inline-three motor and got it upto Moto2 race specs. The same motor in stock trim features in the Street Triple RS and makes 123PS and 77Nm of torque.
To celebrate the occasion Triumph has set up three events, of which the third one will be on race day i.e. the 26 August at the first race of the Moto2 season, at the Silverstone racetrack in the UK.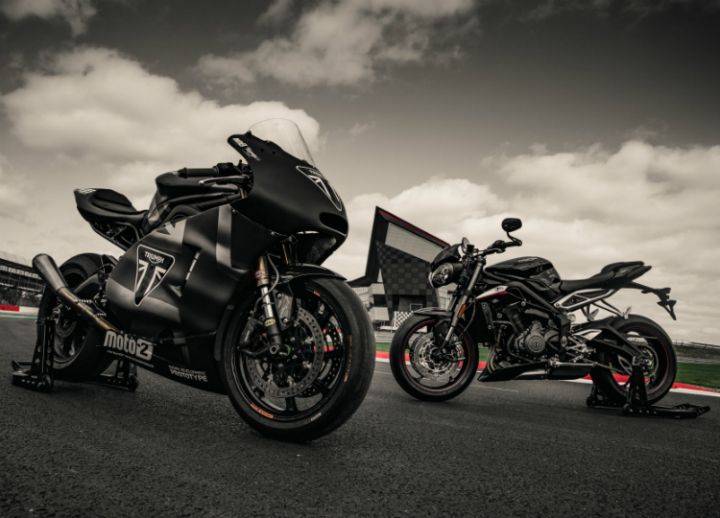 Part of the celebration had Triumph take seven Moto2 riders for a tour of their Hinckley factory to treat them to Triumph's historic legacy of racing as well as a preview of the developed race engine just before its official unveil before raceday.
Yesterday, Triumph held an auction to support Wheels For Life, a charitable auction that supports causes in Africa. Triumph will take the winner to the next global press launch of its upcoming new bike. The winner will also get to ride the new motorcycle. We guess the new motorcycle will be Triumph's upcoming Scrambler 1200. Another prize for the highest bidder was the opportunity to take nine of their friends to have a private all-access tour at the Hinckley factory and meet the official Triumph design team.
This Sunday, just before the first race, former multiple World Superbike Champion and BT Sport MotoGP commentator James Toseland will ride Triumph's final engine prototype bike on the track. Triumph will also be unveiling their race engine to enthusiasts.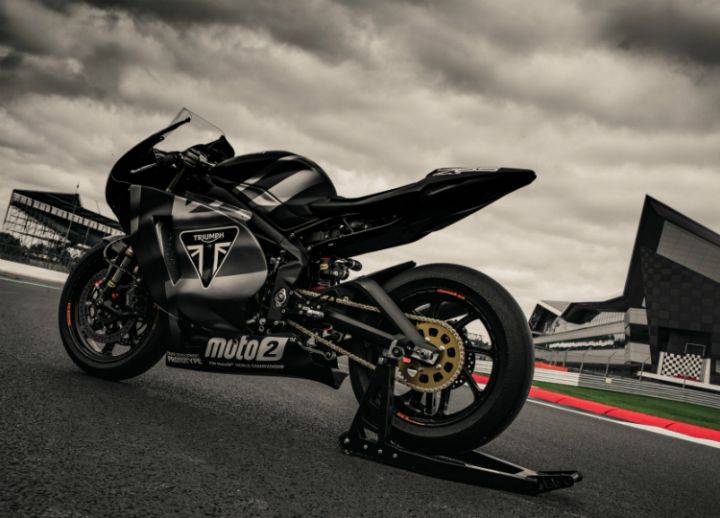 Press release:
BRITISH GRAND PRIX
TRIUMPH MOTO2TM SHOWCASE
Celebrating Triumph's return to the top flight of motorcycle racing
for the 2019 Moto2TM season and the British Grand Prix MotoGPTM
High res images link: Triumph Moto 2

Three showcase activities:
Moto2 riders visit the Triumph factory for the unveiling of the final engine prototype bike
Triumph proudly supports the Day of Champions 'Two Wheels for Life' charity
auction with two major prizes
Historic parade lap of Triumph's Moto2TM final engine prototype just before the Moto2 race – ridden by former multiple World Superbike Champion
and BT Sport MotoGPTM commentator, James Toseland.
Presenting the final engine for the Moto2TM 2019 season onwards:
Engine development phase complete following rigorous testing
Performance targets delivered and the engine prepared for racing
Final phase of ECU set-up and chassis refinement on target.
MOTO2 RIDERS FACTORY VISIT
The first of three showcase activities that celebrate the British Grand Prix MotoGPTM race weekend and Triumph's return to top flight motorcycle racing from the 2019 season onwards begins with a factory visit by seven Moto2TM star riders from the current championship.
Luca Marini (ITA-Sky Racing Team VR46), Sam Lowes (GBR-Swiss Innovative Investors), Danny Kent (GBR-+Ego Speed Up Racing Team), Isaac Viñales (SPA-Forward Racing Team), Bo Bendsneyder (NED-Tech 3 Racing Team) and Joe Roberts (USA-NTS RW Racing GP), together with British Moto3™ rider John McPhee (CIP – Green Power) will take a tour of Triumph's main factory, see a historic line up of the most famous Triumph race bikes in history and unveil the final Triumph Moto2TM engine development bike, which will be showcased on track just before the Moto2TM race at the British Grand Prix.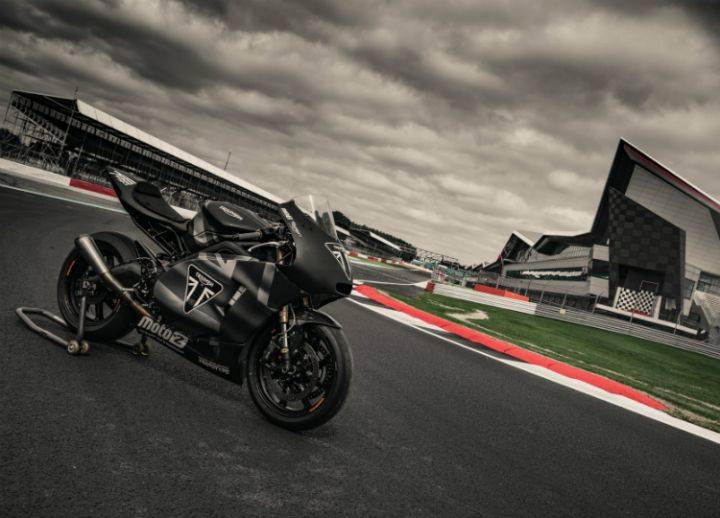 DAY OF CHAMPIONS & TWO WHEELS FOR LIFE AUCTION
TWO PRICELESS TRIUMPH LOTS TO WIN
On Thursday 23rd August Triumph are proud to support Two Wheels for life in fundraising for crucial causes in Africa, with two once-in-a-lifetime Triumph experiences on offer.
The top prize winner will have the chance to join Triumph on a global press launch of a new motorcycle hosted in southern Europe. All expenses on the trip will be covered and the winner will be among the first in the world, and the only member of the general public, to ride the exciting new model before retail.
Triumph is also offering another unique opportunity for a winning bidder and nine of their friends to have a private all-access tour at the Hinckley factory and time with the official Triumph design team.
The auction, which will take place at 3pm on Thursday 23rd August, will raise funds to support the work of Riders for Health International and African programmes that ensures life-saving healthcare gets to rural communities using well-maintained motorcycles.
Hosted by Two Wheels for Life, Day of Champions is a fun day out for the whole family with entertainment throughout the day, including live music and stunt displays. A limited number of exclusive paddock and pit lane tickets will give lucky holders the chance to experience behind the scenes of MotoGP™ as riders and teams prepare for the race weekend ahead.
Motorcyclists who are planning to arrive by bike can also take part in the famous Day of Champions ride-in, which includes two laps of the world-famous Silverstone circuit.
Paul Lilly, General Manager, Triumph Motorcycles UK & Ireland, said:
"Triumph is incredibly proud to be support Two Wheels for Life and be part of the Day of Champions auction. We have some of the most unique and exclusive prizes up for grabs and look forward to a lucky Triumph fan winning them.''
Mr. Shoeb Farooq, General Manager, Triumph Motorcycles India said- "We are thrilled to partner with Moto2 which is one of the world's most iconic motorcycle racing categories. The Triumph triple engines are renowned for their strong, linier power and torque delivery. In India, with regards to the 765 cc inline 3 cylinder engine in Street Triple S and RS, we have received an overwhelming response from our customers, as well as trainers and partners on our association with CSS (California Superbike School), RACR and JK Tyre Racing Championship. This particular engine has given riders a chance to own a piece of Moto 2 engine technology through our new Street Triple range."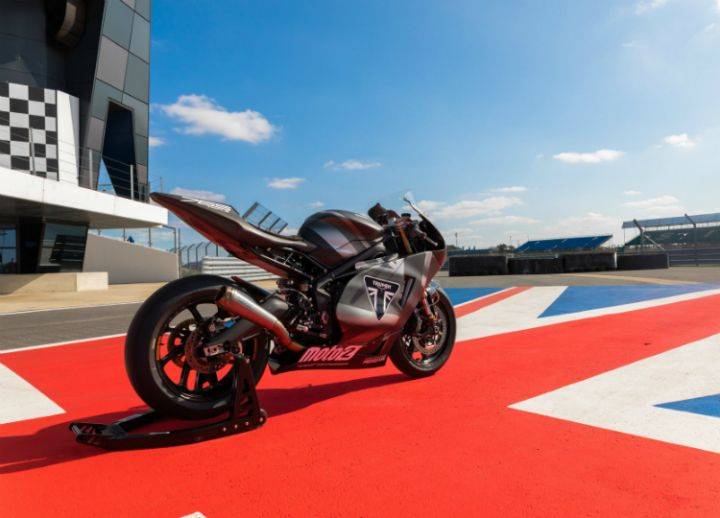 HISTORIC PARADE LAP
Just before the Moto2TM race on Sunday 26th August at the Silverstone British Grand Prix former multiple World Superbike Champion and BT Sport MotoGPTM commentator James Toseland will ride Triumph's final engine prototype bike, with eye-catching Union Jack scheme, in a historic parade lap in front of thousands of fans.
This marks a significant moment in Triumph's racing history with the new 765cc Triple Motor2TM race engine taking to the track at a Grand Prix weekend for the very first time.
Prior to the parade lap the Triumph Moto2TM engine prototype bike will be on display at the Go-ProTM stand. Fans can also join Triumph, see our range, and meet the team on the Triumph stand.

ENGINE DEVELOPMENT UPDATE
Triumph's powerful new Moto2 Triple 765cc engines were matched with Magneti Marelli super-customisable ECUs and some of the key chassis manufacturers' prototype race set-ups for the very first time, with results well on track for the 2019 racing season.
During the test, three of the chassis manufacturer teams (Kalex, KTM and NTS ) ran the Triumph 765cc Moto2TM engine for the first time on track in their prototype 2019 frames, pushing the 765cc powerplant under near-race conditions.
Trevor Morris, from Externpro said:
"This test was the first time everything was in place to see what the whole new package could do, and the results have been incredibly positive. This shows just how big a change is coming, and that's exactly where we wanted to be."
Steve Sargent, Triumph's Chief Product Officer said:
"We are very pleased with the progress to date and impressed with the level of passion and effort from the chassis teams, the riders, the ECU team Magneti Marelli, Exernpro, and Dorna in developing the new generation of Moto2 motorcycles."
"The ECU gives the teams a lot of choice to make changes with ignition, fuelling, engine braking, electronic throttle maps, quickshifter adjustments and pit lane speed limiters. Next year will be much closer to MotoGP levels of technology than Moto2 has ever been. The class is going to become even more interesting, with exciting racing and even more competition between team engineers to develop the best-performing package."
TRIUMPH 2019 765cc MOTO2TM ENGINE PARTNERSHIP
With a three-year contract with Dorna - the commercial rights holder of MotoGPTM – Triumph are to supply a dedicated race tuned 765cc Triumph Triple engine, based on the powerplant from the 2017 Triumph Street Triple.
The new engine is a significant development of the race-winning Daytona 675R powerplant that has powered Supersports wins at the Isle of Man TT, Daytona 200 and British Supersports Championships in 2014 and 2015.
Based on the highest specification 765cc powerplant from the Street Triple RS, the Triumph Moto2TM Triple race engine has been developed and tuned for a major step up in power and torque with the following modifications;:
Modified cylinder head with revised inlet and exhaust ports for optimised gas flow
Titanium valves and stiffer valve springs for increased rpm
Low output race kit alternator for reduced inertia
Taller 1st gear ratio
Race developed slipper clutch which will be tuneable
Specific race ECU; which will be developed with Magneti Marelli
Revised engine covers for reduced width
Different sump to allow for improved header run.
.
In road set-up the new 765cc engine in the class-leading Street Triple RS delivers the highest ever level of performance for a Street Triple; delivering power of 123PS @ 11,700rpm and 77Nm torque @ 10,800rpm.
It has more than 80 new parts compared to the previous generation engine, including an increase to the bore and stroke. All-new engine components include:
new crank
new pistons
new con-rods and balancer shaft
Nikasil plated aluminium barrels
Revised gearbox.
The race specification Triumph 765cc Moto2TM engine has been developed further to allow the engine to breathe more freely and rev harder than the production bike to increase overall performance. Other changes have been made specifically to adapt the engine for race use.
---
Source: zigwheels.com