As the beautiful road running parallel to picturesque Ajwa lake, flanked by huge virgin plots with the name of the builder painted on the boundary wall and a BJP flag fluttering on the gate, turned from smooth to smoother, I found myself preparing to get dazzled by the glare of sheer "development".
After all, I was entering Vadodara, the constituency of the 'development-man' and a probable Prime Minister of India, Narendra Modi, presently the Chief Minister of Gujarat.
Just then, a signboard reading 'Shantinagar' in Gujarati (which I have started understanding a bit now) grabbed my attention. It was hard to leave that comfortable road but I managed to do it somehow.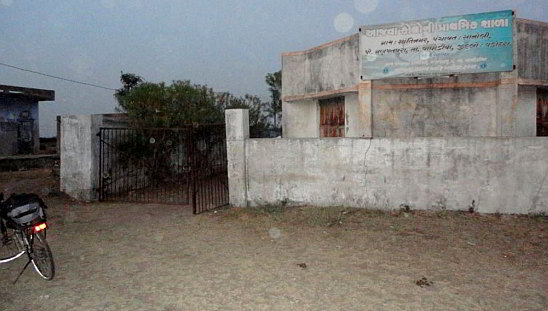 In our junior classes we were taught that matter has three states. A road is also matter and I saw all its three states within 300 meters; from silky smooth (solid) to bumpy (liquid) to nil (gas). The road, existing on paper for more than five years, leads to the Ajwa Colony Primary School in Shanitnagar village. The school is actually a graveyard-in-waiting. No, I am not being overtly harsh just because the school is in Modi's constituency. I would have used the exact same words if some Lallan Chaurasiya or Bablu Kushwaha were contesting from Vadodara.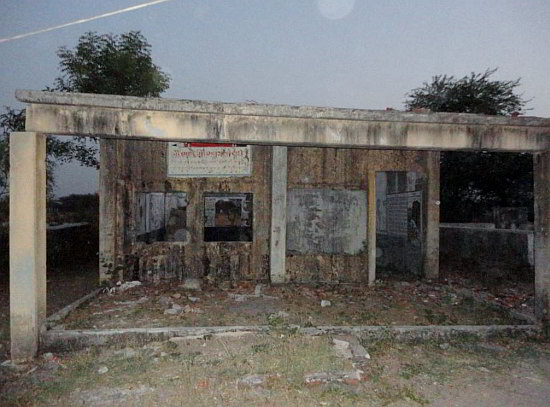 The abandoned structure —I hope!— inside the school campus is absolutely dilapidated and can fall any moment just like this boundary wall which already has.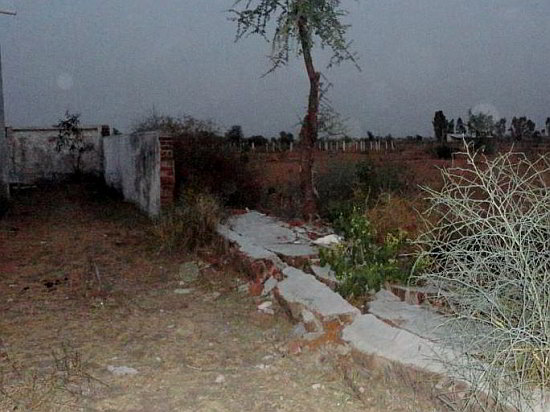 What if small children are playing hide-and-seek when this ruin decides to crumble? Thankfully, schools are shut due to summer vacations for two months. But they will reopen.
Even the existing building, where children sit, has cracks that would be visible to the blind. The school has no source of drinking water. "Children come here to drink water," said Arjun Naagar, a cotton farmer, pointing towards the bore-well near his house 100m away from the school. He himself fetches water from a canal some distance away because the bore-well water is brackish.
Now compare this school with its lucky counterpart in Valagota village in Dahod district.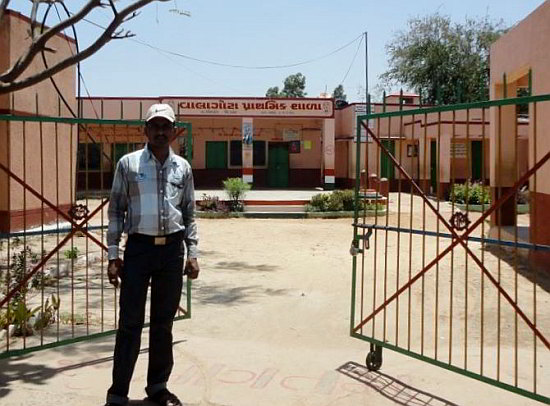 It has functional toilets, drinking water, adequate staff, beautiful building, green campus and, to top it all, a dish antenna. What is reflected in the tale of these two schools is pretty much the story of Gujarat: Those who have, have everything. Those who don't, have nothing.
Rambhai Nayak of village Shantinagar has been living in this house for more than 18-20 years yet he is not provided with electricity or any benefit whatsoever because his house, at one point of time, belonged to a Sindhi family. In fact, he is not even recognised as a member of gram panchayat. Interestingly, he has been voting regularly over the years with a voter identity card bearing the very same address. He, however, plans to boycott the 'festival of democracy' which will be played in Gujarat on 30th April.
The Sarpanch— Ranjeet— has told him to vacate his current house, move half a kilometer inside the village, make a new home (not sure if he'd have to purchase the land or whether he'd get it free of cost) and then apply for an electricity connection. Now put yourself in Rambhai's shoes. Assume that you don't have the house in your name in which you have been living for two decades. Would you have obliged to the 'advice' of the sarpanch to get an electricity connection?
Generally, the villages in Gujarat are way better than the ones in other states. In Rajasthan or Madhya Pradesh, I didn't get to see a decent market until I hit a kasba or tehsil headquarter but in Gujarat even a big village looks like a Kasba or mini-city. The maximum number of outlets, apart from the usual suspect—"the departmental store"— are, tailor shops. It seems that the Gujaratis love to wear a lot of clothes. The handful of villages in Vadodara which I could see, however, were in fact one or two notches below the village is districts like Panchmahal or Dahod.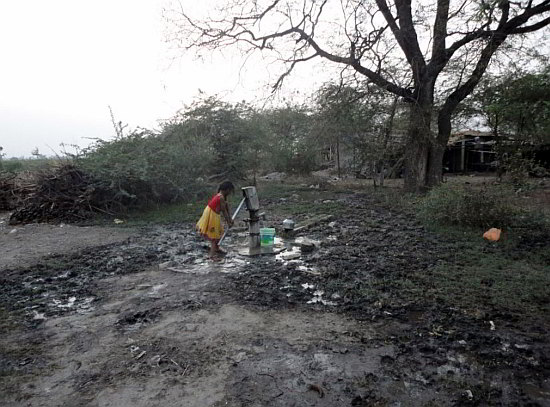 The roads inside the village Gutal were as ordinary and intermittent as one would imagine. I didn't expect it to be a sparkling clean model village but I didn't expect such slush either. Drainage, I was under the impression, is not an unheard phenomenon in Gujarat villages.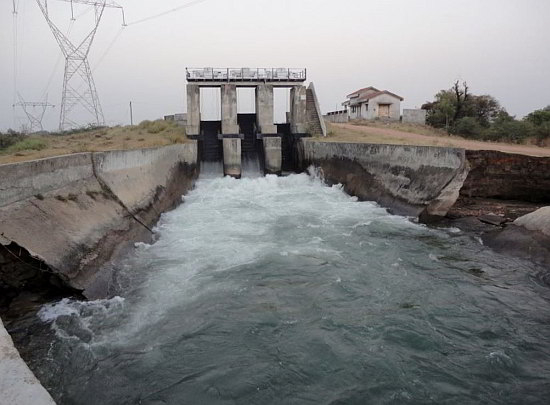 Junarampura is a village adjacent to Gutal. Apart from Gujaratis, it's also inhabited by those displaced by Sardar Sarovar Dam from Madhya Pradesh villages. The Narmada river project is supposed to provide irrigation to more than 18,000 square km, most of it in drought prone areas of Kutch and Saurashtra, provided the water is retained in the canals and not lost to the ground thanks to shoddy construction.
The villagers were offered a compensation of equivalent land or some amount of cash. A son, above 18 years, was also given as much land as that of father, Sitaram, one such relocated farmer who now uses a suffix 'Bhai' in accordance with Gujarati tradition, told me. I am not sure if the same land policy was applied for daughters too. Money was also provided for construction of the house. Most farmers were happy with the compensation, Sitaram, who is now a voter of Gujarat, said. He claims to be still undecided but adds that it seems he too would get 'swept' away, even if gradually, by the Modi wave.
But Muslims, barring a few exceptions, won't get swept away by the wave irrespective of its force or noise; the wounds of 2002 are simply too deep to heal. "Even if I vote for Modi, would he believe I did so? If something happens again, would I be spared?" Pathan Muzaffar of Karimpura village, asked me. For the majority, the default option is congress. A handful of people, like Yusuf and Hussain, are considering voting for Aam Aadmi Party (AAP).
Yusuf, who owns a hand-tool business near Ajwa Road, said that he had to struggle for around two months to get a license for his business. I guess, the much talked about quick and single-window clearance exists for Adanis and Ambanis. "The development model of Gujarat is a bubble," Hussain said. How can some good but heavily tolled roads and some big industries be considered synonymous with development, he wondered.
But Ramesh Bhai, having a cold-drink cart on Ajwa road, thinks that's precisely how Modi has changed the fortune of Gujarat. The way Modi attracts big corporate houses in Gujarat provides opportunities to educated Gujarati youth which otherwise would have had to emigrate to work in Karnataka or some other state. He is a believer in 'trickle down effect'— more jobs, more people (with money), more foot-falls, more business.
At night, around 10 PM, when I was still cycling, I was startled to see a sea of people sitting in an open field. Enquiries revealed that the field is government property called Sardar Estate —a makeshift home for these thousands of people. Almost all of them were migrant labourers from neighbouring states and hence without a home in the city.
Call it a fluke that out of these people I bumped into Bhagu Bhai born and brought up in Vadodara. But he doesn't have anything to prove it. He lost his voter i-card and ration card during the rains last year. Now it's turning out to be an uphill task for him to get a new one. "I even paid them Rs 80 for a photograph but the process never started, he said. "(A bribe of) Rs 200-400 doesn't matter if the work gets done but they don't move anything even after taking money," he added, with a resigned laughter. But he hasn't lost faith and is hopeful that Modi will help him get a house the moment he can arrange for an identity proof somehow.
He works as a labourer earning Rs 300-350 per day whenever he finds work; his elder son sells mosquito nets on the road while the younger one works in a garage. He doesn't keep a mobile phone for two reasons— it costs Rs 5 every time you charge its batteries from a nearby shop and, well, you need an identity proof to buy a SIM card.
As I was writing this article on my laptop sitting in an upmarket coffee shop in the heart of Vadodara city while listening to some peppy numbers and watching live telecast of an IPL match occasionally, a group of four people in their early forties sitting around a table next to mine were discussing why Bombay Residency Club's membership is the ultimate thing to have in life. Mind you, I am not looking at them (or myself?) with scorn. I am just observing the mindboggling divide in the two worlds I am living in— physically in one, mentally in the other.
---
For in-depth, objective and more importantly balanced journalism, Click here to subscribe to Outlook Magazine
---