The reordered parliamentary constituency of Barabanki resembles a bust and I passed through its neck—thin compared to the rest of the body but important nonetheless. The kind of support P.L. Punia commands in the region I traversed can be safely extrapolated to say that he has a bright chances of a second innings. However, the farther I went from Barabanki city, the more ambivalent people became; especially villagers.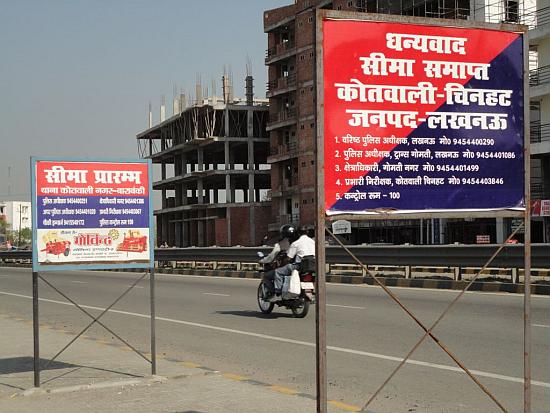 Advertisement opens in new window
Even if there were no signboards showing where Lucknow ends and Barabanki begins, I could have guessed it by the sudden change in the political opinion of the people—be it a coke warehouse guard or a cycle store proprietor; a rickshaw-wallah or a guest house owner: they were comparing personalities rather than parties.
Dhabas and factories, a usual sight on either side of a highway, were slowly transforming into confectionary stores and bright showrooms—a sure shot sign of a city nearby. No sooner did I stop to drink some water that I was surrounded by some curious people. They were drivers of local auto-rickshaws—slightly larger than the ones you see in Delhi and black in colour instead of yellow and green. Colloquially, they are called 'Vikrams'. These drivers ply from Barabanki to Lucknow.
Usually they earn 500-600 rupees a day but were facing a dry spell for a while, ironically, due to Holi —a festival of water and colour! College students, their prime customers, were vacationing.
Advertisement opens in new window
"So who's going to win from here?" I asked, after a brief chit-chat.
"No one can win from here except P.L. Punia," came the reply from a driver who was earlier working in the nearby Coca Cola Plant.
"Why?"
"If someone's kid is drowning in the canal, P.L. Punia wahaan khade hain (P.L. Punia is there); if there is a celebration in the village, P.L. Punia is there. Barabanki hasn't seen any MP (Member of Parliament) since 1947 who has stayed here as much as he has. Send him an invitation to your daughter's wedding, he will ensure to send kanyadaan"
"So there is no Modi-wave here?"
(Smirks) "Even if Modi distributes money to every house here, still he won't win."
After this interaction, I was so besotted with this 69 year old man called P.L. Punia that I decided to meet him. His office was a stone's throw away, though he lives in Gomti Nagar, Lucknow. Alas, he wasn't available.
Advertisement opens in new window
With 15-20 minutes of daylight still available and not much so see around in the city, I visited the District Hospital—a 'tourist-spot' for a journalist. It has a newly built general ward building. Its private ward building had a lock hanging at the gate. Perhaps the people who come to this hospital can't afford a private ward?
At the water-cooler, I met a man who thinks Modi (BJP) is going to win this time.
"Even from Barabanki?" I asked.
"Yes," he affirmed.
"But people are saying no one can defeat P.L. Punia," I countered.
"There's no doubt that the area has developed under him but people are fed up with Congress. The Modi-wave will work against Punia," he said.
Another man, whose mother was admitted in the hospital, jumped in. "The overbridge will be a boon to the area. I don't know how many patients die on the way to hospital because the railway crossing was closed," he said passionately.
Advertisement opens in new window
The owner of Khushboo lodge, where I halted for the night, says that the BJP's candidate—Priyanka Rawat, declared a day earlier— is barely known in the area. But there is a bit of Modi-factor at work. "If she wins, it's because of Modi," he said. However, he himself is not swept by the wave; his Vote goes to Punia.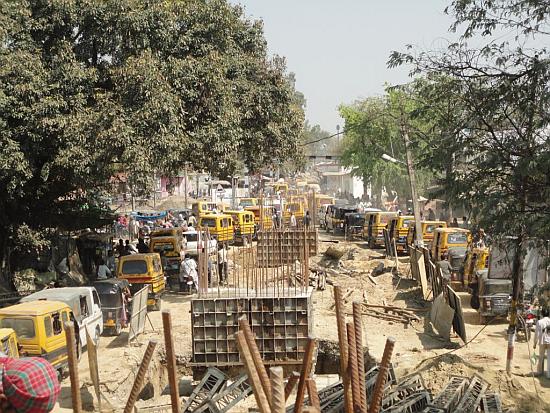 Early morning I left to have a dekko of the overbridge—the flagship development project of P.L. Punia. The traffic chaos, worsened by the construction of the bridge, brought a shudder down my spine. The construction has started only 4-5 months back and is expected to continue for another 2 years, as per the labourers at the site.
While returning from the overbridge site, I met a fascinating rickshaw puller. He studied from one of the best schools of the city—Anand Bhavan, did his Bachelor of Arts from a nearby college and also has a degree in homeopathy under his belt. His name is Ramesh Chand and owns a house which fetches him a decent rent. Rickshaw pulling isn't his source of income but he does it anyway. His choice—P.L. Punia.
Advertisement opens in new window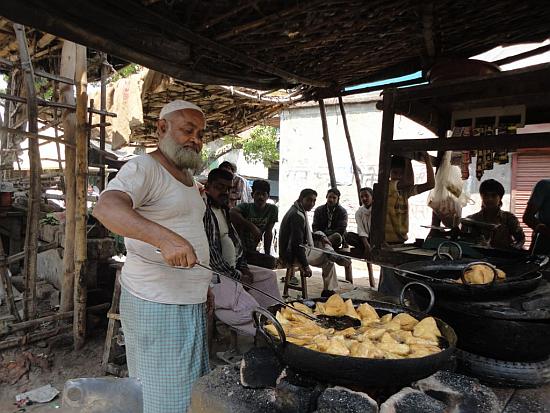 On the Highway, at Rasauli flyover, I stopped for a tea-samosa break at Chacha's shop. There, I met three farmers who grow peppermint. They didn't reveal their cards despite my persistence. "Things become clear only 4-5 days before elections," they maintained.
But in a way, they ruled out BSP by nodding to what Chacha said while frying samosas: "Harijan becomes the king during Mayawati's reign, otherwise she is good."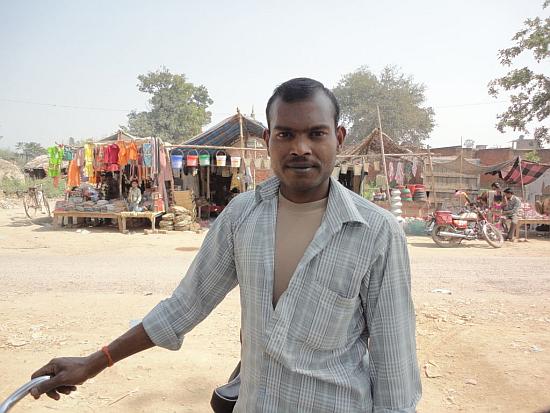 An hour later, I met Subhash, cycling next to me from Lucknow border to save 20 rupees—the Vikram driver was asking for Rs 30 to carry his cycle on the rooftop. He could only afford Rs 10.
He is a daily wager working with a marble contractor. He lives in Bhitaria village. When I asked who is going to win the elections this time, he said, "Narendra Modi kaa zyaadaa prachaar hai hamaare yahaan to." (Narendra Modi is being promoted quite a lot in my area). Now I know why political parties spend crores on advertising. It works!
Advertisement opens in new window
He calls himself illiterate, although he has studied till 7th class. Ironically, his mother was a school teacher. When he was very young, his mother died and his father was blamed for her death. Six months later, the father died by consuming poison. His uncle was then working in Punjab; his aunt didn't really enjoy feeding him. When his uncle would ask, "Are you getting good food?", his dilemma was, if he said 'yes', he would be lying and remain hungry and if he said 'no', his uncle would beat his aunt. He chose to say 'Yes'.
He doesn't believe in secret ballot. "Hum log khulla-vote Daalte hain," he said (we cast votes openly). It's a win-win situation according to him. "If my candidate wins, he helps me fully. And if he loses, still he helps because he knows I voted for him," he explained.
You can't beat that logic. Can you?
Time flew, as we talked. He had to turn left for his in-law's village. I requested a photo-op before separating, he obliged.
Where I was standing, I was told, was still within Barabanki district but as far as the Lok Sabha constituency is concerned, it was Faizabad.
Ayodhya, though, was still far.