Dump the DP (for now)

For the past couple of months Mumbaikars, one and all, rich and poor, south bombaywallahs and suburban-ites, Marathis and non-marathis, were most traumatised by different parts of the grand Development Plan 2034 unleashed by the BMC. Urban planners and activists pointed out innumerable errors, real ones and those of judgment, such as allowing more construction near already congested stations etc.

"The plan also did not provide an adequate vision and stance for facilitating affordable housing that the city requires so desperately. The DP was unclear about whether the densification measures would do any good for housing of low income groups and middle income groups, which form the backbone of residential activity for any Indian city. There are already concerns about lack of enough open spaces in the city, and these concerns were aggravated by the fact that the DP proposed the development of areas, which are in no-development zones, recreation zones and environmentally sensitive zones, not only reducing the per capita open space in the city but also posing questions about sustainability," says Ashutosh Limaye, Head - Research & Real Estate Intelligence Service, JLL India.

While Real Estate companies may be worried about future of their projects, citizen groups have made up their minds to save the open spaces, heritage precincts and green cover. Recently actors like Rishi Kapoor took to streets to oppose the new hawking zone plans. Then there are online petitions such as Dump the DP. After the entire furore, CM Devendra Fadnavis put an end to the ordeal by stalling the DP. But before one cheers the move, one must remember, it is only a four-month period provided to the civic body to correct factual errors, not the ethos of more construction, more FSI, and more.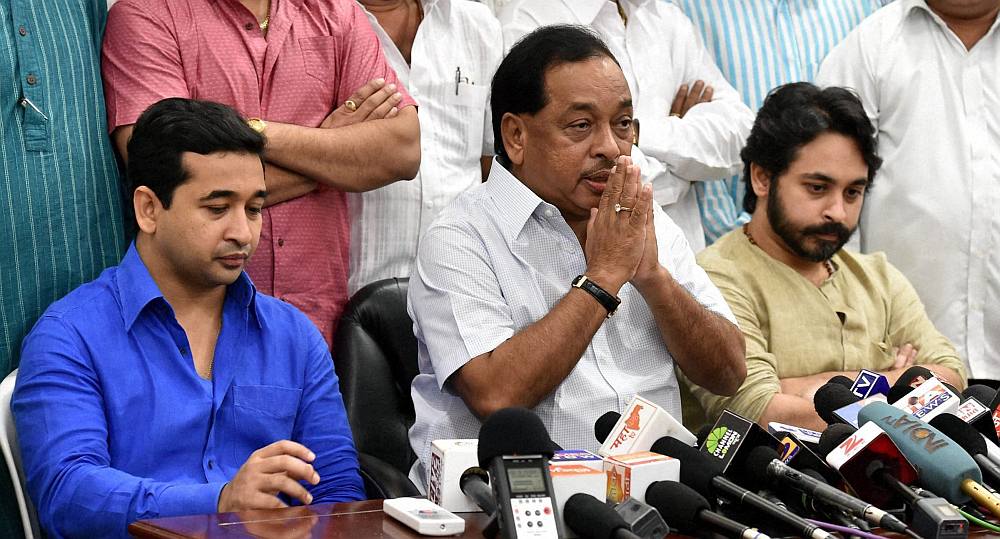 After Konkan, Rane loses Bandra too

Modi wave may have lessened considerably, but it wasn't low enough for Narayan Rane to convert another electoral contest into a win. Rane contested the bypoll for an assembly seat that was rendered vacant after death of Shiv Sena MLA Prakash Sawant. It was a closely watched election, especially because the seat is in Bandra east where the Thackerays live in their iconic house "Matoshree." The area also has a considerable Muslim population, which is said to have helped Congress traditionally. However, Rane lost by a huge margin of over 19,000 votes to Trupti Sawant, wife of late Prakash Sawant. Then there were reports of blame game and a report in Prahar newspaper said that senior Congress leaders were responsible. All said and done, the former chief minister, who could throw regular tantrums with Congress about the treatment and positions he wanted, will perhaps have to go back to basics and his hometown in Konkan and start from scratch.

Mission Maharashtra in Germany

After a successful Davos trip, chief minister Devendra Fadnavis accompanied PM Narendra Modi to Germany for the Hannover Trade Fair, once again making a successful pitch for "make in Maharashtra." Not only was he lauded as the most "accessible" chief minister in India, he also bagged a few cool deals. Volkswagen, which already has a unit in the auto zone in Maharashtra, will be assisted further so that manufacturing becomes a possibility in the state. A press release by CM's office also says that Mercedez Benz too will be helped by reducing the number of clearances required. SQS, an IT company will be given two acres of land to set up offices in Hinjewadi IT Park, Pune and is expected to create 2000 jobs. He also had meetings with Swedish delegates and German company Bosch to help the "magnetic Maharastra," as the stall from the state was aptly titled. We will not discuss that in the Parliament farmers' suicides from the state were placed at number 3 nationally. That reports indicate at least 600 suicides in 2015 is another matter.

Happy Birthday Dr Ambedkar

The state Congress, struggling to stay relevant, did a symbolic bhumi pooja for the memorial of Dr Babasaheb Ambedkar at Indu Mill complex. State Congress chief Ashok Chavan and Sanjay Nirupam offered tributes to the statue of Dr. Ambedkar inside the Indu Mill complex in central Mumbai. Outside Congress supporters had gathered and soon after the leaders interacted with the media and pointed out that the BJP government had promised to inaugurate the memorial, a longstanding demand of Dalits, on April 14. Instead, the PM and the CM were both out of the country. The Congress is not tired of pointing out that it was in their regime that the mill land was marked for the memorial. Even as BJP tries to appropriate Sardar Patel and Mahatma Gandhi through projects such as Swachh Bharat Abhiyan and Statue of Unity, is Congress trying to cosy up to Dalits?

All work and no play?

Or it would seem if one reads the findings of an internal survey conducted on IIT Bombay campus. A questionnaire with 46 queries ranging from cheating in exams to sexual relations on campus was answered by more than 200 students graduating this year. And a whopping 80% of them said they had not had sex on campus in the four years that lived here. Only 1% suggested that they had had more than 10 relationships. While technical and cultural skills were picked by nearly 35% of respondents, 69% said they had picked up social skills during their time on campus. The survey was conducted with a view to assist the authorities frame rules and regulations keeping students' experiences in mind. Nice, no?

Silence, the court is in session

Just as Marathi manoos and Shobha De were done debating about Marathi movies getting a compulsory prime time slot in multiplexes, a truly important film has released. Chaitanya Tamhane's debut film, Court, which received the National Award for the best film among several other international awards, has released last week to multiple shows. The film, subtle and yet dogged about its politics, will surely benefit if the prime time slots are given and more people — Marathis and non-Marathis (since it is subtitled) — get to watch it.

However, if the film is lost in flood of Hollywood and Bollywood releases and is confined to weird 10 am and 11 pm shows, the loss is entirely ours. The film, which deals with the trial of a Dalit performing artist arrested for abetment of a suicide of a sewage worker, is as slow as Kafka's Trial, and just as powerful if not more. It is that smack of reality that the society needs to confront — whether it is casteism, capitalism, justice, freedom of expression, and the classic middle class indifference. Don't miss it. It will stay in your subconscious for long. And for this film, I am all for compulsory shows in as many theatres.