Filmstar, Paused
Union minister of state for tourism K Chiranjeevi, who had said he would master the national language Hindi as well as English because of his job requirement, continues to be ill at ease in both languages. He fumbles for words and struggles to express his thoughts as perplexed listeners try to grasp the message. Chiranjeevi, who visited Dehradun recently along with union home minister Sushil Kumar Shinde, to pay homage to the Uttarakhand flood victims, struggled to speak to the media in English. The pauses in Chiranjeevi's sentences can give former prime minister Atal Behari Vajpayee a run for his money. Accompanying Chiranjeevi was Andhra Pradesh PCC chief Botsa Satyanarayana whose only language of communication remains Telugu. Botsa was smart however and stayed mum. He decided that it was better to let Chiranjeevi be the source of amusement than himself.
Hopes Ignited
AICC in-charge of AP affairs Digvijay Singh has set hope afloat in the hearts of Telangana statehood proponents with a recent address at the Gandhi Bhavan. Saying that dividing a state is a painful experience, Digvijay spoke about his own "pain" as Madhya Pradesh chief minister when the state was divided. "I personally went through this painful experience when the state was bifurcated. Division of a state means from Chief Secretary to the lowest clerk, all posts have to be divided between the two states. Even every shelf in a government office has to be divided equally," he said in his address. Digvijay Singh says that the Congress high command will take a decision on Telangana in 10 days, and added that the centre would ask the State Assembly to adopt a resolution. "But the resolution would not be binding on the Central government," he said.
Same DNA
Whispers state that when Chief Minister Kiran Kumar Reddy tried to advise Digvijay Singh against bifurcation saying, "Sir, I promise you we will win more seats in the 2014 general elections than in 2009," the latter ignored the CM completely. A red-faced Kiran Kumar was pretty stumped.
Evidently extending an olive branch to the YSR Congress, Digvijay said that the YSRC shared the same DNA as the Congress and asked his party men not to get too worked up about the Jagan factor. He also said that unlike the late Y S Rajasekhara Reddy, his son Jaganmohan Reddy lacked patience. The 'boy' mixed business and politics which was not good, opined the senior Congress leader.
Describing the Uttarakhand situation as a natural calamity, Digvijay criticised the BJP for trying to politicise a tragedy.
He hit out at Gujarat Chief Minister Narendra Modi calling him a feku (bluff master). The 'Rambo' boasted that he used 28 choppers to evacuate 15,000 pilgrims but the actual State figures were 600, he said. He said the focus now lay on rehabilitation and reconstruction of villages.
Pro And Con
As soon as news of Diggy Raja's statement on Telangana got out, a horde of leaders from Seemandhra queued up to meet him to state their case. Twelve state ministers, 42 MLAs, 20 MLCs met him and submitted a memorandum requesting to persuade the high command not to bifurcate the state. They said water wars would break out, resulting in grave injustice to the people of Andhra and Rayalaseema. They also expressed their concern over the status of Hyderabad and the Maoist problem.
Not to be outdone, a Telangana lobby led by Deputy Chief Minister Damodar Rajanarasimha and Panchayat Raj minister Jana Reddy too met Digvijay asking him to prevail upon the high command the need to accord Statehood to Telangana immediately.
Stolen T-Thunder
In the midst of all this, the Telangana Rashtra Samiti is feeling pretty lonesome. The TRS leadership believes this is a strategy by the Congress to steal its thunder right before the elections. The TRS chief K Chandrasekhar Rao had camped in New Delhi for a month last year in October, for talks on Telangana and offer of a merger of his part sty. But he was left high and dry when the Congress suddenly stonewalled him and KCR came back empty-handed.
The TRS chief subsequently sulked in the confines of his farmhouse for a long time before making public appearances again.
Meanwhile, KCR's son K T Rama Rao stirred a hornet's nest recently when he called on newly appointed union minister for textiles Kavuri Sambasiva Rao. Rama Rao has been a strong critic of Kavuri till late and has had heated exchanges with the minister who is a united Andhra Pradesh votary. Rama Rao called on Kavuri to purportedly seek a textile zone for his Sircilla constituency. But sources political pundits feel the photos showing a benign Rama Rao bowing in front of Kavuri with folded hands indicate that TRS wants in as and when a decision on statehood is taken.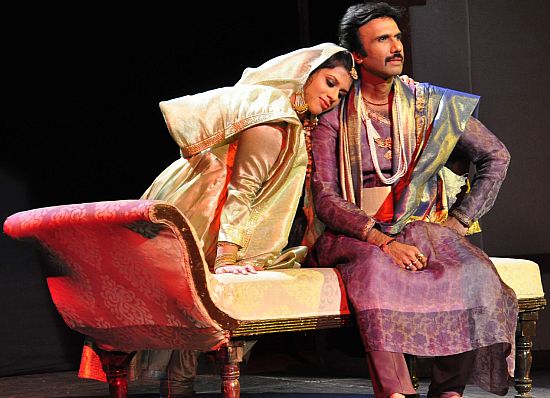 Going Places
Hyderabad-based theatre revivalist Mohammad Ali Baig's Quli – Dilon ka Shahzaada, has been invited to Footsbarn's Theatre Festival in France. Baig's period masterpiece is scheduled on July 17thand 18th in Auvergne, near Paris. Written, directed and acted by Baig, the heritage play based on poet king Quli Qutub Shah, is embellished with live Qawwals of the famous Warsi gharana, shadow dancing, grand sets and costumes. Following the French festival, the multi award winning playwright-director-actor Baig will be a special invitee at Shakespeare's world famous Globe Theatre in London. Baig calls himself a heritage and theatre revivalist because they are performed at venues like Golconda Fort, Taramati Baradari, Chowmahalla Palace, The Falaknuma Palace, Qutub Shahi Tombs, and the Salar Jung Museum in Hyderabad. Quli- Dilon ka Shahzaada has a unique structure; a dialogue between Quli and Bhagmati, embellished with live shadow dance, Qawwali on stage, with nazms written by Quli Qutub Shah himself.
---
For in-depth, objective and more importantly balanced journalism, Click here to subscribe to Outlook Magazine
---