'Tis the season of festivities—Durga Pujo and Navratri—and all parts of the country are busy dancing, singing, eating and making babies. Bollywood has made ample use of visuals from this festive season to create foot-tapping songs, memorable scenes and beautiful visuals heavy with symbolism

Amar Prem had only a short scene of Durga Pujo right at the end but it was a beautiful way of highlighting the Mother figure in the goddess. As a boy takes his foster mother home, the city too is getting ready to welcome Durga for festivities. The symbolism of the mother's homecoming was not lost on anyone:
Another familiar cinematic trope is when fleeting images of Durga Pujo are used to build Bengali-ness of characters. For instance, in Parineeta, Sanjay Dutt turns out as a Bengali babu in full dhoti-kurta ensemble (dhuti-panjabi, in Bengali) and does not stop there. He performs a full-fledged performance of the traditional dhunuchi dance in front of the Durga idol to the tune of the pulsating beat of the dhaaks:
From the old-fashioned cool of mid-20th century Calcutta, it is new age cool in Vicky Donor, as a Punjabi boy falls in love with a Bengali girl and they do the mandatory rounds of the pandals and—you guessed it—take a selfie in front of the idol. With an iPhone. Where's that cool emoji when you need it?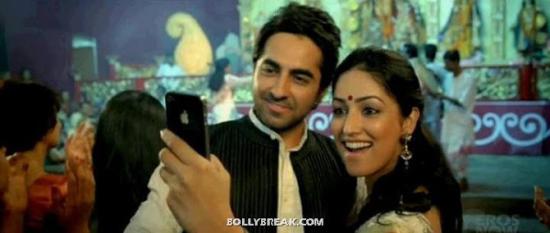 Amitabh Bachchan's connection to Bengal is as strong as it gets, as a son-in-law of the state, the adulation he receives is always extra-special. He returned the favour by playing the lead in the bilingual Barsaat Ki Ek Raat (also made as Anusandhan in Bengali). As a police officer investigating the shady deals of a villainous father-son duo in (presumably) North Bengal, he takes a lot of time out for extra-curricular activities. This involves playing the drums during Durga pujo and beating Amjad Khan in a competition. This is followed by a superhit song with the triple-combo punch of a goddess in the background, poking fun at the villains and Amitabh Bachchan dancing:
Moving on to more recent times, probably the most rousing depiction of Durga Pujo has been in Sujoy Ghosh's Kahaani, where the entire story of a pregnant woman looking for her husband is conducted with the backdrop of Pujo. Vidya Bagchi reaches Calcutta as pandals are beginning to be put up and her search is punctuated with film music blaring from the loudspeakers, playing of the dhaak and the traditional sounds of chanting and ululation. Eventually, the climax happens on the day of Vijaya Dashami as Maa Durga is being taken away for immersion in the Ganga, while married women in red-bordered white sarees celebrate by playing with sindoor. Clearly, the idols are not the only ones vanquishing the demons that day: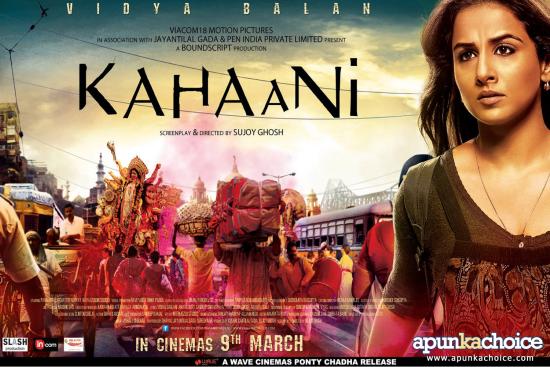 This symbolism of villains vanquished on Dashami or Dussehra is a familiar one. In Kurukshetra, honest police officer Sanjay Dutt polishes off evil politicians (is there any other kind?) as the Dussehra firecrackers drown out the sound of his firing and the modern day Raavans die, while the Raavan effigies turn to ashes.
And of course the other favourite visual is from the Ramleela performances that are an integral part of celebrations. Delhi 6 shows the city's Ramleela Maidan in its full glory and does a brilliant job of showing the thronging attendees, their neighbourly tensions and the friction behind a successful event:
Swades, on the other hand, had a different Ramleela performance—more philosophical in tone—built mainly as a conversation between Raavan and Sita, pondering upon what goes into making of good and evil. And in a syncretism that Bollywood has always exhibited, the lyrics of this wonderful exchange are written by Javed Akhtar, and the music composed by AR Rahman, two gentlemen who happen to be Muslim.
As Navratri rocks on throughout the country, it might be apt to end with a tribute from Rock On. Featuring the most incongruous providers of dandiya music, we had rock band Magik trying to earn some money to buy equipment by 'remixing' Bollywood music.
---
Diptakirti Chaudhuri is a salesman by day and writer by night. He has just finished writing Bollybook: The Big Book of Hindi Movie Trivia, which is now on pre-order here.
---
For in-depth, objective and more importantly balanced journalism, Click here to subscribe to Outlook Magazine
---